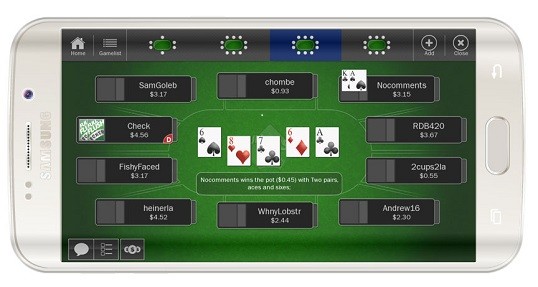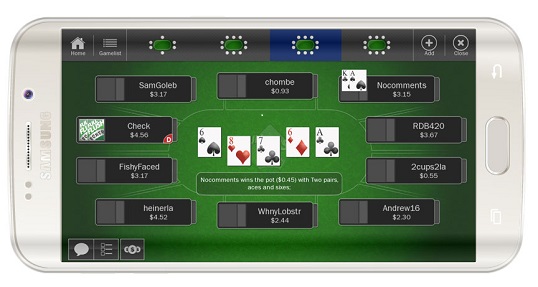 Player alert: This review was originally made before I blacklisted Full Flush Poker in late 2015 due to massive payout failures.
They are currently offline and I can only hope that players who fell for this scam site ever see their funds.
Full Flush Poker launched in 2013, accepts US players
Mobile client available for real-money to Android devices
Traffic usually only provides for 8-10 active games
Cash games only. No tournament play supported as of yet.
Excellent gameplay experience. Snappy and great multi-table layout
In an unexpected move that garnered little fanfare Full Flush Poker Mobile opened this week, giving Android phone and tablet players, including those from the US, another viable way to play real-money poker in the go. The app installation is simple and interface is quite attractive.
The base Full Flush Poker client has been around since 2013 and has been able to sustain itself thanks to bring one of the only decent options left for US players.
In my complete Full Flush review I go more in-depth into the poker room overall, but kudos to them for actually taking a chance and developing something mobile for a starved US market.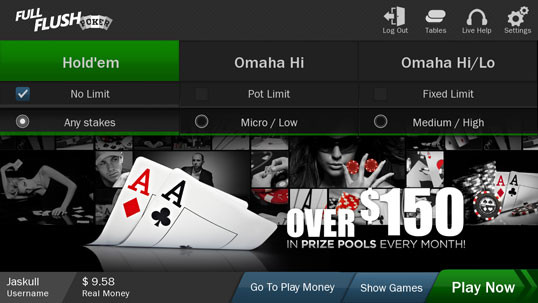 Why play at Full Flush Poker Mobile?
Okay, so you can now play Full Flush Poker Mobile on Android phones and tablets. Why should you bother?
Don't if you're from outside the US
The simple answer for players outside of the US is that you shouldn't. There are far better options with standalone apps, a better cashier, and quick-fold support.
My top recommendations for mobile real-money poker outside of the US would be 888 Poker and PokerStars in that order.
One of the only US mobile options
Full Flush Poker is one of only 4 US poker rooms I feel comfortable recommending and the only mobile option amongst those. Carbon Poker also offers a nice mobile client, but the poker room isn't paying out players and is borderline insolvent. It's a missed opportunity by their US-facing competitors and a shrewd move by Full Flush.
Very good deposit bonus
The 20% instant bonus is the biggest upfront offer online, giving funds that can be used immediately at a cash table or tournament. This is in addition to a standard 150% play-through offer.
Excellent app interface
One of the main reasons to try out Full Flush Poker Mobile is simply because the app works so well without apparent bugs. It contains features that every poker app would do well to have.
Installing Full Flush Poker Mobile
You aren't going to find this app on Google Play because it facilitates real-money poker play from the US and thus would never pass review. This is where the minor hassle comes from. Here's a step-by-step guide:
Use a PC or Mac once to sign up for an account at Full Flush Poker via a link on this page and make a deposit. I know, this is a drag but is currently required. There is no cashier in the mobile app.
Go into the settings on your Android phone or tablet to enable the installation of apps from "unknown sources". See screenshot below for the exact menu should be looking for.
Follow the app download link at Full Flush Poker from your Android device.
Agree to all the security warnings and install the file you downloaded by tapping on it in your download directory.
Launch the app and login using your account credentials from step 1.
Find a table and enjoy.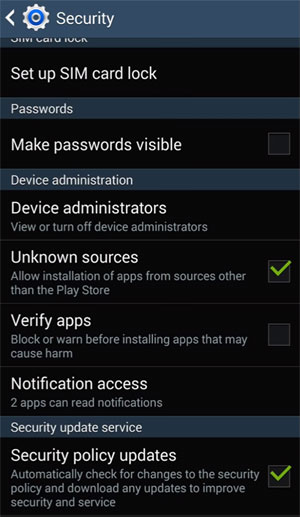 Exploring the Full Flush Poker App for Android
This app essentially works like every other piece of online poker software released in the last 10 years with few things lacking and a couple of brilliant additions.
Lobby
When you open the Full Flush Poker Mobile app you'll be greeted with a quick-play window that tries to get you into the action right away. I always prefer to close this and find a table myself from the list.
In the lobby you'll see every table name with the stakes and number of players. You can sort it, but why bother when the traffic only provides for 10-12 active tables?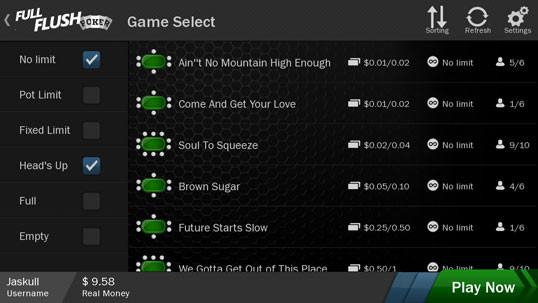 Sitting at a table
Once you've tapped on a table with an open seat it will look like this:
You can take an empty seat and buy-in your desired amount, just like a poker PC application. The 3 main buttons on the bottom-left display the chat, adjust options like sounds or 4-color deck, and add more chips.
This is one of the few mobile clients with full player chat. Bubbles appear over a player's seat when they're chatting.
The fold, check, call, and raise buttons are color-coded, which is a nice touch. The betting grid is nice with 1/4-pot increments and a slider to dial down an exact bet. Honestly, this is more than many PC poker software clients provide.
Multiple tables
This is really a standout feature and makes you wonder, "Why doesn't everyone do it this way?"
You can actually play up to 4 tables at once with Full Flush Poker Mobile and each will appear as a little table graphic at the top with the accurate number of seats. That in itself is a feat with many mobile clients not allowing multiple table play at all.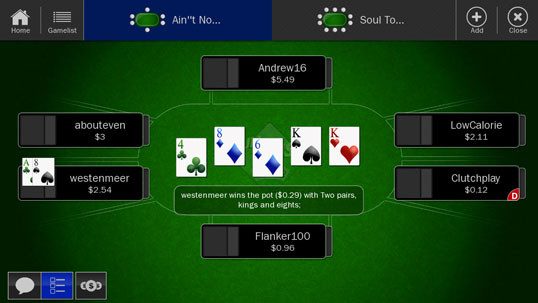 Then, they came up with a remarkably logical idea to put the hand you're holding right within the table tab graphic at the top. You can actually see every hand you are holding without tapping over.
It's a brilliant idea that should be on every mobile poker software and even PC software for that matter. You can also set alerts and auto-switches when it's your turn to act at another table.
Graphics and usability
The gameplay experience is very smooth with no noticeable delays or bugs during my review aside from an occasional delay in removing the community card graphics on the table before the next hand. I also had to sometimes tap twice to get an action to register.
The graphics are a pleasant color scheme and the way it does multiple tables is second to none. Currently, only cash games are supported via mobile meaning no Sit and Goes or tournaments.
The Final Score
Overall, Full Flush Poker Mobile is one of the better mobile poker clients I've used. The poker room lacks much traffic or quick-fold options but this is one of the handful of sustainable US poker rooms. If you're in the US and on a mobile or tablet this is a no-brainer recommendation.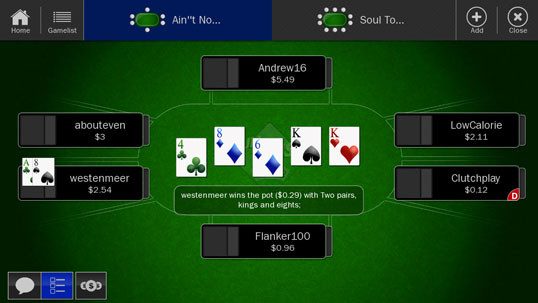 Installation: Very quick and painless but does require adjustment of device settings first. 8/10
Graphics: Sleek, modern, easy to understand. 9/10
Bugs: None during my playtest. 10/10
Table experience: Excellent. Best-in-class handling of multiple tables. Clear timer and betting slider. 9/10
Overall: Full Flush Poker isn't the largest poker room and non-US players will want to look elsewhere, but it's a solid choice for US players on the go in a thin market. 8.5/10
A lifelong poker player who moved online in 2004, Josh founded Beat The Fish in 2005 to help online poker players make more-informed decisions on where to play and how to win once they got there. He hopes to counter the rampant dishonesty in online gaming media with objective reviews and relevant features. Tech nostalgic. Fondly remembers the soup avatar at Doyle's Room.