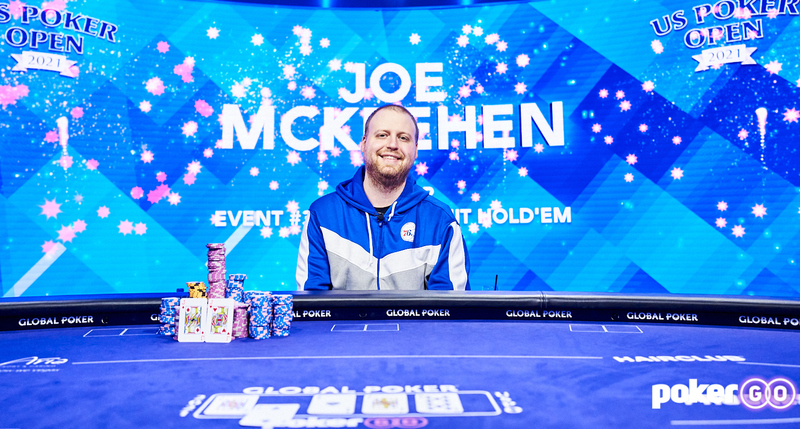 Joe McKeehen, a prolific poker layer, and former WSOP Main Event champion, hit four jacks on the final hand at the US Poker Open Event #3, claiming $200,200 and gaining 200 points.
Quad jacks allowed McKeehen to eliminate the last two opponents, Ray Qartomy and Ali Imsirovic, at once. Throughout Event #3, the $10,000 No-Limit Hold'em, McKeehen repeatedly showed that his greatest success, the WSOP Main Event championship title, wasn't a fluke.
McKeehen entered the final table with a chip lead and didn't take it easy on anyone. Of the six opponents, Joe took out all but one. Imsirovic eliminated Jake Schindler when his ace-10 held against the jack-nine suited. This move landed Schindler in fifth place with $61,600.
The final two hands were action-packed with only three players at the table. First, Qartomy, who ended up in second place, doubled up and left Ali Imsirovic with a single big blind after his fours won a flip against ace-nine.

Imsirovic used his big blind in the following hand with ten-six. McKeehen followed with jacks and raised, while Qartomy entered with fives when MCKeehen called both opponents, and his jacks jumped to quads, offering all spectators a fantastic ending to Event #3.
US Poker Open Championship 2021 Standings
After the spectacular win, Joe McKeehen rose to second place with 200 points and $200,200. With 219 points and $218,500, Jake Daniels still holds first place on the leaderboard thanks to his Event #1: $10,000 No-Limit Hold'em win.
Sam Soverel, who won Event #2: $10,000 No-Limit Hold'em for $175,500 and 195 points, failed to hold onto second place after McKeehen's dominant performance.
The top five also features Steve Zolotow and Barry Hutter, who claimed $153,000 and $152,000, respectively, after the final table appearance in Event #3.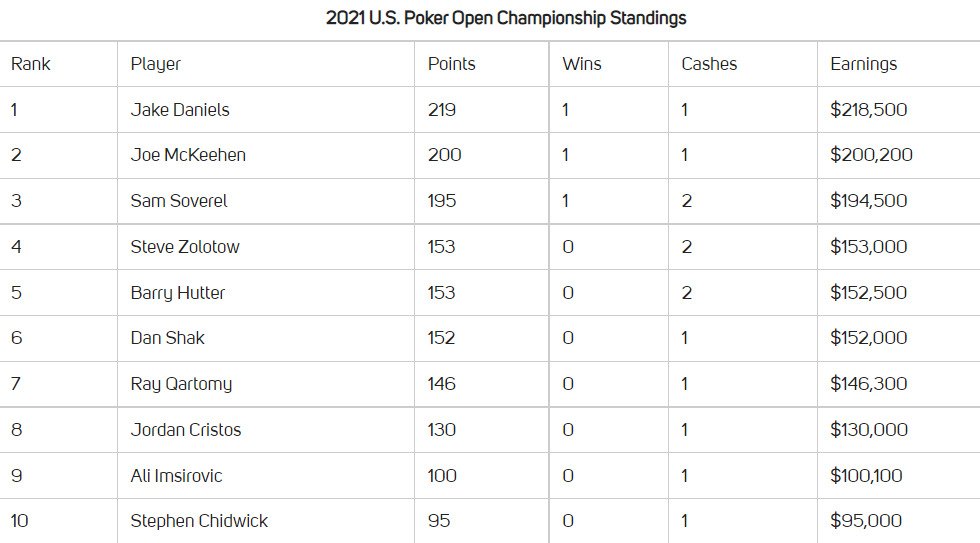 Imsirovic Still Dominates the PokerGO Tour Leaderboard
Despite losing to McKeehen, Ali Imsirovic, 26-year-old from Bosnia, has been on a winning streak. He collected five wins which placed him at the top of the PokerGO Tour leaderboard. So far, he won $50,000 at the Aria High Roller Series event and another three wins for $25,000 each.
With twelve chases and five PokerGO Tour wins, Imsirovic leads the game with 1,416 tour points and a jaw-dropping $1,977,460 in earnings.
Even though Ali ended in third place in Event #3 of the US Poker Open 2021 and failed to collect his sixth high roller win in 2021, he still acquired 100 points which extended his lead over Sean Perry, who has 1,150 points and $1,693,618.
Chris Brewer holds third place in the PokerGO leaderboard thanks to his early tour wins and fantastic series of paying finishes that allowed him to collect just over $1 million in prize money.