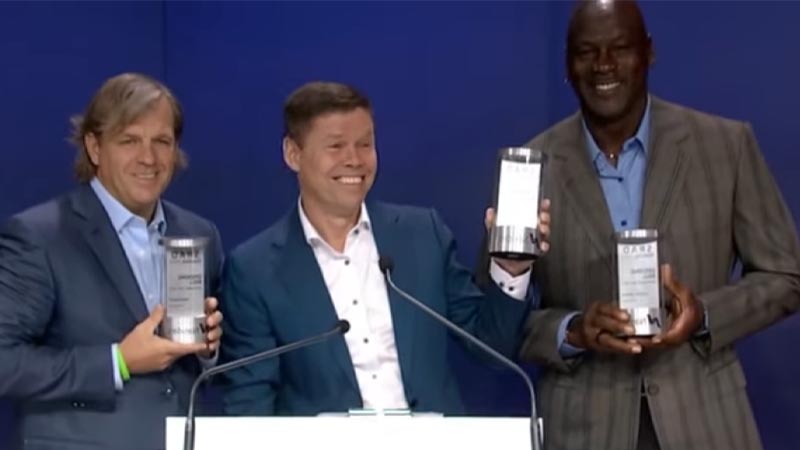 It has been announced that Michael Jordan will be increasing his investment in Sportsradar, while taking on a role as an advisor on the company's board. Jordan has been involved with the sportsbetting provider for over half a decade and will see them continue to thrive in the American betting market, as well as internationally.
Jordan's Position at SportRadar
In his advisory role, Michael Jordan will offer insight to the management team and board, on topics like product development and marketing.
"Not only is Michael Jordan one of the most iconic sports figures of all time, but he is a legendary leader who believes in Sportradar's mission to enhance fan engagement through our fully-integrated technology and services platform" – Jeffery Yabuki, Chairman of the Sportradar Global Board of Directors.
This is the perfect time for a company like Sportradar to set its sights on further expansion across the United States by teaming up with Jordan. Over 900 sportsbetting brands use data from Sportradar, and this number is sure to grow as more sportbooks begin to pop up in states where betting becomes legalized.
An Astute Businessman
Michael Jordan is not only considered to be the greatest basketball player ever; he's also recognized for his business acumen. Over the years, he's made some incredibly successful business deals, and the Sportradar team will be able to tap into that wisdom in order to grow the brand even further.
Since entering the NBA, Jordan has earned nearly $2 billion from endorsements  – working with companies like McDonald's, Hanes and, of course, Nike. He gets 5% royalties on sales from all of Nike's Jordan merchandise, which amounted to $130 million in 2019.
Jordan also saw a huge return on his investment in the Charlotte Hornets. In 2021, he bought 97% of the team for $180 million; when he sold 20% in 2020, the team's value had skyrocketed to $1.5 billion.
He recognized the potential of Sportradar years ago, and made the wise decision to get on board. Now that the sportsbetting market continues to expand across the United States, the company is well-positioned to experience tremendous growth – especially with the expertise of Jordan in tow.
History with Sportradar
Jordan and Sportradar go way back together. It was in 2015 that he first invested in the company, joining a $44 million funding round along with Mark Cuban.
In September 2021, Sportradar launched an IPO. Jordan was even there to celebrate the momentous occasion.
On your mark, get set… GO! 🛎🎊

Alongside Michael Jordan, @Sportradar rings the Opening Bell in celebration of their listing on @Nasdaq! 🎉 #SportradarIPO pic.twitter.com/YKIVzGd01i

— Nasdaq (@Nasdaq) September 14, 2021
Just one year before the IPO, Sportradar was valued at $2.5 billion – which increased to $7.4 billion afterwards. Jordan certainly has seen the company go from strength to strength over the past six years. So, it's fitting that he would take on such an important role with the company.
With a view to maximize engagement among sports fans, Sportradar will be developing new products and solutions. Jordan's insight will be incredibly valuable in this process, and we're very excited to see what is produced.