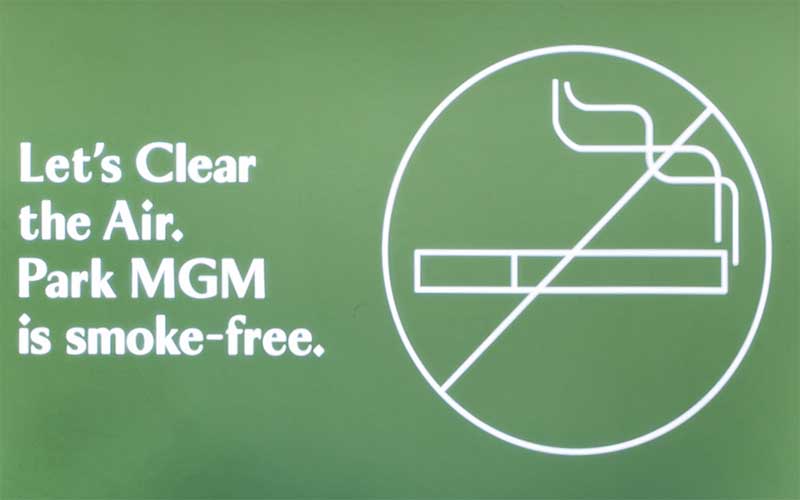 When Park MGM reopens this month on September 30th, it will be a non-smoking venue. This is the first time that a casino resort on the Las Vegas strip will prohibit smoking in all indoor spaces.
This is certainly a controversial decision, as Las Vegas is very much known as a smoker-friendly destination. While it may turn away some players who do smoke, it's likely that non-smoking gamblers will be drawn to the venue. Whether the latter outnumbers the former still remains to be seen, but we're sure to see many players with safety concerns opting enjoy casino games at a smoke-free venue.
Nevada's Smoking Laws
Nevada has pretty liberal smoking laws, especially when compared to states where indoor smoking is mostly illegal such as New York and California. Currently, all of the following public indoor locations permit smoking in Nevada:
gaming areas of casinos
strip clubs or brothels
tobacco shops
age-restricted stand-alone bars, taverns and saloons
completely enclosed areas within stand-alone age 21+ bars
areas of a convention facility in which a meeting or trade show is being held
So, it is pretty shocking the Park MGM has decided to prohibit smoking. In fact, the resort's casino will be one of the adults-only venues in the city of Las Vegas that won't allow visitors to light up a cigarette indoors.
COVID-19 Safety Measures
As is the case for all casinos that are reopening, Park MGM will be implementing a number of safety measures to protect visitors. These include:
Employee screening, temperature checks and training
A social distance policy with floor guides in place
Plexiglass barriers in areas where physical distancing my be difficult
Handwashing stations
Contact-less check-ins
It certainly makes sense to ban smoking amidst re-opening during a pandemic, especially when it's a respiratory condition that has killed over 900,000 people around the world. Many countries have introduced new smoking laws – for example, it being illegal to smoke in any public space in Spain or to even purchase cigarettes in South Africa. So, it will be interesting to see if any other gaming venues across the country follow Park MGM's example.
About Park MGM
Park MGM is one of the newest casino resorts to set up shop in Las Vegas. The venue opened in 2018, so it hasn't even been around for very long before having to shut down due to coronavirus.
"The last six months have presented extraordinary challenges and I could not be prouder of the MGM Resorts team for the tireless effort required to get us here. There is much work ahead as we remain focused on the health and safety of our employees and guests, but this is an important moment for us" – MGM Resorts CEO Bill Hornbuckle
The move to ban smoking at Park MGM will certainly set this venue apart from other casinos on The Strip. Although Sin City is full of smoker-friendly casinos, it's entirely possible that Vegas visitors will be inclined to visit a smoke-free location amid the coronavirus pandemic.