Super System 2 (Doyle Brunson)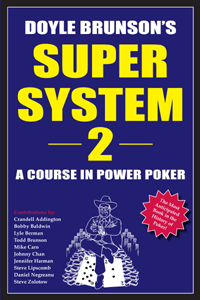 Super System 2 by Doyle Brunson
All popular forms of casino poker explored
Mostly suited for intermediate and advanced players
Our rating: 89 (out of 100)
Year of publication: 2005
The structure of Super System 2
This sequel to the highly acclaimed original Super System is written by 10-time WSOP bracelet winner Doyle Brunson, who is arguably still one of the best poker player around. The original was published almost 30 years ago and was almost called How I Made $1,000,000 Playing Poker.

It has been dubbed by many "The Bible of Poker" and holds true to form with updated sections in this follow-up written in 2004.
The section on Doyle's favorite game no-limit Hold'em, what he calls the "Cadillac of Poker", remains the same while Doyle contributes a short autobiography and looks at recent evolutions of the game.
Each lengthy chapter features a different game written by a different expert. Poker pro contributors include names like Daniel Negreanu (Triple Draw) and Todd Brunson (Stud Hi-Lo), Doyle's son-turned-professional-poker-player.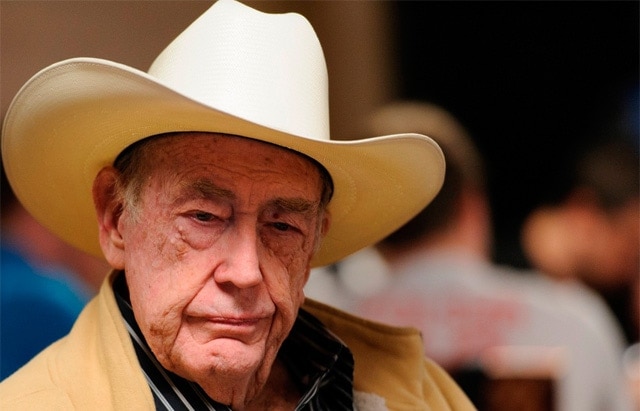 Topping in at, I believe, about 700 pages it isn't unreasonable to call this book the Bible of Poker as features some in-depth strategy on all popular forms of poker played today.
While Hold'em only comprises a couple of sections you'll get some brilliant insight from a legend that is most suited for live cash games, a rarity in a field largely dominated by tournament texts.
My thoughts on Super System 2
If you're into mixed games, especially at the medium-to-high stakes, Super System 2 is truly a gem.
You'll rarely find a book about Triple Draw or other niche games, so varied players will get a lot of value out of this book. Hold'em players might be disappointed with only the two sections devoted to fixed limit and no-limit. Plus, Doyle himself only writes the no-limit section.
Excellent strategy is not for beginners or the faint of heart
Also, I recommend that beginner's beware of Doyle's no-limit advice. It's basically a how-to guide on aggressive poker, which he himself has perfected. However, you should realize that he's writing from a huge cash game perspective.
He has an awesome and unpredictable style but you can't sign onto an online table and expect to dominate the competition like he does at high-stakes private tables in Vegas.

If you play in live ring games for decent stakes you might consider adopting this style of play. However, some of his insights were great reading even from a mainly online player.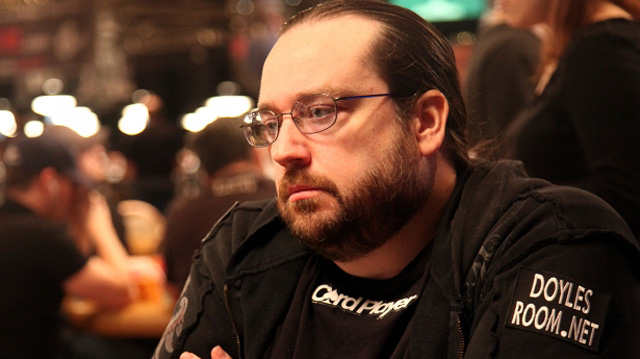 Timeless advice for reading opponents post-flop
However, beyond the aggressive pre-flop style dictated by Brunson that may not be as easily executed in current-day poker that thrives on blind aggression and loose play, he provides timeless advice for reading your opponent's holdings after the flop.
Specific starting hands such as pocket Aces, Kings, small pocket pairs, and suited connectors are discussed with advice on how to continue with various types of flops.
Finally, if you're interested in Doyle's story at all Super System 2 is a good read.
I have the collector's edition from playing at Doyle's Room back in the boom years so I don't know if it's different than the paperback, but it includes an autobiography on how he got into poker and really popularized the game with his fellow Texan partners such as "Amarillo Slim" Preston.
It's definitely good stuff for poker buffs.
The Final Score
Out of 100, I give Super System 2 an 89.
Hold'em players might be a little let down and online players shouldn't duplicate this style, but it's a must-have for any serious poker player. If you play mixed games you can't do much better and the post-flop Hold'em advice is still as relevant as ever.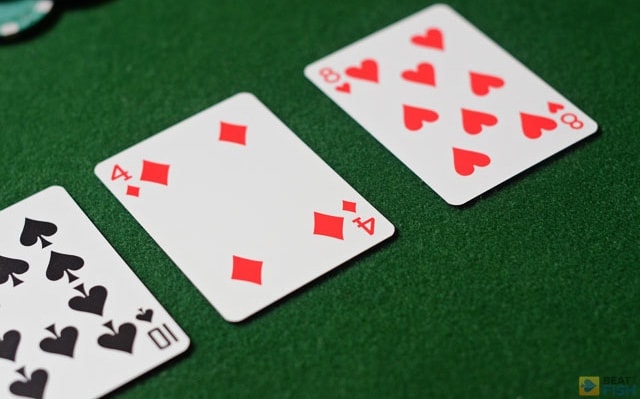 Beginners should be cautioned to perhaps begin their poker education with a simpler and less advanced guide as this text is best suited for intermediate and expert players.
About Doyle Brunson
Doyle Brunson is one of the best known names in the poker world, often referred to as "Godfather of Poker." An accomplished player and author, Doyle has truly seen it all and stood the test of time, competing against the best. If you are interested in finding out more, you can read his detailed biography right here at BTF.
A lifelong poker player who moved online in 2004, Josh founded Beat The Fish in 2005 to help online poker players make more-informed decisions on where to play and how to win once they got there. He hopes to counter the rampant dishonesty in online gaming media with objective reviews and relevant features. Tech nostalgic. Fondly remembers the soup avatar at Doyle's Room.