Knowing the history of the Doyle Brunson Hand makes the 10-2 so much better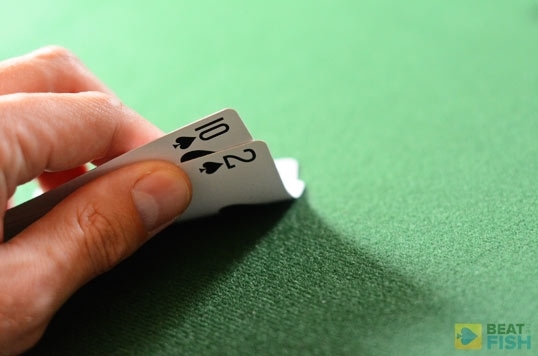 Here's the deal:
Hand nicknames have been a part of the beautiful game of poker as long as it has been played.
Big Slick. Dead Man's Hand. Rockets. Ladies. Cowboys.
The Doyle Brunson Hand may have the best history of all and it's become arguably the most famous hand in poker.
The actual origins of the 10-2 are stranger than fiction. Let's take a ride through some unbelievable poker lore.
The Doyle Brunson Hand was the original ultimate bad beat
Long before the days of online poker, the game still had its incredibly bad beats.
The Doyle Brunson hand perhaps illustrates that best.

Take the final hands of both the 1976 and 1977 WSOP Main Events. For the crowning hands of Doyle Brunson's back-to-back championships he had to suck out twice against dominating hands.
Doyle "Texas Dolly" Brunson, a living legend and one of the greatest players to ever grace the felt, couldn't be stopped when he held his new favorite hand.
That hand actually won WSOP titles?!
Most amazingly, Doyle held the pitiful 10-2 to win both WSOP titles.
Typically, the 10-2 is an absolute trash hand in Texas Hold'em with almost zero potential value, even to someone of Brunson's stature.
To this day, the 10-2 is now nicknamed the "Doyle Brunson hand" by poker players in cardrooms around the world. Doyle himself still has a fondness for playing the hand as much as possible. Who could blame him with his track record?
To a lesser degree, A-Q is also associated with Doyle Brunson because of his well-known distaste for the hand. In his best-selling 1979 strategy manual Super System, Brunson says that he "never plays this hand".
In 2005, Doyle won his 10th WSOP bracelet holding the eerily-similar 10-3.
The 1976 WSOP: Doyle Brunson's 10-2 makes its mark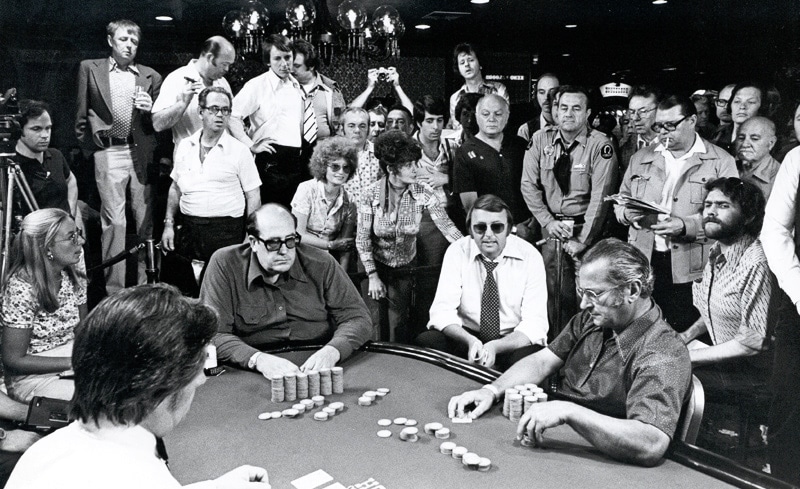 In 1976, the WSOP was only in its 7th year, but was growing in popularity.
Doyle Brunson was in the prime of his poker playing career and was gunning for his first Main Event title.

Down to heads-up play against a final-table fixture of the day in Jesse Alto, The Doyle Brunson hand would make its first mark on the poker world.
Preflop, Alto raised with his unsuited A-J, an excellent heads-up hand. Doyle called with his 10-2, both spades. The flop was A-J-10 with 2 hearts and 1 spade.
With top two pair on a flop with lots of draws, Alto made a pot-sized bet. Almost certainly on an aggressive play intended to induce a fold from Alto, Brunson moved all-in with the chip lead.
Alto naturally called and was a dominating favorite to double up. A 2 on the turn improved Doyle's hand, but still gave him two smaller pair than Alto's Aces and Jacks.
On the river, Doyle spiked another 10 for a runner-runner full house and the title. The first-place prize money was $220,000 that year.
The 1977 WSOP: Return of the 10-2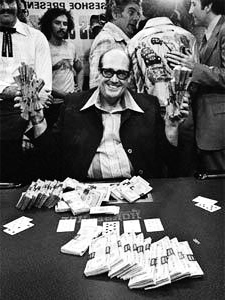 It gets better:
In 1977, Doyle dominated the field again to make a run at back-to-back WSOP championships. Down to heads-up play with the chip lead against Bones Berland, Doyle was dealt the 10-2 again.

Unlike the previous year's final hand, he was up against another trash hand in Berland's 8-5. Neither hand was suited and neither player showed any strength preflop. The flop came 10-8-5 rainbow, giving Doyle top pair and Berland bottom two pair.
Both players slowplayed their hand and the turn gave Doyle the miracle 2 for a better two pair. This time, Doyle bet out, Berland raised him all-in and, of course, Doyle called.
Amazingly, the 10 on the river gave Doyle another full house on the river to win his second consecutive WSOP Main Event with this antithesis of a power hand.
His prize for the win was $340,000. Texas Dolly went on to poker immortality and the 10-2 was forever known as the Doyle Brunson hand.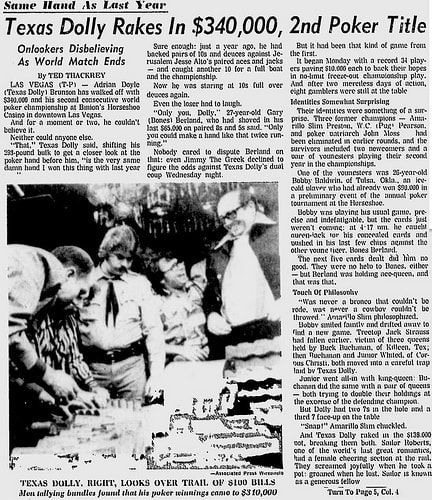 Legacy of the Doyle Brunson Hand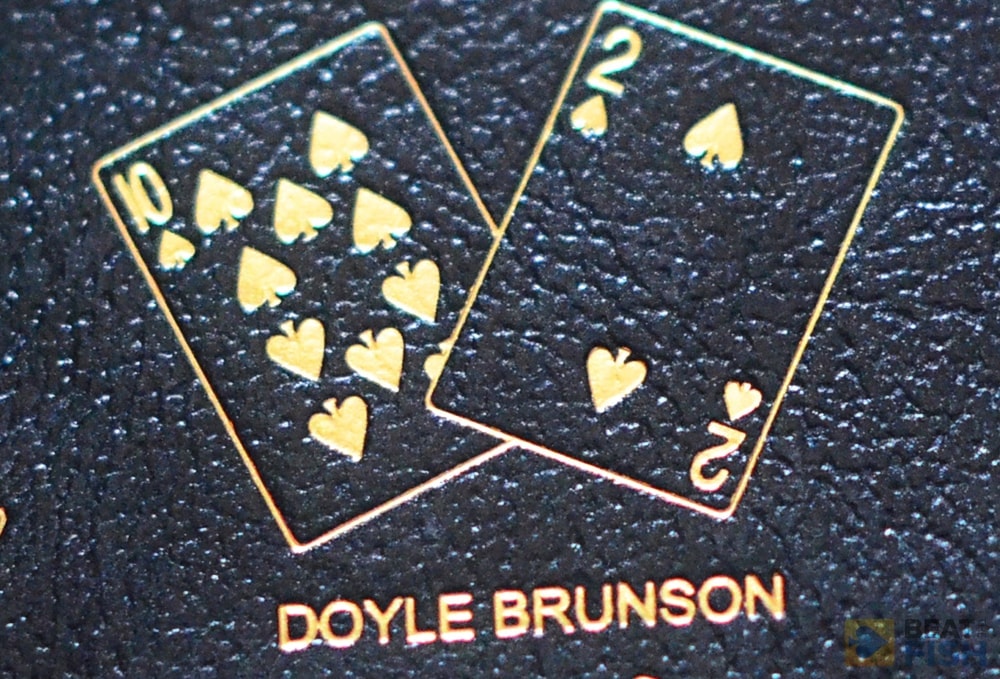 Want to know the best part?
In today's world of round-the-clock televised poker, countless books, and an exploding amount of new players and fans flocking to the game, Doyle Brunson's 10-2 hand has never been more popular.
Whenever Doyle picks up a 10-2 in a televised event, he usually flirts with the idea of playing it. This almost always makes the final cut of the show.

Other players at the table often show their 10-2 with Doyle nearby as they exchange a smile with the poker legend.
On classic World Poker Tour episodes, Mike Sexton regularly reminded viewers of this hand's storied past.
After all, is there anyone better to name a Texas Hold'em poker hand after than Doyle Brunson?
Famous modern pots featuring 10-2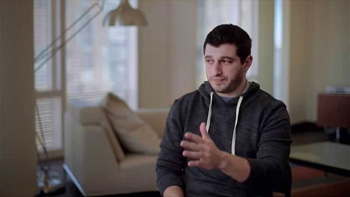 Here's something I love:
Despite of the fact that many young players have achieved a lot in poker and that many of them have total winnings significantly exceeding Doyle's recorded earnings, they still admire the poker legend.
That's why they often jump at the opportunity to show off their skills when they are dealt a 2-10 hand, especially in televised cash games.
Although -EV from a purely poker perspective, these moves are a kind of homage to Texas Dolly and everything he has done for the game.

Whenever this situation arises at the table, it makes Doyle at least crack a smile.
Phil Galfond Gets into Trouble with the Doyle Brunson Hand
One such a situation happened when the online high stakes legend Phil Galfond picked up the good old 10-2 and decided to play it hard to try and impress Doyle who was at the table but not involved in the pot.
Galfond got involved with Daniel Negreanu who flopped the top pair and when Phil tried to check raise him on the turn, 'KidPoker' decided his hand was strong enough to play for all the marbles and moved in.
Galfond sheepishly surrendered the pot, turned over his hand, stating: I was trying to impress Doyle…
Doyle Getting Himself into Trouble
Doyle himself sometimes has a hard time laying down the hand that brought him two titles, even if he knows all too well it's a trash hand. During the WSOP 2003 Main Event, The Godfather of Poker got involved in a relatively insignificant pot against Zimmerman. Zimmerman held pocket Sevens and Doyle managed to out-flop him by finding a 10.
Since it was a dangerous board for both players, they checked it down to the river and Brunson turned over the winning hand, stating, "I just couldn't help myself." This, naturally, cracked the whole table up.
10-2 tips for friendly games
Whenever you get dealt a 10-2, the first thing that goes through your mind is, "I've got to play this."
Having been named after such a poker legend as Doyle Brunson, it is only natural for people to think that they should take this hand for a spin. If nothing else, there is definitely some entertainment value attached to playing (and potentially, winning) a pot holding 10-2. That said, try not to get in trouble.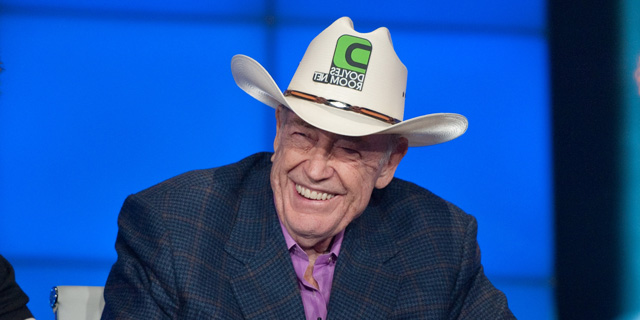 If it happened to a pro like Phil Galfond, it means that any of us can easily get carried away in our desire to win the pot with the famous Doyle Brunson hand.
The problem is, unless you are Doyle, you will usually end up with a rather weak hand or a stone cold bluff. Either way, putting too much money in the middle will often be a costly proposition.
I'm not trying to say that you shouldn't play this hand, as we all know that temptation is often too much. This is especially true for smaller, friendly games.
However, do try and stay in control. If you do get carried away and get yourself in a bit of trouble just make sure to turn it over at the end. People will understand.
There are a few poker hands out there that have such fame attached to them. Doyle Brunson's hand is one of those combinations that you know you shouldn't play, but you play it anyways because… Doyle. It doesn't really require much more explanation than that.
The 10-2 starting hand in Texas Hold'em is known as the "Doyle Brunson"
Perhaps the most famous starting hand in Hold'em
Doyle won both the 1976 and 1977 with the 10-2
In 2005, Doyle won his 10th WSOP bracelet with 10-3
A lifelong poker player who moved online in 2004, Josh founded Beat The Fish in 2005 to help online poker players make more-informed decisions on where to play and how to win once they got there. He hopes to counter the rampant dishonesty in online gaming media with objective reviews and relevant features. Tech nostalgic. Fondly remembers the soup avatar at Doyle's Room.