The Honest Pokerbros Review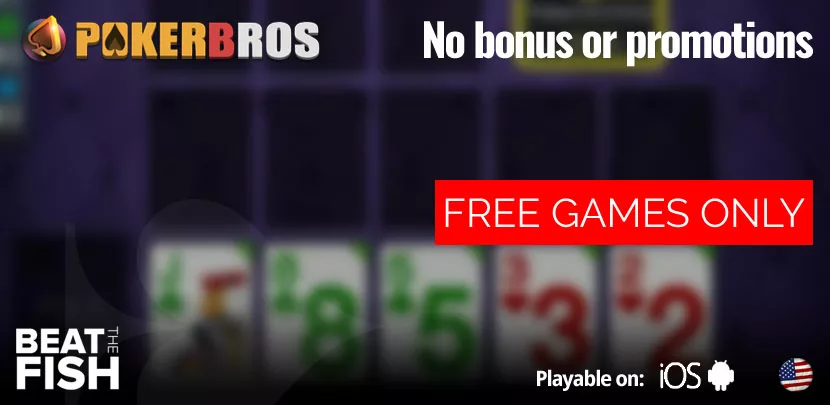 | | |
| --- | --- |
| | |
| | |
| | |
| | |
| | |
| | |
| | |
| | |
| | Texas Hold'em, Omaha, OFC, Mixed Games |
| | |
| | |
| | |
Pokerbros
App Quality

Poker Variants

Tournaments

Player Traffic

Support

Rake Levels

Reputation
Pros
Plenty of poker variants available including OFC
Lots of table customizations and avatars
Lobby is well-organized and easy to use
Cons
Real-money betting available only in private clubs
Cashouts only available via club managers and agents
Many users have experienced issues
Incredibly high rake up to 12% in private clubs
The Pokerbros App Overall
PokerBros is essentially a free-play mobile poker app that gives you the option to play in real-money games as part of private poker clubs.
While the play-money platform provides plenty of fun variants and a good user interface, the real-money platform is not one that I can recommend.
In this review, I will cover the things that we like about PokerBros and the red flags that the app presents. Read on for a totally honest review of this brand.
User Interface
The lobby of PokerBros is well-designed, and not overly crowded like you tend to see with many other poker apps. You can scroll through the different lobbies from the home screen, which are sorted by variant. Your history of poker tournaments, messages, and challenges are all located along the bottom of the screen for easy access.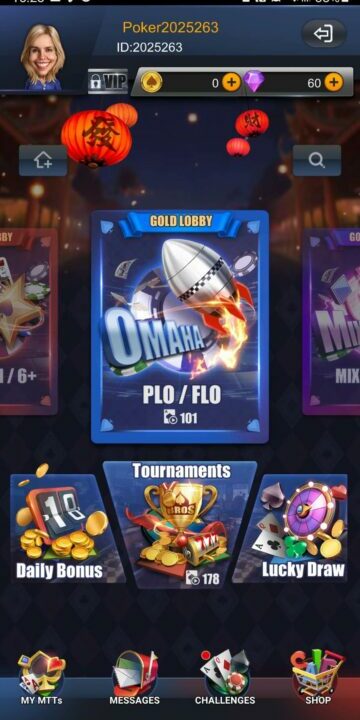 When you click on a lobby, every open poker table is listed along with all of the important information about the game. Limits, stakes, number of players, minimum buy-in and all other pertinent data are displayed prominently here. You can also control which tables you want to see in the lobby based on these criteria.
At the Table
Once you're inside a table, lots of fun customization options are available. You can change the look of the table, the background, the cards and the button. It is also easy to change your avatar, access the chat and see the history of all hands played.
Games Available at PokerBros
There is a wide range of poker variants available at PokerBros. On top of the standard poker game variants like that you'll find anywhere in the world of online poker, like Texas Hold'em and PLO, there are many niche variants available here, with a wide range of play-money stakes available.
Open Face Chinese Poker
In recent years, the popularity of Open Face Chinese (OFC) Poker has really blown up. It's not a game that you'll find on many poker apps or sites, so PokerBros really stands out here.
How to Play OFC Poker at PokerBros
The site has quite a cool interface for playing OFC online, with spaces to play your Top, Middle and Bottom hands laid out in front of you. You can also see the cards of your opponents, so it's not a game where you need to worry about learning how to bluff.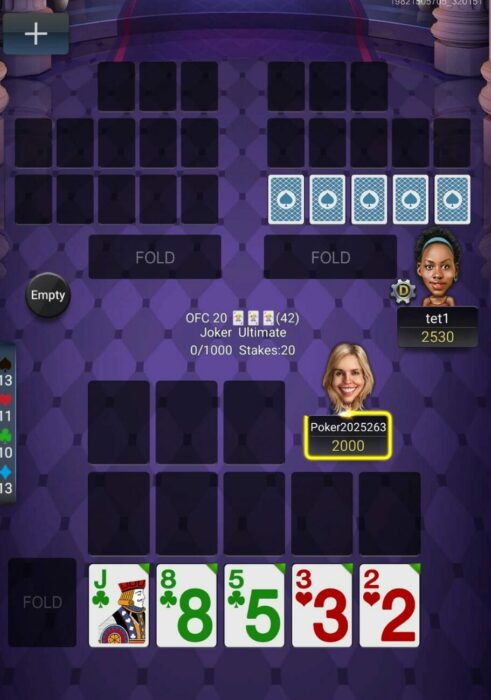 Once all of the cards have been dealt, everyone compares their hands and receives a score. You can take a look at the Scoring tab in the rules section to see the royalties (how many points you get) for which hands you have in each row, here's a quick look at how OFC is scored on PokerBros:
Top Row
| | | | | | | | | | | | | | |
| --- | --- | --- | --- | --- | --- | --- | --- | --- | --- | --- | --- | --- | --- |
| | Two | Three | Four | Five | Six | Seven | Eight | Nine | Ten | Jack | Queen | King | Ace |
| Pairs Points | | | | | 1 | 2 | 3 | 4 | 5 | 6 | 7 | 8 | 9 |
| Trips Points | 10 | 11 | 12 | 13 | 14 | 15 | 16 | 17 | 18 | 19 | 20 | 21 | 22 |
Middle Row
| | | | | | | | |
| --- | --- | --- | --- | --- | --- | --- | --- |
| Hand | Trips | Straight | Flush | Full House | Quads | Straight Flush | Royal Flush |
| Points | 2 | 4 | 8 | 12 | 20 | 30 | 50 |
Bottom Row
| | | | | | | | |
| --- | --- | --- | --- | --- | --- | --- | --- |
| Hand | Trips | Straight | Flush | Full House | Quads | Straight Flush | Royal Flush |
| Points | 2 | 4 | 6 | 10 | 15 | 15 | 25 |
Playing OFC Poker online on an app like PokerBros is a great way to learn the ropes. The scoring can make it a pretty complicated experience for beginners, so we appreciate that Poker Bros does it all automatically for you, as you get used to the unique gameplay of Open Face Chinese Poker and work on your poker skills.
While I'm not a big fan of how PokerBros operates its real-money games, I can at least appreciate its OFC interface.
Mixed Games
When you play mixed poker games, multiple variants are played one after the other. You may play Pot Limit Omaha for 10 hands and then Seven Card Stud for the next 10, before moving on to Texas Hold'em for another 10.
This is a really fun variant that keeps things interesting. Especially when you're playing poker online for hours, games like Texas Hold'em can get a little monotonous – so mixed games are a really good way to hold your attention.
Crazy Pineapple
In this variation of Texas Holdem, players are dealt a three-card hand and must only discard a card once all of the action of the betting rounds are over. It's usually the kind of variant you would play in a home game, but has become more and more popular over time.
Overall, PokerBros has one of the more extensive collections of poker variants we've seen in the gaming market. In addition to the above games and tournament variants, there are also tables where you're able to run it a number of times, the board is played out twice and straddles are mandatory.
This is a very player-centric poker platform that features all sorts of interesting mechanics that allow you to play just like you would in home games with your friends. So, it's no wonder it appeals to thousands of players across the web.
Does PokerBros Offer Real Money Games?
There really isn't a straightforward answer to the question of whether or not you can play for real-money on PokerBros. It is mainly a play-money app but there are private poker clubs and unions where it is possible to cash out.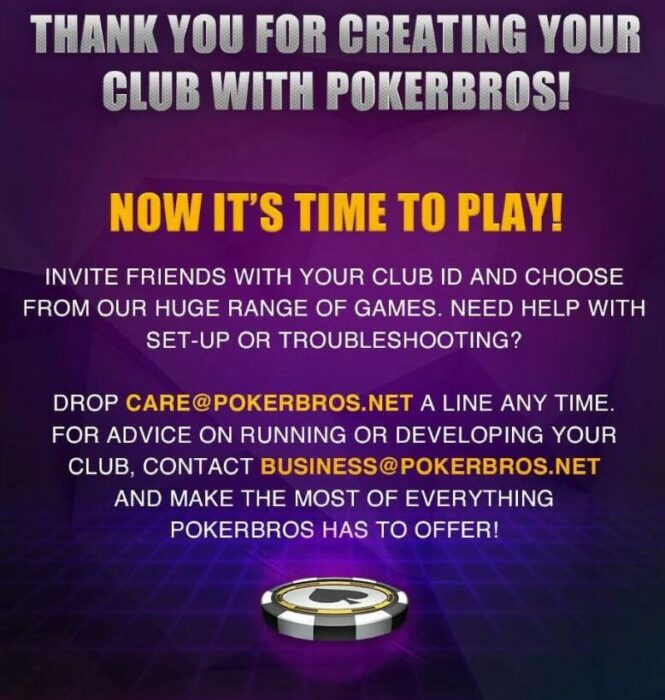 When you play games in the main lobby of PokerBros, you're in public poker games with other play-money users. Whether you win or lose, no money changes hands. It's similar to social casinos like Funzpoints Casino.
Joining Private Poker Clubs at PokerBros
For the opportunity to win actual cash, you have to join a private poker club. It is invite-only, so there is a lot going on in these clubs that the general public can't see. There are also poker unions, which consist of several clubs.
When you play in a poker room belonging to private clubs on PokerBros, there are club managers (also called agents) that you purchase chips from. Similar to making these "deposits", you can also make withdrawals from the manager via e-wallets and cryptocurrency wallets.
There is no set value for the chips, though, meaning that are no hard-and-fast rules for how poker chips convert to real-money currency. You have to negotiate this with the club manager, which sounds to me like a lot more trouble than it is worth.
What is the Rake at PokerBros?
There is no specific rate of rake at PokerBros. It's totally up to the club managers how much they want to change, so rake can be as high as 12%. That is egregiously high and dwarfs mainstream poker sites, which usually set rake caps at 5% or $3-4.
How Do Players Deposit And Withdraw Money From PokerBros?
There are two types of currency on the PokerBros platform:
The first currency is called gold coins which can be used to play in ring games and MTTS for play-money prizes
Diamonds are the second type of currency, which can be purchased using actual money
What this means is that, for the most part, you won't be able to make real money playing in cash games and tournaments here. What I mean by "for the most part" is that it is possible to cash out of games that you play with chips purchased from a club manager, which I told you about earlier and still believe there are much better ways to play online poker for real money. 
Buying Gold Coins and Diamonds
To buy gold coins at PokerBros, head over to the Shop. First. you'll have to buy Diamonds, which are available at the following price points:
60 diamonds for $0.99
300 diamonds for $4.99
600 diamonds for $9.99
1300 diamonds for $20.99
2988 diamonds for $46.99
6468 diamonds for $99.99
Once you've purchased diamonds, you can then use them to buy gold coins in the following packages:
6000 coins for 60 diamonds
30000 for 300 diamonds
298000 for 2980 diamonds
The cost of the diamonds will be processed through your Apple Pay or Google Pay wallet. So, whatever payment processor you have hooked up to that account (credit card, debit card or PayPal) is how you will pay for the currency.
Since the orders are processed through the Apple App Market and Google Play store, you can rest assured that they are handled quickly and securely. Still, these in-game currencies have no actual cash value and you'll have to win chips in a private poker club or room in order to withdraw tangible money.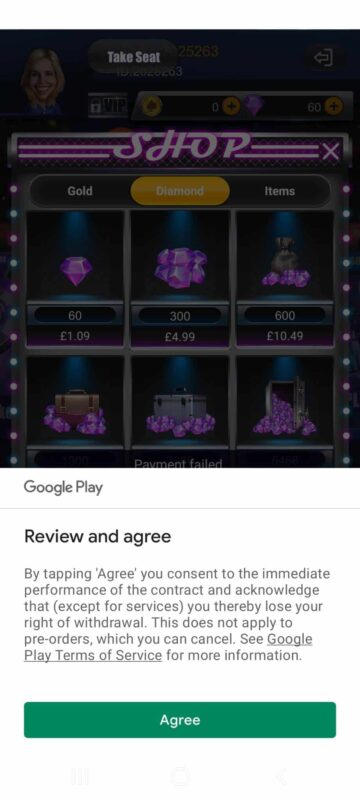 Withdrawing Winnings from PokerBros
When you're playing in the private poker rooms and clubs on the app, it is possible to withdraw the chips you win. This is a much more complicated process than purchasing gold coins and diamonds, as you have to get in touch with the managing agent of the club for them to send you what you've won.
Payments are processed only through e-wallets and Bitcoin. These types of only payment platforms are safe and reliable, but that's about where that warm feeling of security ends.
Player Complaints About Withdrawals
In my research, I've heard from many, many PokerBros members across the greater poker community that the withdrawal process is a huge issue. For example, here are some of the complaints I've come across from speaking with other players and reading user reviews on forums and Reddit.
The club manager has claimed that they sent the full amount of the withdrawal when they only sent half (or less)
The manager claimed that they sent the requested withdrawal but no money was sent
A player is kicked out of a club for no reason and their winnings have been 'seized'
These are just a few of the issues that players have had while trying to cash out their winnings from PokerBros. So, it's not an ideal place to play for people looking for a place to play poker for real money online.
Should You Play at PokerBROS?
This is actually a tough one. While the play-money platform offers some great opportunities to get stuck into a huge range of unique poker variants and has an easy-to-use interface, the real-money poker services leave a lot to be desired.
It is difficult to recommend a poker site or an app to anyone if I see more negative reviews than positive ones when it comes to the withdrawal of funds.
There are actually plenty of highly regarded online poker rooms available to US players, where withdrawals are handled by the site's secure software rather than through a single person who may or may not be handling your money with good intentions.
Frequently Asked Questions
✅ Are there bots on PokerBros?
Since PokerBros is primarily a free-play platform, it's incredibly unlikely that bots will be playing on this app.
✅How does pokerbros work?
PokerBros is a social poker platform that allows players to play in private clubs with friends or join public tables. It is a mobile platform that is available for both Android and iOS devices, and is not available for PC and desktop users. You can compete in public games using play-money and in private games for real-money prizes using chips purchased from a club manager.
✅What are the drawbacks of pokerbros?
PokerBros doesn't necessarily have a great reputation in the online gaming world. Many players have reported issues with withdrawing their winnings from public clubs.
✅How much does PokerBros cost?
This platform is free to use when you play in public games but betting with real money is available in private clubs. Here, rake is charged but it is up to the club manager how much this is. In some cases, the rake on PokerBros can be significantly higher than on large poker sites. There are reports that some clubs charge up to 12% rake for specific games which is four times higher than in other online poker rooms.
✅How do I join a poker room on PokerBros?
All of the public poker rooms are displayed on the home screen of the PokerBros app. For access to the private rooms, you will need an invite which you may be able to obtain from other poker players on message boards and forums.
✅Who owns PokerBros?
The owner of PokerBros is a company called ThinkLean. It's not a particularly well-known brand, and PokerBros is the only software you'll find on the app store from them.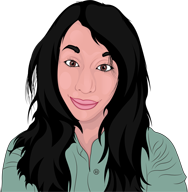 Bethany has been working in online gambling for over 13 years. She got her start in the industry as her first job after graduating from the Professional Writing Program at York University. Having written for many online gaming publications and worked with top casino operators, she has unique insight into the gambling market. Bethany maintains a personal interest in iGaming as she continues to play poker online as a hobby.