One of the most popular poker sites in the world, PokerStars, has announced a new online poker tournament series that should start this month. It is the already known "Bounty Builder" series but with a twist — a Halloween theme.
Bounty Builder Wears a Halloween Costume
The beginning of the Bounty Builder Series is scheduled for Sunday, October 13. It is planned for the tournaments to last for two weeks, meaning that Sunday, October 27 will be the last day of this new adventure.
The event will consist of 180 tournaments, resulting in a total of $25 million in guarantees. For those interested in a detailed Bounty Builders Series schedule, make sure to check out the official Bounty Builder PokerStars page.
PokerStars has it all planned out so that the players can stay entertained at all times. Every day, there will be 12 tournaments, as well as a huge span of buy-ins. In total, you will have 180 tournaments to choose from. All of them will be specially designed, plus adapted to different financial levels so that everyone can get a chance to try their luck.
It goes without saying that in every tournament, each player is a bounty. Otherwise, the name itself wouldn't make much sense, right? Now, let's explain how the tournament works in case there is someone who is not familiar with Knock-Out events.
Basically, when you knock another player out, you win cash. However, there is a twist, as expected. The amount of money you win is usually 50% of the bounty you knocked out. The more players you knock out, the more you are worth. That way, those who are very successful at knocking-out others also become the most wanted players to defeat.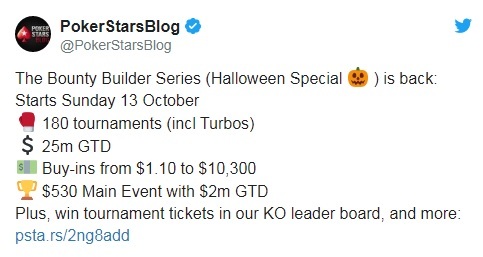 PokerStars Bounty Builder Sticks to the "Trick or Treat" Tradition
Apart from regular tournaments, the Bounty Builder Series came up with some additional contests that include more prizes. We are talking about turbo events, 47 in total, plus four hyper-turbos as well. From the PokerStars blog, we managed to get the following information:
We're also running some additional contests, with prize money to be won…

Halloween KO leaderboard with $5,000 to be won
Trick or treat tournaments every Wednesday and Friday
Win Bounty Builder tickets in special Midnight Challenges
If you think you've heard it all, don't be so sure just yet. Take a look at the quote above and you'll realize that people from PokerStars went one step further by creating a leaderboard where they will keep track of all the knockouts during the tournaments.
For those who get in the top five, the prize money is guaranteed. Additionally, all the players who accomplish 100 knockouts will be awarded tickets for three $10K freerolls on October 31 a.k.a. Halloween.
Even if you are not that good, don't give up yet. This organization is so good that it has prizes in every corner. Players who get close to 100 knockouts, precisely between 25 and 99, will earn the entry to the first and second freeroll, while those with 10-24 knockouts will have a chance to enter the first one only.
But what would Halloween be like without trick-or-treating, you might ask. Don't worry, it will be there too. "Trick or Treat" tournaments will be held on Wednesdays and Fridays. Again, the ticket price will vary — you will be able to get the "Tricks" for $1.10/$5.50 and the "Treats" for $22.
If you thought that's it, stay put because we still haven't finished with the surprises. Every day, when you think the last tournament is about to finish, there will be one more — the Midnight Challenge. Give your best to knock out five players in a 24/18 Players Super-KO SNG that goes with a buy-in of a minimum $5, and step into an All-In Shootout where the award is $2K Bounty Builder Series tickets.
Last Year's Bounty Builder
The only thing that has slightly decreased is the average guarantee per event — it switched from $143,000 to $139,000. In contrast, the schedule has expanded from 140 to 180 tournaments. Also, the amount of total guarantees has jumped from $20 million to $25 million.
If we compare this year's event with the Bounty Builder Series from the previous year, the conclusion is that the tournaments have grown in many aspects. One thing that has stayed the same is the Main Event that will happen on Sunday, 27 October. It is the biggest and the most valued event of the series, with a $530 buy-in and $2 million guaranteed.