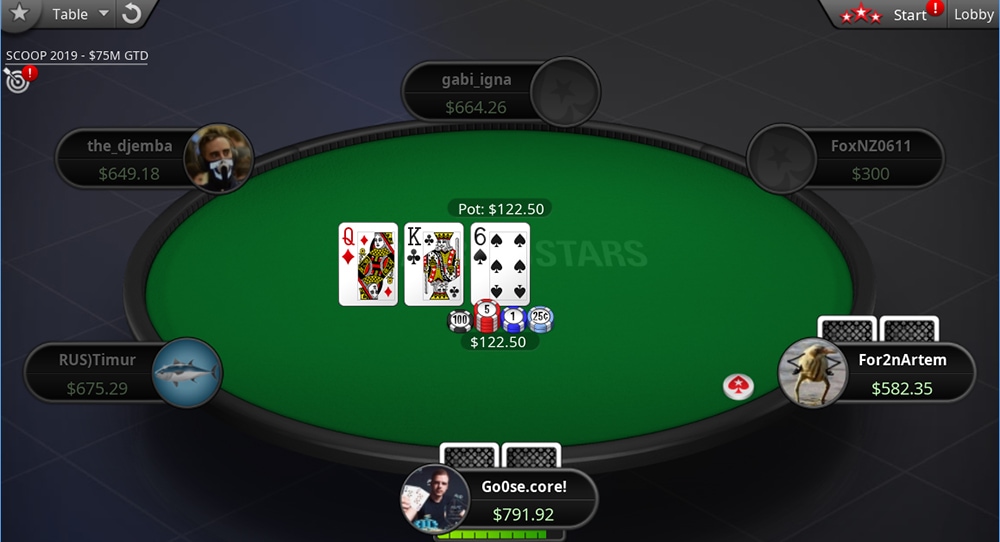 PokerStars is in the process of rolling out a new software graphics engine. Aurora will present players with new animations, graphics, sound effects and interactive elements.
The new graphics engine was first rolled out in Portugal, and is slowly making its way into other markets. So, if you haven't had a chance to experience Aurora yet, I have a little sneak peek in store for you.
"The improvements will make their experience more interesting with higher resolution, realistic physics, crisp and clean graphics and smoother and more lifelike animations," -Severin Rasset, PokerStars' Director of Poker Innovation and Operations
New Vs Old PokerStars Software: Side by Side
The new Aurora graphics engine makes everything look a little bit more polished when you're playing on PokerStars. When playing on less stylized themes, the differences are pretty subtle:

Things are a little sharper on the Aurora client. The graphics are smoother and more streamlined, and the images on the cards look a little less pixelated.
The changes also had a bit of effect on the animations. Whether it's a stylistic choice or not, there seems to be a little bit of lag when the cards are being dealt and the chips are being collected. It's not really a big enough issue to slow down the gameplay, though.
You can really see the difference when you change to a more stylized theme like Saloon:

Here, the two styles of tables look totally different, and there's no denying that the new Aurora table is more pleasing to the eye. It is much more detailed and polished, and there are even dynamic elements on the table, such as cigar with smoke coming off of it.
What PokerStars Players Think
While plenty of players are impressed with the new graphics at PokerStars tables, some have complaints. As I mentioned, there is some lag and some players have noticed that their hotkey responses have slowed down. Others have stated that the clock runs out before they have a chance to act.
It does seem that Aurora can be too demanding for the PC setups of many players. I would like to say that I have a pretty good computer, and even I noticed that the action was running a big more slowly than usual.
So, while the new Aurora graphics definitely look great, they seem to have a negative effect on functionality. Casual players may not even notice the difference, but if you're into multi-tabling or have hotkeys set up, then you might feel a little short-changed.
PokerStars states that they are rolling out the changes slowly, and Rasset said that the company's main goal is "making sure that it's working properly". So, hopefully, these issues will be sorted out soon.
Don't Like What You See?
If you're not a fan of PokerStars' new Aurora graphics engine, then you can easily turn it off in the Settings section of the client. Click on Table Graphics and untick the "Enable the new PokerStars Graphics Engine" box.
Your client will restart, and everything will be back to the way it used to be. So, if you don't like the new look, it's easy enough to go back to basics.