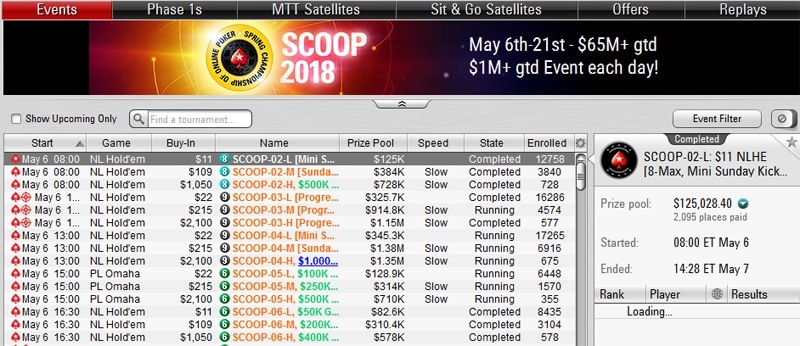 Spring is a beautiful time of year for many reasons but if you ask a random people out in the street why they love spring, the odds are poker will not be on their list. For poker players, however, amateurs and pros alike, new spring primarily means one thing: new Spring Championship of Online Poker!
While the rest of the world will be spending time admiring the nature and enjoying the sun, many thousands around the globe will be glued to their screens looking to claim their share of $65,000,000 guaranteed across 61 events featured during SCOOP 2018.
All events across all tiers
Although SCOOP 2018 nominally features 61 events, there are actually three times as many tournaments taking place between May 6 and May 21. This is because all events are available for three separate tiers: high, medium, and low.
This is already traditional for SCOOPs as PokerStars wants as many players as possible to get involved during one of the biggest yearly MTT festivals. Like the names suggest, different tiers have different buy-in ranges, so there is something for everyone.
SCOOP 2018: Celebrating a Decade of SCOOPs
Between all the events across all three tiers, there is $65 million in guaranteed prizes. This number is likely to be shattered as very few tournaments during SCOOPs fail to meet and exceed the guarantee and SCOOP 2018 should be no different in this regard.
#SCOOP2018 starts today! Win your share of over $110,000,000 between now and May 21st, including a $1,000,000 guaranteed event EVERY DAY! https://t.co/vv63pApGQY pic.twitter.com/IuQeIvXFgC

— PokerStars (@PokerStars) May 6, 2018
However, this year's Spring Championship of Online Poker is different than all the rest as this is the year SCOOP is celebrating its 10th anniversary. For this reason, the SCOOP 2018 schedule offers even more action than before.
SCOOP 2018 highlight events
With 61 nominal tournaments, there are way to many events to mention all of them here. The full SCOOP 2018 schedule can be found at PokerStars official website, while we'll just try to mention a few highlight events.
SCOOP 2018 Main Event
Although it takes place on May 20, on the penultimate day of the series, SCOOP 2018 Main Event is definitely the one not to miss. Available across all three tiers, it features buy-ins of $109, $1,050, and $10,300 respectively, with guaranteed prize pools of $1,500,000, $4,000,000, and $5,000,000.
SCOOP 40 – 8 Max High Roller & SCOOP 42- Heads Up Shootout
Scheduled for May 16, SCOOP 2018 8 Max High Roller events will bring out some serious action and big prize pools. The buy-ins are $55, $530, and $5,200, with guaranteed prizes of $200k, $500k, and a cool million.
On the same day, there is also the Heads Up Shootout event for all three tiers and you can get involved in the Low one for as little as $22 and battle it out for your share of $41,000 in guaranteed money.
Watch action live on Twitch
Of course, there are many more tournaments on the SCOOP 2018 schedule and some of them even feature the interesting win the button format. However, if you don't have the bankroll or the time to play in this year's SCOOP, you can still enjoy the action.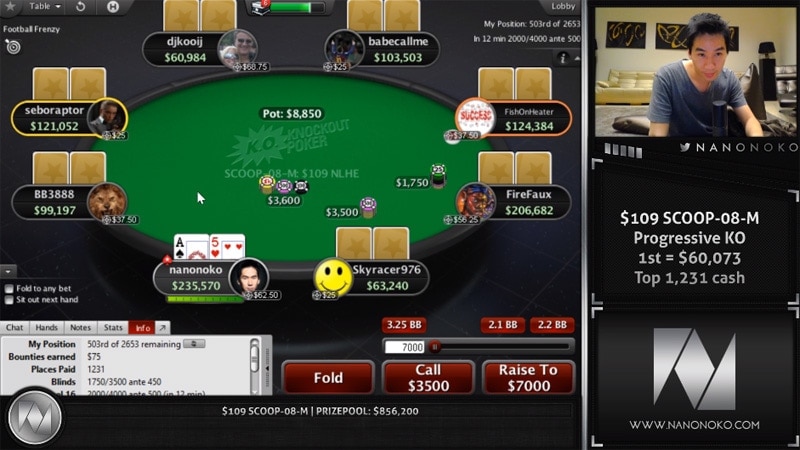 Namely, the official PokerStars Twitch channel will be live for the duration of the festival with PokerStars pros streaming their play live (with the delay, of course), and there should be plenty of action there pretty much around the clock.
Will you be playing in any SCOOP events this year? Planning on doing the full schedule or just a few select tournaments? Do let us know in the comments section.