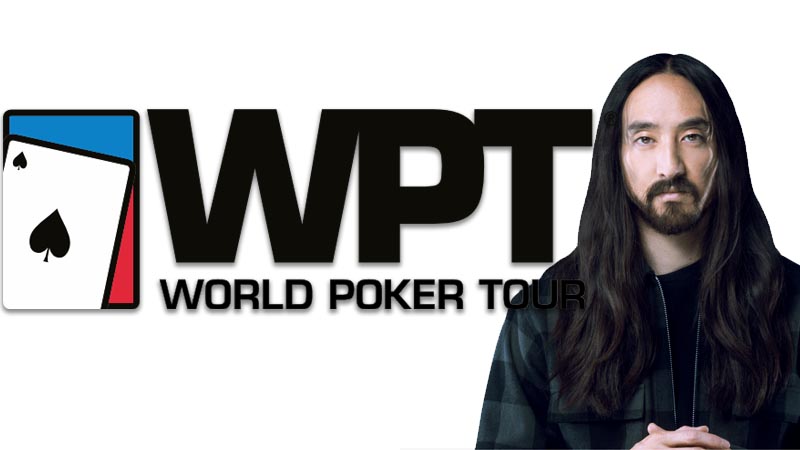 Celebrities are no strangers to the poker world. We've seen plenty of musicians, actors and athletes on the felt at prestigious tournaments – and one of the world's most popular DJs is now teaming up with the World Poker Tour (WPT) as Steve Aoki has been named an ambassador for the brand.
Aoki's WPT Brand Ambassador Role
In his new role as Brand Ambassador, Steve Aoki will help build the WPT's brand awareness and develop a new identity for the company. He'll also be heading to WPT events over the next year to get players engaged.
"It's such an honor to be joining the WPT family. I have watched and admired the WPT for many, many years and to now be part of the WPT family; it feels so surreal and I am incredibly grateful" – Steve Aoki.
Some of you might be wondering what connection Steve Aoki has to the poker world – but, he's been involved in the game for quite some time. He made an appearance on the rail at the World Poker Tour in 2013, and confirmed that he's friends with pros like Phil Ivey and Jeff Madsen.
As a Las Vegas resident, it shouldn't come as any surprise that he dabbles in the poker world. He's also hosted several celebrity poker tournaments, and even has his own custom poker chips.
any serious poker players out there? DM me and we can set up some games 🤑 pic.twitter.com/SCdyqGNAwk

— Steve Aoki (@steveaoki) April 1, 2020
Benefits for the Aoki Foundation
Later in the year, Aoki and WPT will team up to host an invite-only charity event in Las Vegas which will support the Aoki Foundation. The charity's purpose is to help organizations that search brain science and regenerative medicine.
It won't be your average celebrity charity poker tournament though. In addition to having actors and musicians in attendance, the event will also see thought-leaders, global pioneers and entrepreneurs join in.
The WPT's 20th Anniversary
The World Poker Tour has made this bold decision in conjunction with the brand's 20th anniversary. Plenty of exciting events are planned for WPT XX, and it is surely going to be an exciting year for the poker series and the brand as a whole.
"Steve's love of poker and his dedication to inspiring others to live life to the fullest makes him the ideal WPT brand ambassador. We are honored to have him play an active role in our transformation and in the celebration of World Poker Tour's 20th anniversary" – Adam Pliska, World Poker Tour CEO.
With Steve Aoki's social media presence and international fan base, he's sure to bring more awareness to the WPT and the game of poker at large. We're very excited to see the direction the WPT heads in with Aoki on their team.