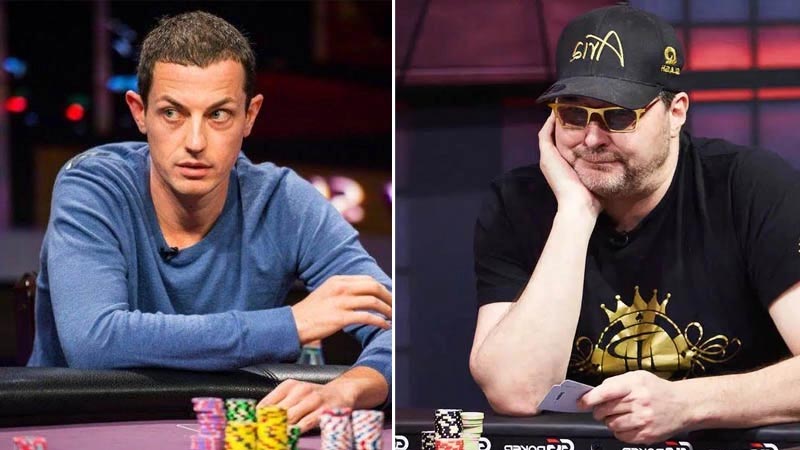 Tom Dwan and Phil Hellmuth are at it again. After losing a six-hour heads-up match in August, Hellmuth will be battling out with Dwan for a prize pool worth nearly $400,000 – which will take place on January 26, 2022.
$400,000 Poker Prize Pool
The prize pool for this heads-up poker match is a whopping $400,000. What had originally started out as a $50,000 buy-in per player has quadrupled in size – and, it's quite a long story of how this happened.
Firstly, it's important that you know the rules:
Each player posts $50,000 to create a Round 1 prize pool of $100,000
The player who loses can have a rematch in the next round but they must match the outstanding prize pool with three days of losing
If the loser declines, a new player may enter
If a player begins a winning streak in Round 1, 2 or 3, then they can cash out after three wins in a row
we'll visit the original match. It was Round 1 of High Stakes Duel III, when Phil Hellmuth faced off again sports broadcaster Nick Wright. Both players' buy-ins resulted in a prize pool of $100,000 which would go to the winner of the heads-up battle.
Wright was defeated by Hellmuth, but refused a rematch. This allowed for Tom Dwan to step in, adding $100,000 to the prize pool – doubling it to $200,000.
During their first match-up, Dwan was victorious, but Hellmuth wasn't about to go down without a fight. He challenged Dwan to a rematch – which meant his buy-in would have to match the current prize pool of $200,000.
Dwan's History with Hellmuth
There's a reason why heads-up matches between Dwan and Hellmuth are so highly-anticipated; they have a rivalry that goes back to 2008.
At the time, Dwan was new to the poker scene and Hellmuth was already an established pro – so, it was an especially painful bad beat when Hellmuth lost AA against Dwan's 10s on a 2s Kh 7s 10s 9d board.
Hellmuth kicked off in true Poker Brat fashion and Dwan held his ground. He came up with one of the most savage lines in poker history: "Phil, that's why you lose money online".
It was over 12 years later that they were finally able to schedule a rematch. It took place on August 25, 2021, and their final hand (once again) saw Hellmuth dealt a pair of aces.
He slowplayed AhAc against Dwan's 9s3c, and the flop came down 5c2h3h. Dwan bet 5000 chips and Hellmuth went all in. The river was a 9c, giving Dwan the winning two pair and ending Hellmuth's High Stakes Poker winning streak.
So, it's no wonder why these two poker powerhouses are eager to face off against each other. Although they are on good terms, and it's just some friendly competition, poker fans are always keen to watch Dwan and Hellmuth compete.
How to Watch
Anyone curious to see how the High Stakes Duel rematch between Tom Dwan and Hellmuth will turn out can tune in to PokerGO on January 26, 2022 at 5PM. The PokerGO app is available on Android and Apple devices, as well as Amazon Fire and Roku.