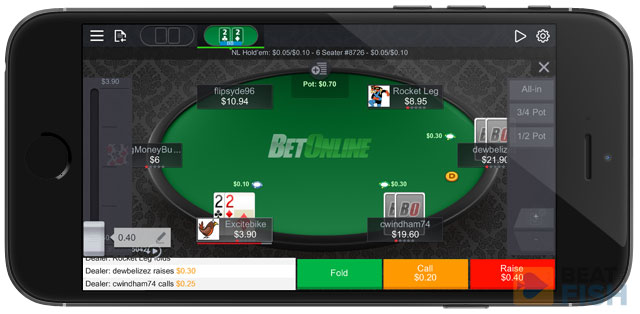 Saying that online poker options for the players from the US are very limited sounds almost as an euphemism these days. It is getting harder to find reliable rooms to play at these days, and players hardly have any say as to where they'll play, if they want to play in first place.
In such an atmosphere, rooms usually don't go way and beyond to make their customers happy, as they know that alternatives are scarce. That's why we were thrilled to find out that BetOnline, one of the most reliable US-facing online poker rooms, has released a mobile client.
It's worth noting they're the only site catering to players from the States to have done so apart from Ignition Poker, which will certainly go a long way in expanding their customer base.
BetOnline Mobile soft launch
BetOnline Mobile poker client hasn't been released to the wider player pool just yet. The room is still going through the necessary steps to ensure everything works well, so they are currently in the "soft launch" mode. Of course, this doesn't mean you can't check it out for yourself.
If you'd rather find out some info first, check out our in-depth analysis of BetOnline mobile client.
Getting started with BetOnline Mobile
If you'd like to see BetOnline mobile app in action, you can easily do this by visiting BetOnline site from your mobile phone. Once there, either create a new account or log in with your existing details and proceed to the poker section.
Android users will then be able to download a standalone app, while iPhone players can play from their browsers.
The app (in-browser and standalone both) will let you access your cashier and make a deposit if you don't have any money in your cashier. Once you're ready to role, simply navigate the BetOnline Mobile lobby to find your favorite games, be it tournaments, sit and go's, or cash games.
What's good about BetOnline Mobile app?
Considering everything mentioned in the introduction, players probably wouldn't expect to much from a mobile app. As long as it lets them play from their handheld devices, it is a big victory. However, BetOnline Mobile is much more than just a bunch of code letting you play from your phone.
The user interface features very nice graphics and navigating the mobile lobby is super easy. You can quickly find the games you're looking for or access your cashier to make a quick deposit.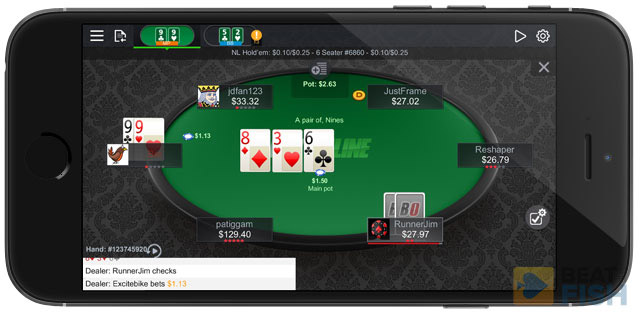 Furthermore, playing on BetOnline Mobile tables will be an enjoyable experience, as bet slider works very well, with several quick betting options based on the pot size, and there is also a hand replayer to catch up on any action you may have missed.
Stability & multi-tabling
Although it's still early days, BetOnline Mobile app is fairly stable and you won't experience any sudden disconnects or crashes while seated at the tables. This is a great indicator, especially since the final version is bound to be even better, meaning we'll have a really solid product available to us.
As for multi-tabling, this is one area where many apps suffer the most, and it's nice to see BetOnline made a significant effort to make lives easier for those who just can't stand to play a single table. Players can join up to four games at the same time, and a small indicator on top of the screen will let them know what their cards are at the tables not in focus, and notify them when it's their turn to act.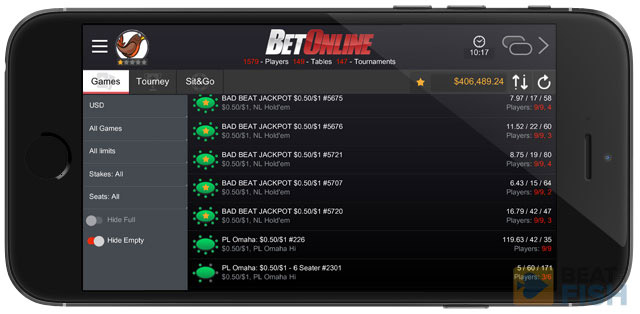 The app also lets you play tournaments, which is a huge plus, and you can play with different customization options to make everything more to your liking.
Very promising
From everything we've seen so far, BetOnline mobile app has a bright future ahead, and it's actually better than Ignition in several key segments (multi-tabling, the ability to play tournaments). Once all the small wrinkles are removed for the full launch, it's safe to say US poker players will finally have a mobile poker app they deserve.