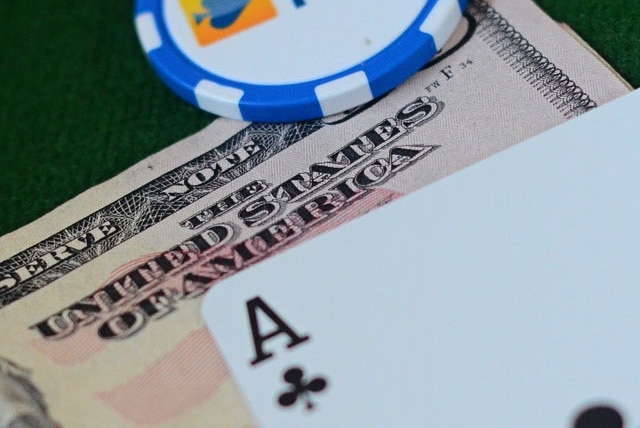 The Hendon Mob, the biggest and most popular database of live tournament results, decided to expand by offering visitors' surveys on the site. The Hendon Mob surveys aim to gather relevant opinions of poker fans and players on a number of important issues.
Being frequented by casual fans and hardened professionals alike, The Hendon Mob certainly has access to a versatile pool of poker community members. They are hoping results of these surveys could help the industry as a whole grow in the direction players and fans would like to see it take.
The Hendon Mob surveys project has only been launched recently, but even these early surveys have revealed some interesting information about the way a majority of poker fans seems to see the industry.
The Hendon Mob surveys: Majority of fans wouldn't pay for content
We live in a day and age where most of the content we consume on a daily basis is served to us free of charge. Most content producers find different sources of revenue, most often advertising, instead of directly charging their users.
In such a climate, it is hardly a surprise that a majority of those who voted in The Hendon Mob surveys are opposed to paying for poker-related content, even if the quality of such content would be very high.
WSOP & high stakes games not worth the money?
The Hendon Mob surveys asked their users to answer if they'd be willing to pay for poker content, such as full WSOP coverage or high stakes cash games featuring some of the best players in the industry.
More than 50% answered no to both of these questions.
When it comes to WSOP, 59.7% (413 votes) answered they wouldn't be willing to pay anything for this privilege. 12.2% said they'd be willing to pay between $5 and $9, while only 6.6% of those who took part in The Hendon Mob surveys said they'd pay more than $20 for a full WSOP coverage.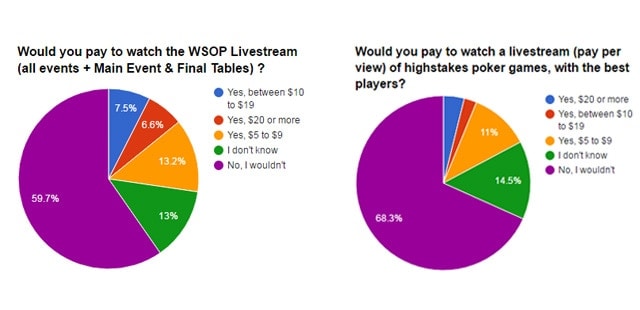 Somewhat surprisingly, when asked the same question about high stakes cash game, which are arguably the best TV poker content out there, an overwhelming majority of those who took part in the survey said NO. 68.3% of voters (353 votes) wouldn't be willing to pay a dime to watch the best players battle it out on the green felt.
How indicative is The Hendon Mob surveys data?
While there a few other interesting surveys you can find here, these two really caught my eye. We could say that this isn't a big enough sample to draw any definite conclusions, but it certainly is a good indicator of the way a majority of poker fans seem to think.
The fact people wouldn't be willing to pay even to watch high stakes action does speak heaps about declining popularity of the game.
But, it also speaks to the fact that people are simply used to free content, and having to pay to watch or read something doesn't come across as an appealing idea. If faced with a choice, it is safe to say that most people would probably just opt to watch something else instead.
How can the industry utilize The Hendon Mob surveys data
Trying to change people's mindset is a futile work, so the industry should take The Hendon Mob surveys data on these and other issues as is, and then try to work with them.
For example, if people aren't willing to pay to watch poker content, then it probably wouldn't be a good idea to just start charging for it anyways and hope for the best. Instead, content producers should acknowledge this fact and work around it.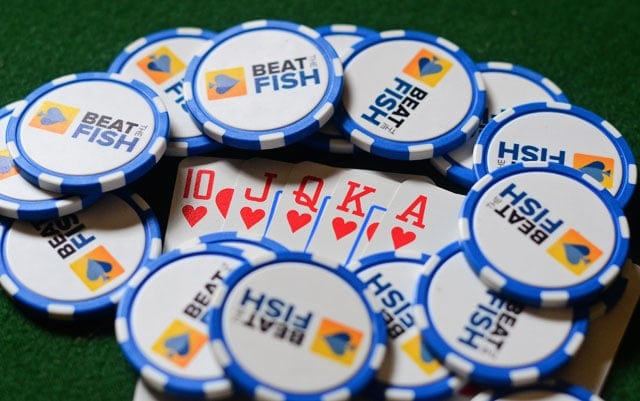 I won't try to offer ideas as to how those in the know should do their job, of course. That's up to them; however, I must admit I was surprised that so many people voted they wouldn't pay to watch high stakes action.
Personally, I wouldn't be opposed to paying a few bucks for a few hours of nosebleeds carnage at its finest!