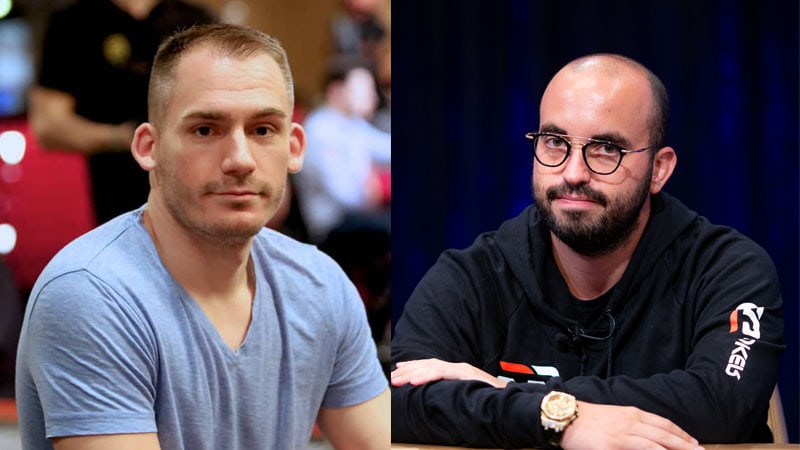 It was just last year that Justin Bonomo made it to the Number 1 spot of the All-Time Money List on Hendon Mob, and he's already been overtaken. Bryn Kenney is now the biggest poker tournament winner, after winning $20,537,000. at the Triton Million Event.
Kenney's Unlikely Card Game Beginnings
While Kenney's current passion is poker, it was another card game that first caught his attention. He started out playing Magic: The Gathering at the age of 12 and eventually became the Number 1 player in the world for ages 15 and under.
It was only when Kenney witnessed David Williams come in second place at the World Series of Poker 2004 Main Event that he decided to enter into the world of poker. Since Williams was also a well-known Magic Player, Kenney figured that he would be able to take a similar path.
As he entered his late teens, Kenney started grinding online poker and was able to earn himself a staking deal. By the time he was 21, the aspiring poker pro was regularly cashing in big tournaments. His first million-dollar tournament win came in January 2016, when he came first in the Super High Roller on Paradise Island – and, there was no looking back.
Since then, Kenney has earned himself at least payout worth more than $1 million every year, landing himself at 9th place on the All-Time Money List by the start of 2019. Then, came his big payday at the Triton Million.
Second Place Secures a $20 Million Prize
In the Triton Million tournament, 54 players bought in for £1,050,000 each. With a huge prize pool worth £54 million, the event was the biggest event in poker history.
Eventually, the field of players was whittled down, with Kenney at the final table with seven others. He managed to knock out several players before going heads up against Aaron Zang. Although he was the winner of the tournament, the two players had struck a deal that flattened out the payouts, based on Kenney's 4-to-1 chip lead.
As a result, Zang pocketed $16.7 million while Kenney earned $20.5 million. Even if Zang had won the bigger share, Kenney had already secured the top spot on the All-Time Money List early on in the final table.
Wanna day thanks so much to @tritonpoker for running the best event of all time. Incredible job and happy to be a part of history

— Bryn Kenney (@BrynKenney) August 4, 2019
Breaking Two Poker Records at Once
In addition to making his way to the top of the All-Time Money List on Hendon Mob, Kenney is also the youngest player to do so at 32-years-old – a Guinness World Record. While Justin Bonomo was also 32 when he topped the list, it all comes down to a matter of days.
Bonomo was 32 years, 9 months and 18 days-old when he won the Big One for One Drop Tournament that pushed him into first place. Kenney was 32 years, 9 months and 4 days-old when he topped the All-Time Money List. It's only 8 days difference that took the Guinness World Record title away from Bonomo.
However, he's not upset about the situation at all. Justin Bonomo has stated that he's planning on playing less poker in the future, so he won't be competing with Kenney to regain his top spot.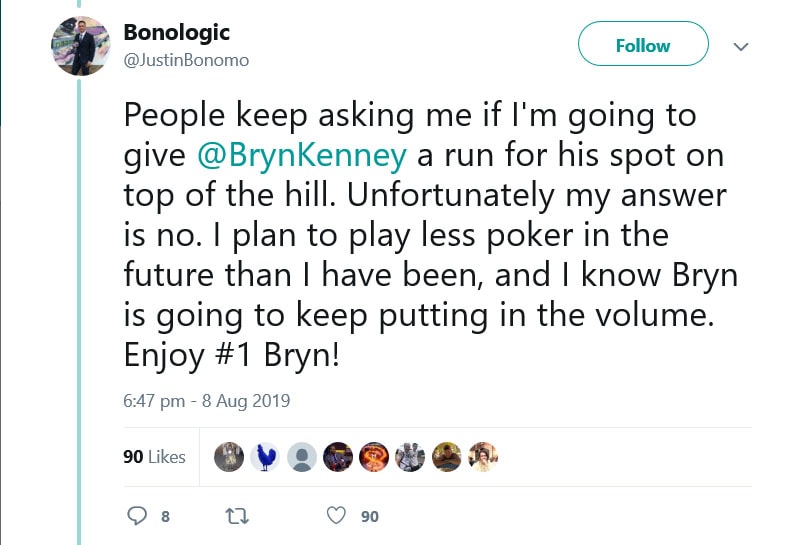 Congratulations to Bryn Kenney on his momentous win! With over $7 million more than second place on the Hendon Mob All-Time Money List, it's likely going to be quite a while before Kenney is topped.