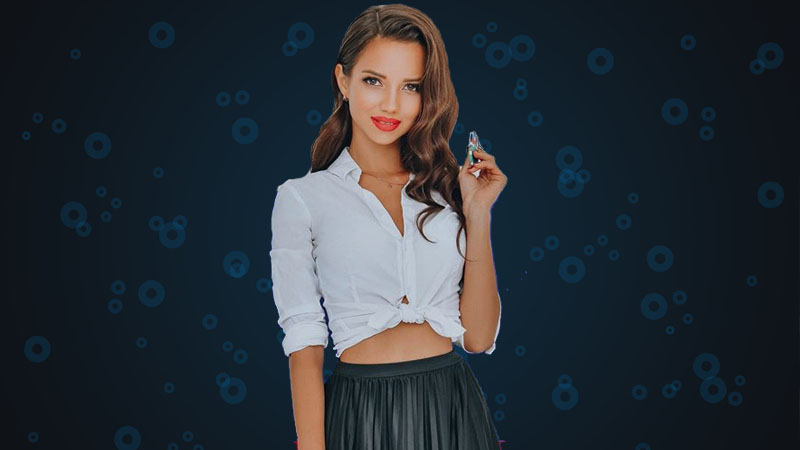 Daria Feschenko is the latest player to join Team888. From playing in underground poker clubs in Russia to studying linguistics at University and becoming Miss Bikini Eurasia, it's been a long and winding road that brought Daria to her current career as a professional cash game player.
While Daria has been playing poker for 10 years, she first began working with 888 during the 8-Team event at the 2018 World Series of Poker. She enjoyed her experience with the team and is pleased to be 888's newest ambassador.
About Daria Feschenko
Daria is 26-years-old and was born in Moscow, Russia. She raises her 7-year-old son as a single mother while balancing her poker career. In addition to being an accomplished model, Daria is also a linguist who studied Indonesian Language at the University of Moscow.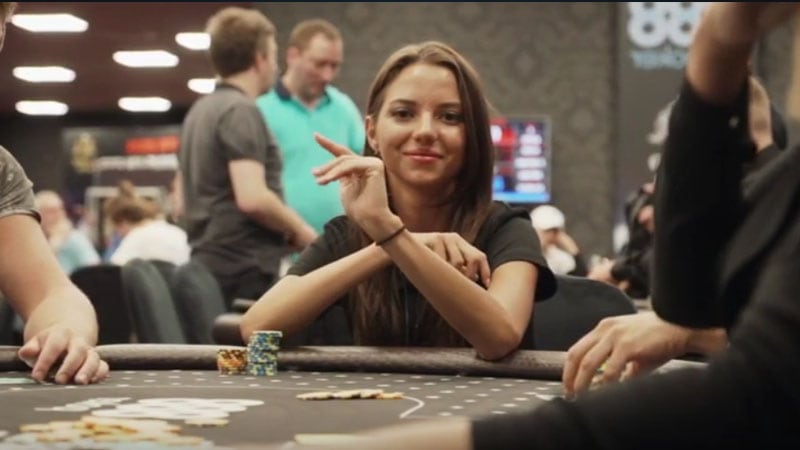 She also has a diverse list of hobbies. While Daria enjoys going to the ballet and theatre, she also enjoys reading and playing board games. Of course, spending time with her son is on that list, as she aims to be more than a mentor but also a "real friend".
Daria's Poker Career
Her poker career started ten years ago, when she was introduced to underground poker cash games. After six years of playing in these games, Daria decided to take on a more official career by taking part in cash games and tournaments at casinos around the world.
In the online poker world, she goes by the name "Scarlett". The moniker is inspired by the main character in Gone with the Wind.
 "It is a story of young women who grows up from a young capricious and wayward girl to strong and powerful woman. But still she always kept her spontaneity and spirit," Daria explains.
Currently, Daria mostly plays in $50/$100 cash games but occasionally dabbles in high stakes like $300/$600. In her tournament career, she's amassed more than $200,000 in winnings. At one point her career, Daria was the top ranking European poker player in the GPI rankings.
Her poker career has been a very interesting one to follow, and we can't wait to see where she heads next. Daria has the potential to be a household name in the poker world as she progresses. After all, she's only 26, and has plenty of time to accumulate more tournament wins and continue to build on her already impressive cash game winnings.
Changing Perspectives of Poker in Russia
Despite PokerStars hosting one of its biggest poker tournaments in Russia, it is still not widely accepted as a game of skill across the country. According to Daria, most people in her native country still think poker is primarily gambling and don't consider the intelligence that is involved to play. She hopes that she'll be able to change this view:
 "I'll be very glad to try to show them my life and share my opinions and experiences. Even if you are not a poker player, 888 ambassadors show that everybody can choose the life they want – even if it is not necessarily understood by society," she says.
It's great to see so much diversity among ambassadors for top poker sites, as the poker market was once dominates my men. Having players like Daria representing the 888 brand lets aspiring poker players know that they can achieve the same success, whether they're female or a single parent.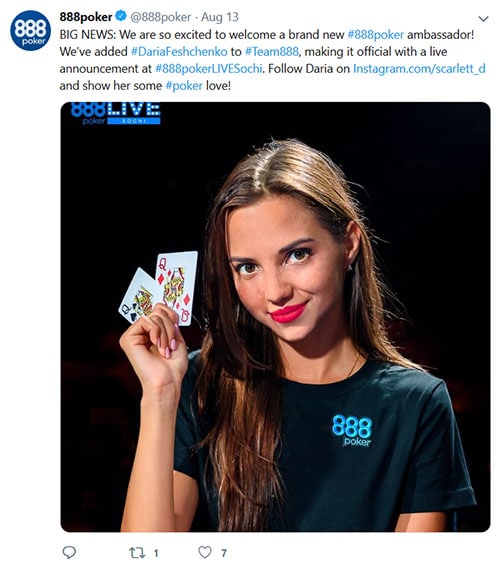 Daria is definitely a talented poker player and represents a new voice in the industry. We'll certainly be keeping an eye on her work with Team888, and wish them a very successful partnership!