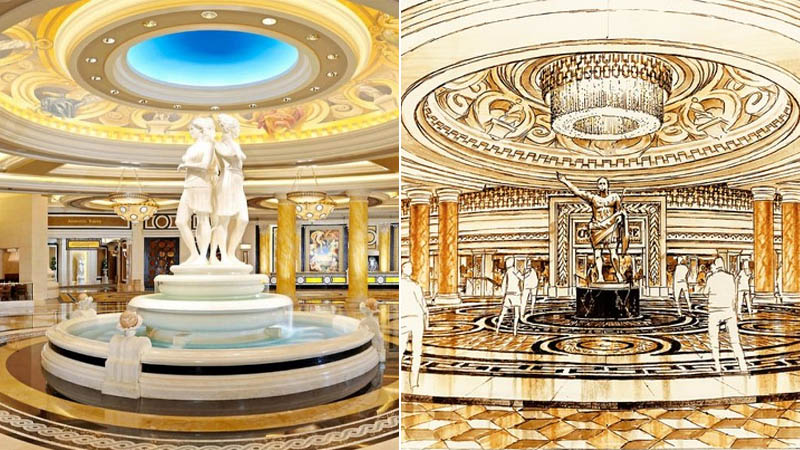 Today, Caesars Entertainment has announced its plans to renovate the main entrance and gaming floor at its Caesars Palace on the Las Vegas Strip. While the total cost of the project has yet to be revealed, but a press release from the brand says that it will be a "multimillion-dollar renovation".
"Completely rebuilding the front entrance of one of the world's most iconic destinations is no small task, and we're excited to get started and create a stunning new visual welcome for our guests" – Sean McBurney, Caesars Entertainment Regional President.
Caesars Palace's New Look
The main entryway for Caesars palace will be rebuilt from scratch, with the goal of giving visitors a royal welcome. A 15-foot statue of Augustus Caesar will be placed in the middle of the entrance hall which will be topped with a domed ceiling.
The press release includes a rendering of the new entrance by Allard & Conversano Design: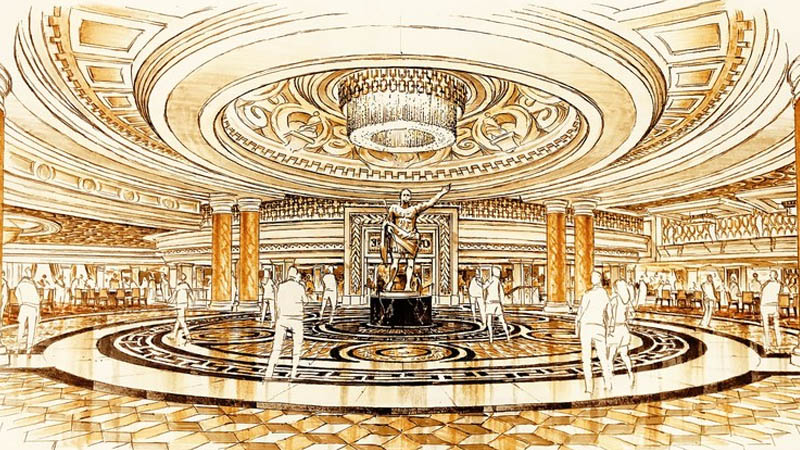 It looks as though it will maintain some of the original design elements from the current lobby design but with a grander overall aesthetic. Allard & Conversano have already designed other properties for Caesars Entertainment, so you can tell they trust the firm to create a new vision for its Las Vegas property that is in line with the Caesars brand.
Gaming Floor Makeover
The gaming floor at Caesars Palace will also see some improvements. The iconic domed ceiling in the casino games room will be renovated, likely to match the new look of the lobby.
The plans also include new "state-of-the-art" gaming pits. They will be located on either side of the new entrance. While little is known about these areas, the term "state-of-the-art" leads us to believe that new technology will be in place at the table games.
Could this possibly be contactless gaming solutions, as we're seeing installed in venues like Resorts World? Whatever the plan, we'll be sure to keep you updated with the details as they are revealed – and, we hope that Caesars will take advantage of all the innovative new technology available to land-based casino operators.
What Guests Should Know
If you're going to be visiting Caesars Palace while the renovations are taking place, you should be aware of some changes:
During construction from July through December, the following changes will occur:
Only Caesars Rewards Diamond and Seven Star members will be permitted to use the Main valet off of Las Vegas Blvd.
The pick-up and drop-off locations for the rideshare pick-up and drop-off will be moved to the doors by the Vanderpump Cocktail Garden.
All entrances that are in use will have hotel check-in/check-out kiosks.
The project is expected to begin this month, and it is estimated that it will be completed within the next five months. So, visitors will be able to experience the new and improved Caesars Palace casino in Las Vegas before the year is up.