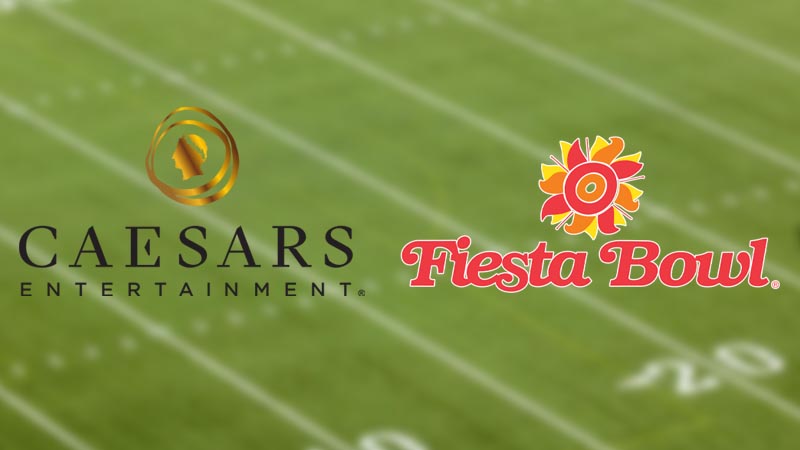 This year, we've seen professional sports leagues across America embrace sportsbetting. Now, college sports are doing the same.
The Fiesta Bowl Organization has announced its multi-year partnership with Caesars Entertainment. It's a historic moment for the sportsbetting industry, as this is the first time that any college sports entity in America has teamed up with a gaming brand.
What Will Be Involved?
As part of deal, Caesars will be creating a number of spaces for fans at the Fiesta Bowl, and will also be the title partner of the organization's pregame parties. While few details about the partnership have been revealed, it's obvious that the two brands will be working very closely together to further engage college football fans.
"We're thrilled to work with the Fiesta Bowl Organization on this landmark partnership to bring college football fans closer to the game and build awareness around the importance of responsible gaming practices," says Dan Shapiro, Chief Development Officer at Caesars Digital.
This is a very timely partnership, as sportbetting goes live in Arizona on September 9th. So, it is perfect timing for the Fiesta Bowl to get involved in the sportsbetting world.
Caesars' Sportsbetting Expansion Continues
This is just one of many, many sportsbetting deals made by Caesars Entertainment lately. Over the course of the past year, we've seen the gaming brand team up with ESPN to in a cross-promotion deal and become the official sportsbetting partner of the NFL.
Most recently, Caesars partnered with the Arizona Diamondbacks to launch mobile sportsbetting in the state. As part of this partnership, Caesars will also build a first-class sportsbook at Chase Field.
By the end of this year, Caesars will be operating in over a dozen states.
Growing Acceptance of Sportsbetting
Sportsbetting has been a controversial topic for quite some time, but it seems as though the American public is becoming more accepting of the industry. Now, there are over two dozen states across the country that have either passed sportsbetting bills or legalized the activity altogether.
"Five years ago this was probably taboo or you didn't even speak of it. But this is the evolution of sports as a whole and we're excited for it," says Fiesta Bowl Chief Marketing Officer Jose Moreno.
More and more Americans are coming around to the idea of sportsbetting being an acceptable way for sports fans of the legal gambling age to support their teams and to generate valuable tax revenue for state programs.
Now that the Fiesta Bowl has taken the first step, it will be interesting to see if other college football organizations will get involved. The Rose Bowl, Orange Bowl and Sugar Bowl are some of the most watched sporting events across the country, and we could certainly see sportsbooks targeting them.