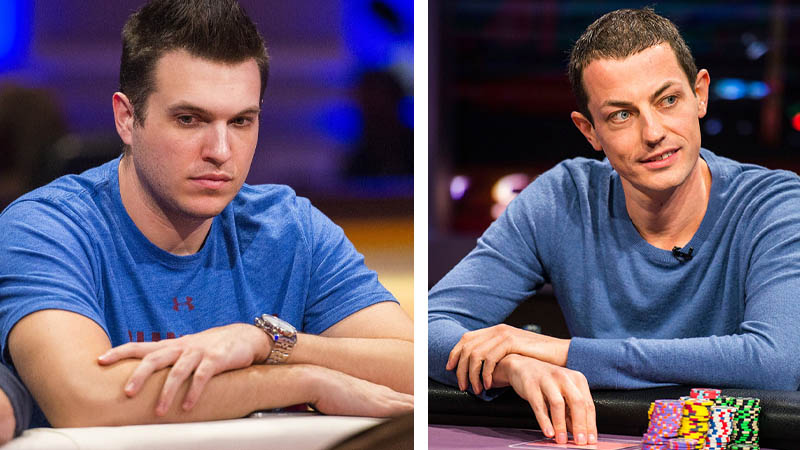 Recently, we've seen plenty of grudge matches among famous rivals in the poker world, and the WPT Heads Up Challenge has aimed to capitalize on this trend. Yesterday, the first round of matches were randomly drawn and has blessed poker fans with a match up that they have been waiting years for.
Three years after Doug Polk challenged Tom Dawn to a $5 million heads-up game, they were drawn as a first round match-up for the World Poker Tour's $25,000 buy-in event. In 2017 when Polk first issued his challenge, Dwan didn't seem to take it seriously – but now the two will finally face off.
Dwan and Polk's History
The two poker stars have a long and contentious history with one another. It all started in 2016, when Polk called out Dwan for allegedly being a scam artist.
If you remember the Durrrr Challenge that was issued backed in 2009, Polk did not believe that Dwan acted in a very sportsmanlike fashion. Dwan won his first challenge against Patrik Antonius but never finished his second challenge against Dan "Jungleman12" Cates.

After 20,000 Cates had taken a huge lead – but, a hiatus was put on the challenge. Despite the challenge note being finished, Cates was owed about $1.2m, and Polk decided to get involved.
Accusing Dwan of being a scam artist, Polk took to Youtube to make his concerns known. He called the Durrrr Challenge against Jungleman "one of the largest scams in the history of poker".
The First Challenge
Six months after laying down serious accusations again Dwan, Polk challenged him to a $5 million heads up challenge:
Dwan did not accept, nor respond. Many members of the poker community doubted that Polk was serious about the challenge and only wanted to get Dwan's attention, but everyone was eager to see Polk and Dwan go head-to-head – especially after Polk's allegations.
Now, the stars have aligned, forcing these two rivals to face off in the WPT Heads Up Championship.
About the $25K Heads Up Championship
The WPT Heads Up Poker Championship will take place from June 18 to June 22, and you can watch all of the events on the World Poker Tour Twitch channel. It is a best-of-three format, and there is an $800,000 guarantee.  
Some of the most interesting first-round matches that we'll surely be turning into are:
Steve Aoki Vs Dan Smith
Sam Greenwood Vs Kevin Rabichow
Doug Polk Vs Tom Dwan
Patrik Antonius Vs GACKT
Stefan11222 Vs Timothy Adams
Phil Ivey Vs Manig Loeser
Several big names in the poker world are going to be competing in this event. So, even if you're not interested in all of the drama involving Polk and Dwan, there are definitely a few match-ups that poker fans are going to want to watch.