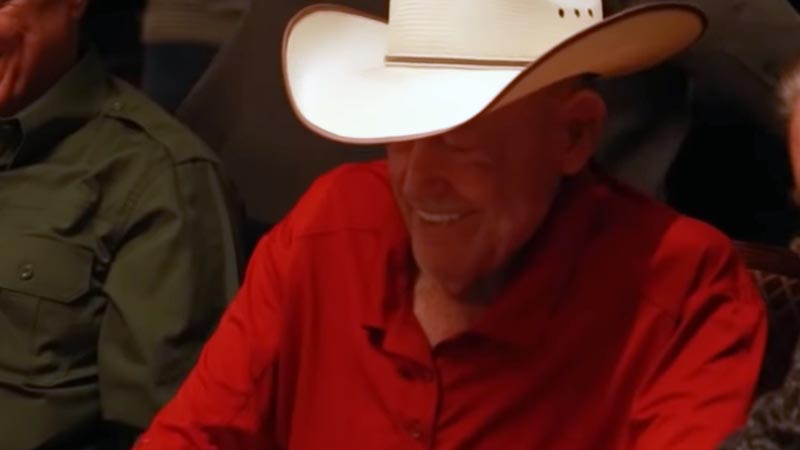 Appearances on the felt by poker legend Doyle Brunson have been scarce lately, as he retired in 2018. So, it was quite a shock to the poker community when the 88-year showed up at the World Series of Poker yesterday.
Competing in the Super Seniors NLHE Event
Doyle Brunson competed in Event #58, the $1,000 Super Seniors No Limit Hold'Em competition. Sadly, he only lasted an hour after shoving his last 6,000 chips with 6h4s and came up against Jana Vondach's pair of Aces.
This is the first time in three years that Brunson has competed in the World Series of Poker. In 2018, he played in the $10,000 No Limit 2-7 Lowball Draw Championship where he made the final table and landed a sixth-place prize of $43,965.
A Big Deal for WSOP Players
His appearance at the World Series of Poker this year was a big surprise, and players were delighted to see him back in action. Brunson definitely has a legendary status in the poker world, and the reaction of his fellow 2021 WSOP players confirms this:
Tom Brady is the Doyle Brunson of football https://t.co/BcMQP6baDJ

— RobertBoucher (@CollegeHSGreats) November 1, 2021
Doyle Brunson @TexDolly gives a thumbs-up as he makes an appearance in the Super Seniors tourney.

Glad I got to see the legend in person. #WSOP pic.twitter.com/MxHTZgGz5z

— Alec Rome (@RomeForReal) October 31, 2021
The Godfather has arrived. pic.twitter.com/300Fa467gB

— Hayley Hochstetler (@hayleyocho) October 31, 2021
Brunson's Poker Legacy
Having played the game professional for more than 50 years, Brunson really is the "Godfather of Poker". He has 10 WSOP bracelets to his name – two of which were won in Main Events – and was inducted into the Poker Hall of Fame in 1988.
His Super/System was one of the first books ever written about poker strategy, and has become incredibly influential among poker pros. Many of the world's best poker players cite it as an invaluable resource.
In 2004, he released a sequel called Super System 2. This time around, he enlisted in the help of other hugely successful players to write sections for different variants of poker, including Daniel Negreanu, Jennifer Harman and Johnny Chan.
He's even had two poker hands named after him:
Ten-Deuce: this is the hand with which he won the World Series of poker in both 1976 and 1977
Ace-Queen: in Super/System, this hand gets special mention because he states that he "never plays" it and it has been given the nickname the "Doyle Brunson".
By the time he retired in 2018, his total tournament winning amounted to more than $6.1 million.
Will He Compete in Other WSOP Events This Year?
Earlier this year, Brunson tweeted that he would be competing a "select few" tournaments. So, we're hoping to see him in at least a couple of events this year.
I'm planning on playing a few select tournaments in the WSOP this year. https://t.co/9um2zalbIR

— Doyle Brunson (@TexDolly) June 15, 2021
Could he make a return to the WSOP Main Event? We'll definitely be keeping our peeled for any more appearances from the "Texas Dolly" at the 2021 World Series of Poker.