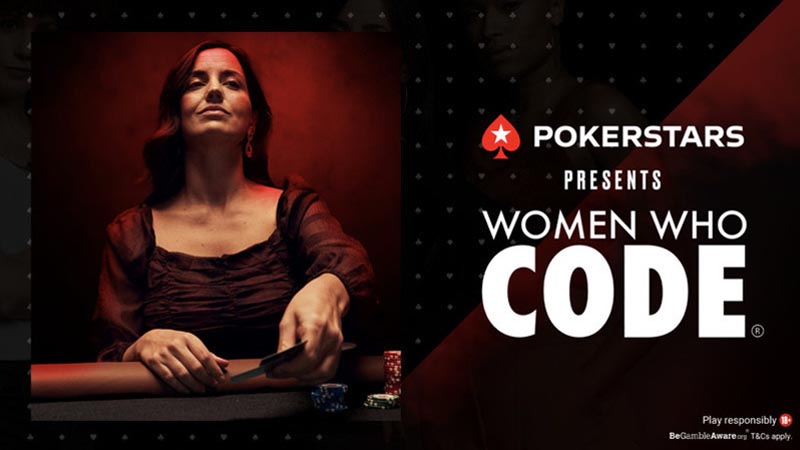 Women Who Code (WWCode) has announced its new first-ever gambling partnership with PokerStars. Together, WWCode and the online poker provider will promote inclusion in the poker community through a variety of projects.
PokerStars' Commitment to Diversity
PokerStars has teamed up with WWCode to show that the leading poker brand is an ally to women in the tech community. The goal of the partnership is to improve female representation in the in the industry, as WWCode will include PokerStars in its newsletters, social media activity and events.
"We are proud to officially become the first gambling partner of Women Who Code and recognise the same values and desire to inspire women to excel in their technology careers. Together, we hold a vision of a world where women are proportionally represented as technical leaders, executives, founders, VCs, board members and software engineers" – Rebecca McAdam Willetts, Associate Director Group Public Relations for WWCode.
This follows on PokerStars' launch of Our Voices in March 2021, an online space where the brand encourages women to share their experiences in both the poker world and on general topics. Partnering with WWCode and creating a community exclusively for women shows that PokerStars is very committed to supporting.
Another step that PokerStars has taken towards this goal is lowering the buy-in for its Women's Sunday tournament last week. At $22, the brand hoped to encourage more women to take part.
PokerStars is the first gambling partner of Women Who Code. It joins other influential companies like Bank of America, Google, Nike, Shopify and SpaceX.
About Women Who Code
Women Who Code is an organization that aims to inspire and motivate women working in technology to excel in the careers. It supports diversity and inclusion, ensuring that women have opportunities to become leaders in their fields.
It was founded in 2011, and now has nearly 300,000 members around the world. WWCode provides coding resources, hosts meet-ups and workshops around the world, and offers scholarships to young women pursuing technology careers.
Making Poker a More Inclusive Gaming
We're pleased to see that big brands like PokerStars want to make the poker world a more inclusive place for women. It's no secret that women don't always feel comfortable at the table, as evidenced by a study by 888 Holdings.
Of the 2000 women surveyed that had playing poker, 56% felt that they were at a disadvantage because of their gender while 45% stated that they had been made to feel intimidated while playing the game. So, it's important for women to be welcomed more in the poker community, which will encourage even more diversity as more women join in.
PokerStars really is taking some first great steps towards making poker a more inclusive game. By giving female poker players a safe space in which to network and promote the involvement of women in the creation of online poker software, the brand making poker more welcoming to women.
We'd love to see more poker sites following suit in the future. There's a lot that can be done to encourage more women to get involved, and it starts with gaming companies like PokerStars.