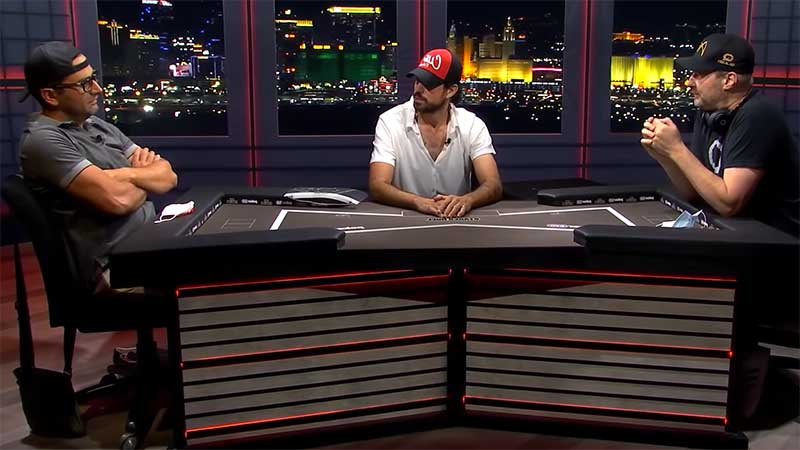 Antonio Esfandiari and Phil Hellmuth have a long history as adversaries, and they are embroiled in the ultimate clash of skills as they take each other on in the Poker Central's High-Stakes Duel competition. After facing off in their first heads-up battle of the series, Esfandiari and Hellmuth are doubling their buy-ins in a rematch with $200,000 on the table.
The Terms of High Stakes Duel
High-Stakes Duel is a Poker Central series that sees poker pros take each other on in heads-up NLHE tournaments. It's a novel concept, where the buy-in doubles every time the pair play one another.
When a player loses a heads-up session, they can choose to bow out or to have a re-match. If they no longer want to play, a new challenger will join. The winner can't cash until certain criteria are met, which depends on the match-up of opponents.
In this case, the winner can only walk away with their money once they have won three heads-up sessions in a row. Only after Round 5 will the winner be able to collect their prize money after two back-to-back wins.
The High-Stakes Duel between Esfandiari and Hellmuth started with $50,000. If they play through all 8 rounds, each one will be buying in for a whopping $6.4 million by the final session.
Round 1 Results
Esfandiari and Hellmuth went head-to-head at the Aria Resort and Casino, and their duel lasted over two and half hours.
Hellmuth won the first hand, and managed to maintain a small chip lead throughout most of the tournament. After the half-way point, the tides started to turn, as Esfandiari led with 426k chips against Hellmuth's 169k. With just 20 minutes left in the session, Hellmuth fought his way back to having just about an even stack with his opponent – and, a very tense hand was the decider.
Hellmuth was dealt pocket 7s with Esfandiari receive QJs. On the flop, Phil raised to 24,000 chips with Antonio shoving his stack. The board came down: 4d Ah 8s 5h 2h.
Esfandiari was quick to call for a rematch, grumbling "luckbox" as he walked away.
Rematch Tonight
The next High-Stakes Duel between Esfandiari and Hellmuth will take place tonight at 9 PM Eastern Time. It's going to be an exciting match, as both players have plenty to prove.
"He and I are both titans. We're warriors. We're just going to keep battling." – Antonio Esfandiari
While the rules state that the loser any session can bow out, it's very likely that these two poker pros will go the distance. It's unlikely that either Esfandiari or Hellmuth will take losing lying down, and we'll probably see rematch after rematch after rematch in their High-Stakes Duel.