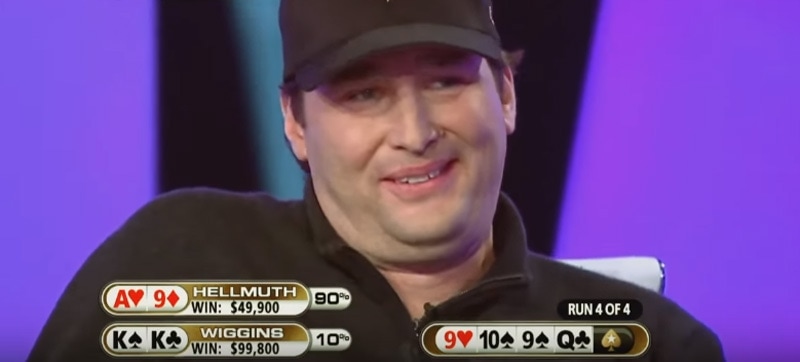 Phil Hellmuth, aka Poker Brat, is one of the best-known and most-recognized faces in the poker world. The man who sits firmly on top of the WSOP bracelets winners' list has always been known for two things: his poker achievements and his somewhat controversial personality.
Often overreacting over the bad beats at the tables and sometimes berating other players, Phil's personality has earned him the nickname he's fully endorsed and also made him one of fans' favorites.
Phil Hellmuth is who he is and we wouldn't have it any other way. At the end of the day, though, almost everyone who knows him seems to agrees that Phil is one of the good guys of poker and great ambassadors for the game.
So, when his fellow poker pro Doug Polk took it to Twitter to share a tweet by an obviously unhappy Uber driver about Phil not leaving a tip for his airport ride, it was a bit of surprise. Especially given the fact that the said driver actually took selfie with Poker Brat, so it seems they were getting along just fine.
Good to see @phil_hellmuth spreading #positivity pic.twitter.com/KDu26SZEjE

— Doug Polk (@DougPolkPoker) February 9, 2018
Here we go again
If you know anything about Phil, you know that he loves to be the center of the attention. However, this is probably not the kind of attention that he seeks. Now, quite a few people took this tweet way too seriously and used it as an excuse to (once again) pile on Poker Brat (clearly forgetting he can dodge bullets, let alone a bit of social media heat).
In all honesty, we here at BTF don't particularly care if Phil tipped or not – if he didn't he probably had a valid reason, because it is really hard to believe he would care about a few extra bucks. What we do care about, though, is the hilarity that ensued and some of the comments that accompanied Polk's tweet.
"here's a tip honey, dont call a raise with queen 10"

(reposting my fb comment to balance my social media range)

— Max Mitchell (@maxmitchell3000) February 10, 2018
My Uber drivers don't look like that.

— luis sierra (@LuisSierralu) February 10, 2018
Good man Doug, contributing to that ol' fake news online.

— Corey Cunningham (@CoreyKaiba) February 9, 2018
"I can dodge tipping baby!"

— ITTW (@InThruTheWindow) February 10, 2018
As funny as this may sound when talking about Hellmuth, this is the kind of a burden you have to deal with when you're a public person. I'm sure all of us had our reasons for (not) tipping on occasions and it had nothing do with how much money we did or didn't have.
Fans & friends backing Poker Brat
After a few hours, Polk's tweet gathered a decent number of shares and comments, bringing the "issue" to the public attention, including many fans and friends of Hellmuth. Although Phil himself didn't comment on the situation, a number of those following him on his Twitter did, including Daniel Negreanu.
You can accuse @phil_hellmuth of a lot of things, but being cheap isn't one of them from my experience. He has always been generous as far as I know.

Is his ego massive? CHECK!
Is he cheap? NO.

— Daniel Negreanu (@RealKidPoker) February 11, 2018

Kid Poker has been friends with Phil for years and if anyone can claim to know what he is like and what he stands for, that's Negreanu. Although the two have had their fair share of arguments over poker and non-poker related things, Negreanu was quick to come to Hellmuth's defense.
Another poker legend who's known Phil for decades, Doyle Brunson, echoed the same sentiment.
Most folks are jealous of @phil_hellmuth. So, they make fun of a dedicated professional. Yes, he has a giant ego and does and says ridiculous things sometime, but overall he is next to @RealKidPoker as the best ambassador that poker has. https://t.co/jQxYLPKub9

— Doyle Brunson (@TexDolly) February 10, 2018

So, the whole tipping-gate aside, it is clear from these and other similar tweets that Hellmuth is one of the guys with a really strong reputation in the community respected by his peers and fans alike. And, that's all that really matters.
What's with all the #Positivity jokes?
In case you've been wondering what's the deal with the #Positivity hashtag in the tweets, this is actually the name of Phil's new book he's been promoting the last few weeks. The book was self-published by Hellmuth and it is available on Amazon for Kindle and in the paperback format.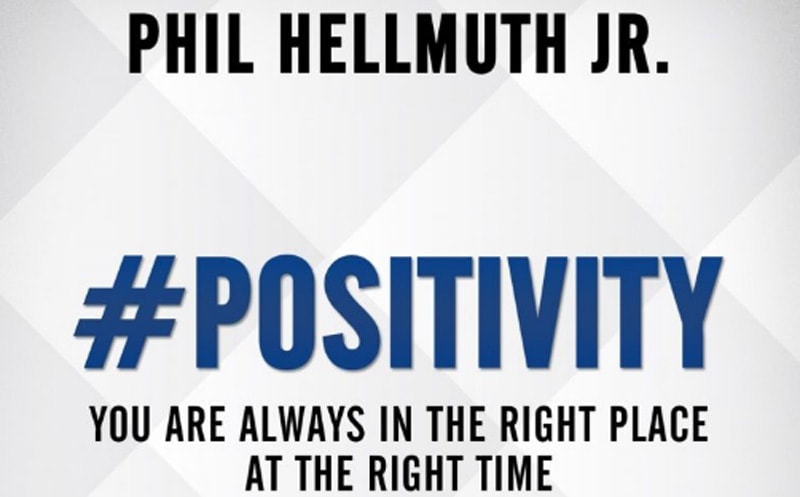 The book isn't about poker at all but rather offers advice and practical strategies on how to stay positive in life, set your goals, and work hard to achieve them. Now, we can't vouch for the validity of tips contained in the book, but given Hellmuth's success over the years, he must know a thing or two about these topics.