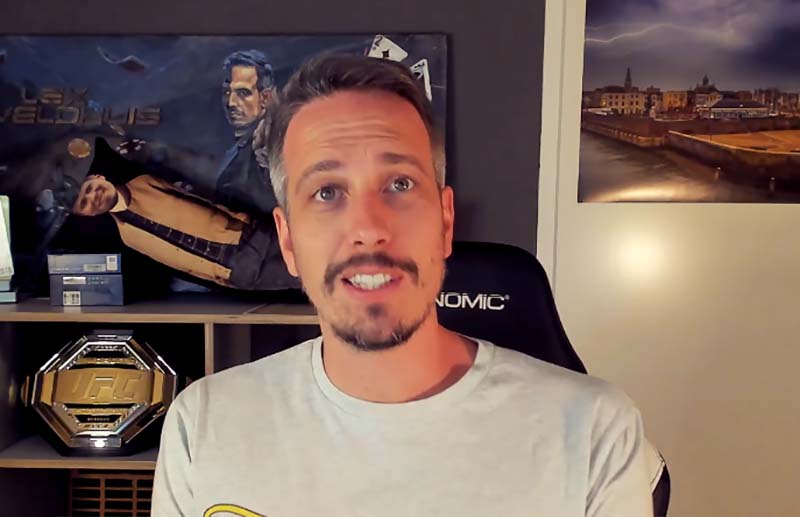 Lex Veldhuis made online poker history last night, when over 58,000 viewers tuned in to his Twitch channel watch him and Benjamin "Spraggy" Spragg compete in PokerStars' Spring Championship of Online Poker (SCOOP) Main Event. Vying for a $1,062,955 top prize, Lex and Spraggy's run in the tournament made for compelling viewing on Twitch.
Spraggy's Bust
The pair broadcasted their experience via a squad stream. This allowed their combined followings to tune in to both of their tournament experiences at once.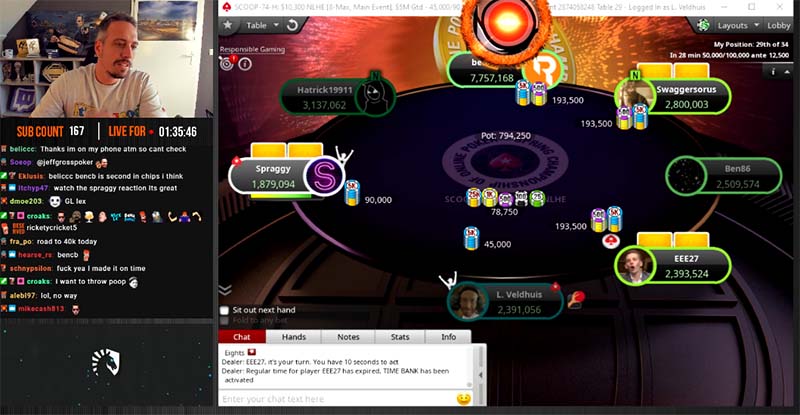 Both Spraggy and Lex ended up at the same table. Unfortunately, Spraggy busted to Lex with top pair against pocket aces. It was an emotional moment for them, with Spraggy leaving the competition in 30th place and Lex saying "that's the worst I've ever felt winning a hand".
Hitting 50,000 Views
After his bust, Spraggy sent his 17,000 viewers over to Lex's channel. 34,000 people were already watching, so it didn't take long for him to reach 58,799 views.
This is the largest audience to ever watch an online poker stream, making Lex's run in the 2020 PCOOP a ground-breaking moment in the industry. It even brought him to the top of rankings across all of Twitch that night.
In the end, Lex busted in 15th place of the PCOOP main event. He failed to make the final table or hit a million-dollar payday, but still cashed for an impressive $62,500.
After his run, Lex addressed his viewers directly, saying:
"I think words fall short of what tonight's session was. I broke the world record for the number of viewers for Twitch Poker with 58,799. I live in a town with only 48,000 or so people who live here. That's crazy."
Nearly Double Jason Somerville's Previous Twitch Record
Before last night, the record for the most poker views on Twitch had not been topped since 2015. At this time, Jason Somerville had the poker stream with the most concurrent views as more than 37,000 people tuned in to his channel during the opening event of the World Championship of Online Poker (WCOOP). He landed in 6th place for a $38,000 score including his bounties.
It has been five years since the record for poker views on Twitch was broken, so it's unlikely that we'll see another player top Lex's stream anytime soon. With over 255,000 viewers, he is the most popular poker streamer on Twitch – but he has yet to break Doug Polk's record for the biggest poker win on the streaming platform.
In 2016, the former online poker player set the record for the largest MTT win on Twitch by bagging himself a prize worth $455,000 in the WCOOP High Roller. Had Lex placed first in yesterday's tournament, he would have broken two records at once.
Still, having the most-watched poker stream on Twitch is a tremendous achievement. His profile is only going to continue growing in the world of streaming, and we can't wait to tune in for Lex's next big win.