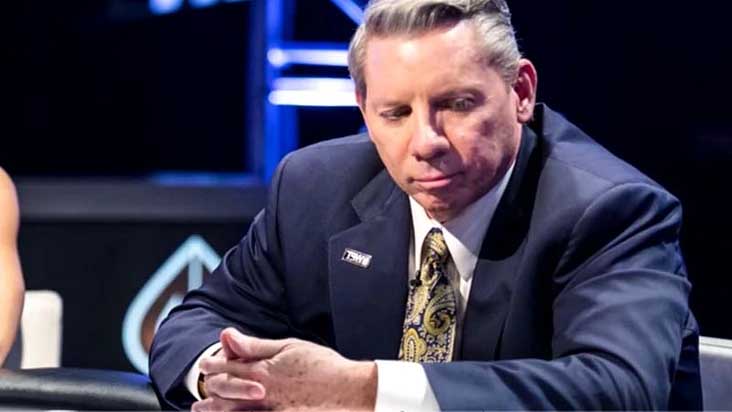 The poker world has lost a legend this weekend, as World Poker Tour commentator Mike Sexton passed away from prostate cancer on Sunday. His death was made known by Linda Johnson, who tweeted the news:
"Mike Sexton passed away peacefully at home earlier today surrounded by family members. He appreciated all the wonderful comments and farewells from poker players all over the world."
Battle With Cancer
It was only last week that Sexton's ongoing battle with cancer had been made public. Linda Johnson, known as the First Lady of Poker (a term coined by Sexton himself), tweeted that Sexton gave her permission to announce his diagnosis.
Mike Sexton is poker's greatest ambassadors. He authorized this tweet. He has only wanted to deliver positive messages so he kept his health problems private. Mike has been battling prostate cancer that has recently spread to other organs. He began in-home hospice a month ago.

— Linda Johnson (@FirstLadyPoker) September 1, 2020
Prior to this, he had kept his illness a secret. However, his friends and social media followers started to worry that something was wrong as he wasn't his usual active self online.
Sexton's Poker Career
Mike Sexton was best-known as a commentator for the World Poker Tour, but his career in the poker industry goes all the way back to the 1980s. After serving in the army in Vietnam, he moved to Nevada in 1985 to pursue a full-time career in playing poker.
During his time as a poker pro, Sexton cashed in 15 World Poker tour events and earned a World Series of Poker bracelet. Over the course of his career, he amassed $6.7 million in live tournament winnings. According to Phil Hellmuth, he was one of the first players to sign a sponsorship deal. While La Mode only provided him with free clothing, it paved the way for other professional poker players to ink lucrative partnerships with brand names.
Having become well-known on the WPT scene as a charismatic player, Sexton was given the job as a World Poker Tour commentator in 2001 – a post he held for 15 years. During this time, he also helped to found partypoker, one of the biggest online poker sites today.
In 2009, Sexton was inducted into the Poker Hall of Fame, recognised for enhancing the game of poker not only due to his style of play but also his promotion of the game. He was also known for being a generous playing, who donated half of 2006 WSOP Tournament of Champions winnings to PokerGives.org.
The Poker World Mourns
Mike Sexton was a beloved figure in the world of poker, known for being kind, supportive and respectful. His impact on the industry and all those associated with it was tremendous as evidenced by the warm sentiments expressed by his peers. These are just some of the beautiful things that h have expressed in the wake of Sexton's passing:
The last time I played with @Mike_partypoker was on Poker After Dark earlier this year.
I always enjoyed playing with Mike. He's a great raconteur & a true gentleman. Even when he takes your chips he's so gracious about it you somehow don't mind.
RIP Mike.❤️ You will be missed. pic.twitter.com/1cbws7FWX3

— Jennifer Tilly (@JenniferTilly) September 7, 2020
Someone please make a movie of Mike Sexton's life. To think of all the things he did is incredible. And the winning of the event in Montreal after his long career. I'm just trying to channel what that must have been like for him tonight. Their may not be a better poker story.

— Jaime Staples (@jaimestaples) September 7, 2020
A competitor, a friend, a remarkable human being.

RIP Mike Sexton

This pic taken at the start of a 6 hour heads up deal in the TOC that Mike went on to win. He played so well that day I remember being truly shocked and impressed. pic.twitter.com/cKRaqwbWux

— Daniel Negreanu (@RealKidPoker) September 7, 2020
We will never stop dancing, Uncle Mike. You will dance in my heart forever. ? #ThankYouMike https://t.co/OfzjlpK3GK pic.twitter.com/jwAwwAIjeu

— Lynn Gilmartin (@LynnGilmartin) September 7, 2020
RIP Mike Sexton, he was a great man and the best ambassador we could have wished for our game. Every moment spent with him was an honor. pic.twitter.com/jgB498Uge3

— ElkY (@elkypoker) September 7, 2020
Known as the "Ambassador of Poker", Mike Sexton will be sorely missed. His impact will continue to be felt in the poker world and beyond.