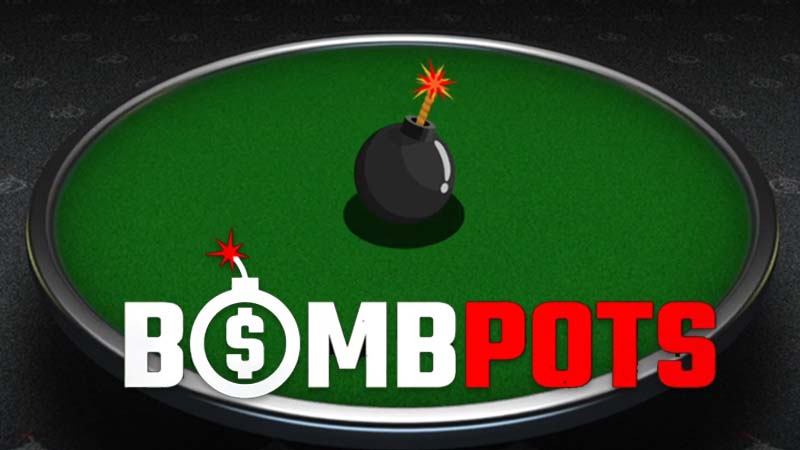 Coming this month is this the "biggest thing to happen to cash games in years", as America's Cardroom prepares to launch its Bomb Pots. This new feature will be available to cash game players across all sorts of variants, where all players take part in hands with increased blinds for a more thrilling gaming experience.
How Will Bomb Pots Work?
When you're playing at a cash game, there are random occasions when players will be asked to put in extra blinds. This can happen up to four times per hour.
After the extra blinds have been added, the game will play out as usual. The rest of the betting rounds will be the same as a regular cash game.
Bomb Pots will be made available across a wide variety of games, including:
Texas Hold'em
PLO
PLO Hi/Lo
7 Card Stud
7 Card Stud Hi/Lo
7 Day No Rathole
Limit Poker
Shortly after the function launches, there will be Bomb Pot Happy Hours. Once Bomb Pots are fully rolled out, they will have their own designated tables.
A More Exciting Cash Game Experience
Since everyone at the table is required to be involved in a Bomb Pot hand, you're looking at a more thrilling experience for all competitors. For example, at a 9-handed table with $1/$2 blinds, you're looking at a $36 pot, pre-flop.
So, you'll be seeing more players vying for this generous pot. Players who would have normally folded pre-flop will be seeing the first three community cards, leading to more activity overall – especially when those players with typically weak pre-flop hands make a connection on the flop.
You can take a look at the teaser trailer for Bomb Pots on the the Winning Poker Network's Youtube Channel:
https://www.youtube.com/watch?v=5P0jHyeotdc&feature=emb_title
When Exactly Will Bomb Pots Go Live?
America's Cardroom has not yet confirmed an exact date for the launch of Bomb Pots, but we know that they will be available sometime in June. We'll definitely keep you posted as soon as you can play in them.
In the meantime, there are lots of other exciting activities to take part in on America's Cardroom. The site has introduced 20 new weekday tournaments that are playable 24 hours a day – with buy-ins ranging from 27c to $215, and The Beast cash game leaderboard now provides prizes to 800 players instead of 400. So, there is plenty to keep you entertained until Bomb Pots are launched.