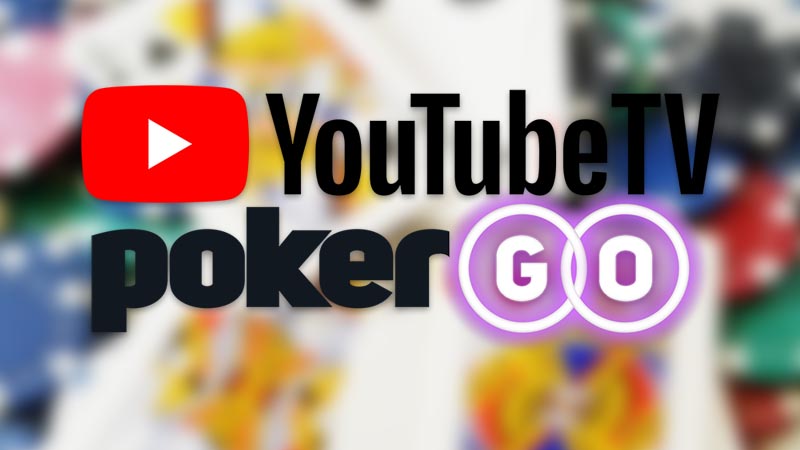 Poker streaming service PokerGO has just announced its new distribution deal with YouTubeTV and YouTube Primetime Channels. This will make it easier for poker fans in the USA to stream exciting content like Poker After Dark and High Stakes Poker.
How Will PokerGO Work on YouTubeTV?
PokerGO will join many established television channels like ABC, Bravo, ESPN and National Geographic on the YouTubeTV platform. If viewers are signed up to the network on YouTubeTV or have purchased PokerGo from YouTube Primetime Channels, they will be able to watch on-demand and live poker programming.
"PokerGO is home to the most-watched live and on-demand poker content across the globe and is committed to growing the game. The expanded deal means that poker's best players, biggest events, and greatest moments will be showcased to more fans than ever before, and YouTube members who subscribe to the PokerGO channel will enjoy a top-tier viewing experience and unrivaled access to the game of poker." – said Mori Eskandani, President of PokerGO.
How to Watch PokerGO On Your Television
Previously, viewers were only able to watch poker programming from the platform using the PokerGO app or website. While this is convenient for those watching from their tablets, smartphones or laptops, putting it on the big screen was pretty difficult.
Unless you had a ChromeCast or a Fire Stick, you couldn't watch PokerGO on your television. It might not sound like a big inconvenience but, for viewers who already have smart TVs that feature several other television apps, it's an unnecessary expense if that's all they plan on using it for.
Now, this new partnership with YouTubeTV allows viewers to stream PokerGO programming directly on their televisions. This is because most smart TVs and video game consoles support the YouTubeTV app. So, all they would need to do is load up the app and choose the PokerGO Channel.
About YouTubeTV
YouTubeTV was launched in 2017 originally only in Chicago, Los Angeles, New York, Philadelphia and San Francisco. However, now the service is available throughout the United States.
Today, there are 5 milllion subscribers to YouTubeTV. It supports just about all major broadcast networks as well as specialty channels like Comedy Central and the NFL Network. It comes with a cloud-based DVR service which allows users to store recording for up to nine months, with unlimited storage.