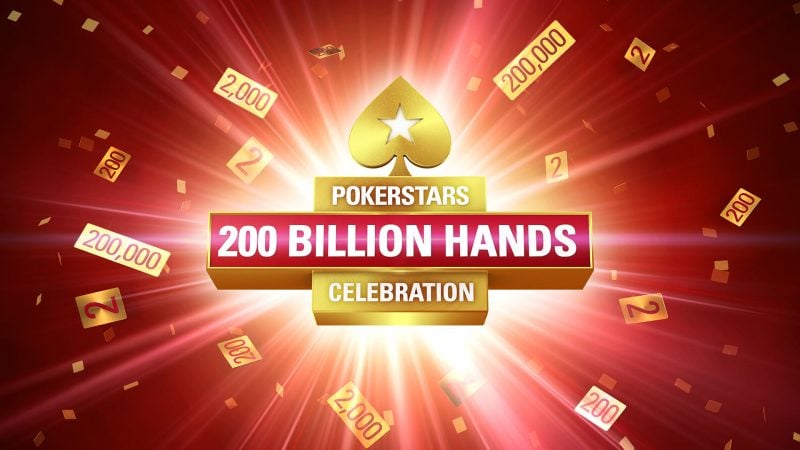 The online poker market is a busy place, but this is just ridiculous. PokerStars has just dealt its 200 billionth hand, marking a huge milestone in the company's legacy.
PokerStars is one of the most well-established and popular online poker rooms in the gaming world. The site sees thousands of players online and deals about 50 million hands every day. I'm not surprised that this number is now well into the billions.
PokerStars is getting busier and busier
PokerStars has been around for 18 years, so dealing 200 billion hands in this time is an incredible achievement. It would take the average person 31 years to count to this number, and the site managed to reach it under two decades.
The 100 billionth hand milestone occurred in 2013 – 12 years after PokerStars went live. Now, only six years after that, PokerStars has exceeded 200 billion hands dealt. If things keep speeding along at this rate, we'll see PokerStars' 300 billionth hand by 2022.
Everyone at The Stars Group is thrilled with this milestone, as it is a sign of huge growth of the brand and proof that PokerStars continues to be one of the most popular poker rooms online.
Two hundred billion is truly a stellar figure. It's almost inconceivable. It has been our privilege to put on weeks of celebrations to give back to every PokerStars player that has made this happen. –Séverin Rasset, Director of Poker Innovation and Operations
Huge prizes for players involved in milestone hand
All of the players involved in the hand were awarded with generous prizes. Six players were dealt in to the hand, which took place at an 8c/16c No Limit Hold'em cash game. All of them received a $10 000 cash prize.
A huge number deserves a big celebration. ?
ℹ️ https://t.co/fCU5wOnKAr pic.twitter.com/tGjzOGJlHi

— PokerStars (@PokerStars) April 15, 2019
Over the course of PokerStars' 200 Billion Poker Hands Celebration, over $2 million in promotional prizes were paid out to players on the site. Rewards chests offered up random prizes and more than $400,000 free tournament tickets were given away. There was also a massive $200,000 Mega Freeroll tournament.
To visualize this tremendous achievement, take at the image below:

This is a panoramic photo of the Milky Way, in which there are 200 billion stars. So, if all the hands that have been dealt at PokerStars were actual stars, they would amount to the size of our home galaxy – which is 100,000 light-years in diameter.
What's next for PokerStars
The 200 billionth hand has come and gone, so the celebration promotions are over – but, there are still many more great events to take part in. One of the biggest promos that you'll find at PokerStars this month provides you with the chance to win a trip to UFC 239 in Las Vegas.
In this promotion, all you have to do is take part in a $10 Spin & Go – a three-handed tournament with a randomized top prize worth up to 12,000x your buy-in. However, instead of winning a cash prize, you'll receive:
Two tickets to UFC 239 on July 6
Two return flights to Las Vegas, and transfers
Three nights' accommodation in Las Vegas