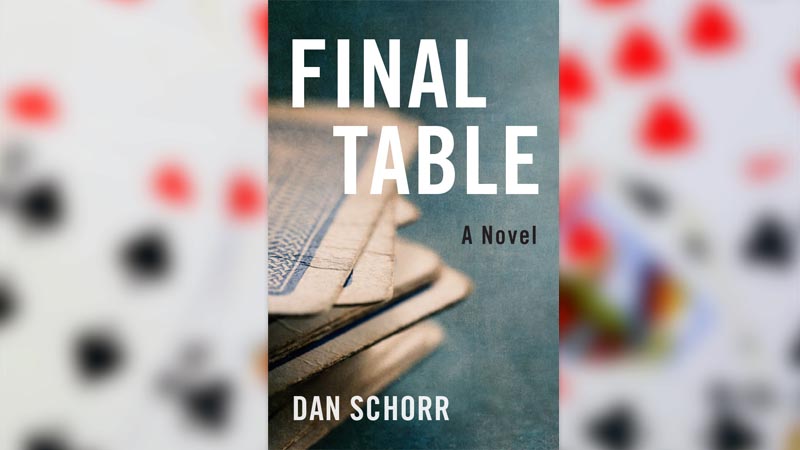 Dan Schorr is a sex crimes prosecutor and investigator, who has played in some prestigious poker tournaments – and, he's combined both of these experiences in his debut novel The Final Table. The book hits shelves today, and is generating quite a bit of buzz.
What Is The Final Table About?
The Final Table is a political thriller novel that focuses on two main characters. Firstly, there's Kyler, a down-and-out professional poker player who is desperate to make his way into a tournament with a $20 million prize. The nation hosting it, called "The Kingdom", is implicated in the murder of an American journalist and there is a potential presidential order that could stop Kyler and other US citizens from taking part in the lucrative event.
I'm excited to share that my debut novel is now available wherever books are sold. Final Table is a political thriller about sexual misconduct accusations in the worlds of international politics and high-stakes poker. To order and learn more please visit https://t.co/ErKEGQU46r pic.twitter.com/0xGN7SiT2x

— Dan Schorr (@danschorr) October 5, 2021

Readers will also encounter Maggie, a budding TV political analyst, who Kyler enlists in to help him gain entry into the tournament. He promises her a portion of the multimillion-dollar payout if she can use her connections in the political world to make it possible for Kyler to compete for the life-changing grand prize.
Reviews So Far
Since The Final Table has only just been released today, there are only a few reviews posted on sites like Amazon and GoodReads – but, they're all pretty positive. Most readers have called it thrilling and engrossing, praising all of the different topics that the novel touches on.
From politics to high-stakes poker, the #metoo movement to murder, Schorr's The Final Table, is the kind of novel that manages to weave together several plots that keep readers engaged.
Even professional poker players have lapped up the book, with Chris Moneymaker saying:
"If you enjoy poker, you need to read Final Table. Dan Schorr's novel is an exciting, unpredictable, nonstop political thriller, all told through the lens of high-stakes poker's exhilarating triumphs and soul-crushing bad beats."
The novel is also a finalist in Political Thriller category of the 2021 American Fiction Awards.
About Dan Schorr
Dan Schorr isn't a well-known name in the world of poker, but he has played in a number of impressive tournaments. He has cashed in one World Series of Poker Circuit Event, and even played at a table with Phil Hellmuth.
So, when it comes to writing about poker, he certainly has the experience necessary to create a believable setting.
In his career, Schorr owns his own law firm. He has over 20 years of experience in investigative and legal matters, and is an adjunct professor at Fordham University's Law School, teaching "Special Victims: Domestic Violence and Sex Crimes". It's this experience that informs the political and legal aspects of The Final Table's plot, so readers can look forward to a complex narrative written from the perspective of someone close to the issues covered.
Have you sunk your teeth into The Final Table yet? Leave us a comment and let us know what you think of Schorr's debut novel so far!