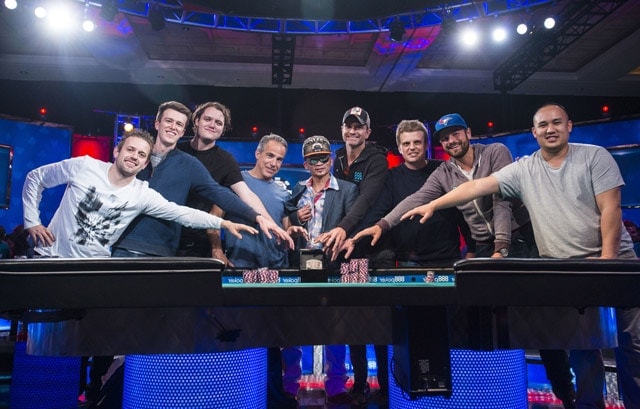 After full seven days of grueling hours filled with creative plays, bluffs, and bad beats, the stage is finally set for the WSOP 2016 Main Event. Names of nine people who will be coming back in November to battle it out for the cash and the glory  have been finally determined last night after the last few players were sent to the rail just short of making the dream come true.
November Nine final hours: From 27 down to nine
Twenty seven players returned for the final day of the WSOP play for this summer. Three full tables of players started their quest for one of the nine coveted seats around noon, Las Vegas time, and the whole process took about eleven hours. As players were leaving their seats, hopes of all those still in were growing, as with every elimination they were that much closer to the final table.
Antonie Saout was the only remaining French player in the field but he was sent home in 25th place, denying him the chance to fight for the Main Event bracelet. Others who followed soon included Jeff Hakim, Kakwan Lau, and Thomas Miller. After Miller's elimination, players merged to the final two tables and the pressure started to really build up.
At this point, quite a few big name pros were still in the hunt. One of them was Jared Bleznick who put all his chips in the middle preflop and found himself behind Kenney Hallaert's hand. By the time the river was dealt, it was curtains for Bleznick who was sent home in 16th, earning just shy of $340,000.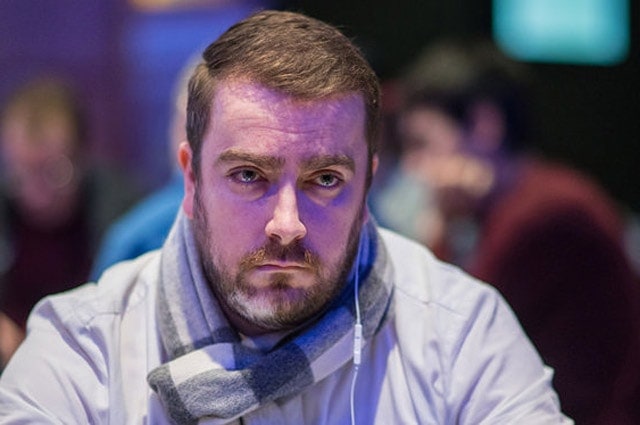 Tom Marchese met a similar fate, although he was eliminated in a hand that is very definition of the cooler. Marchese flopped an open-ended straight draw and backed into a Jack high flush, only to receive news that it was no good against Qui Nguyen's nut flush. Marchese goes home $428,000 richer and with a hell of a story to tell.
The Australian James Obst followed Marchese to the rail shortly as his pocket 5s proved to be no match for Nguyen's pocket 10s. Although the board offered an appropriate sweat, the dealer found a brick on the river to send Obst home.
Bubble time
Mike Shin went out next, leaving only eleven players in the hunt. Then, Gordon Vayo took care of John Cynn, bringing us to the biggest poker bubble of the year. Cynn earned $650,000 for his performance but could not find much needed help when his Q-10 came up short against Vayo's Big Slick.
Although Main Event bubbles often last for a long time, this time around it wasn't the case. It took only 18 hands to determine the November Nine. The title of the unluckiest bubble of the year went to Josh Weiss and despite of the $620,000 prize, the final hand will probably stick in his memory for a while.
2016 November Nine Participants
With the exit of Weiss, the rest of the players were free to start celebrating (after the usual commiserations for the unlucky bubble boy). All of them were guaranteed at least a cool $1,000,000 and all of them will come back on October 30 for the final clash.
Chip leaders
The man leaving Vegas with the title of chip leader is Cliff Josephy. Josephy will be looking to add third WSOP bracelet to his quite impressive poker resume and add a significant amount to his $2.5 million in live winnings. With the stack of 74.6 million in chips, he is in the great spot to do just that.
Phase 1 complete. 74.6M and coming back in October #Chiplead #ChipPorn #WSOPMainEvent pic.twitter.com/prqWJ6nrv4

— Cliff Josephy (@JohnnyBaxPoker) July 19, 2016
On his heels is Qui Nguyen with 68 million. Despite of the well known surname in the poker circles, the 39-year old Nguyen has just $53,000 in live cashes, so he is guaranteed to make at least 20x his total earnings just by making the November Nine.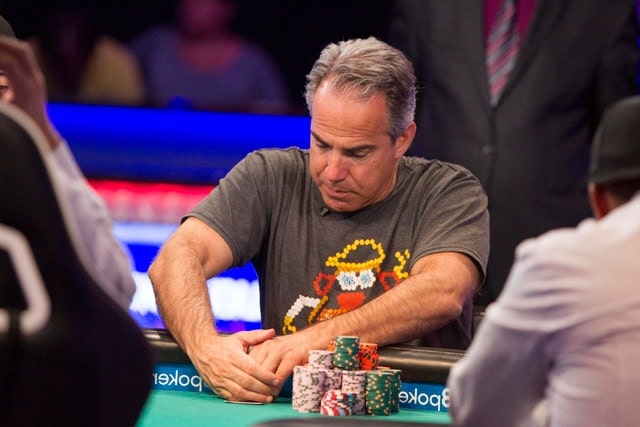 Gordon Vayo has a stack of 49 million and a lot of experience under his belt. Vayo has just shy of one million in live earnings and his best WSOP result was a runner-up finish in 2014.
All three chip leaders hail from the United States, but the man sitting in fourth place is the Belgian Kenny Hallaert. Hallaert has had an impressive career in the industry as a tournament director, but he is also a very accomplished player in his own right, with $1.3 million in live tournament winnings. He will be coming back to the stack of 43.3 million.
Michael Ruane is another representative of the States who bagged the stack of 31.6 million, good for the fifth place on the leaderboard. Although Ruane plays poker for living, his official tournament results currently stand $45,000, so this $1,000,000+ will be a nice addition to his earnings.
Short stacks
Hailing from Prague, the capital of Czech Republic, Vojtech Ruzicka will be looking to make his stack of 27.3 million grow so he could move up the leaderboard. Currently sitting seventh in chips, Ruzicka is no stranger to tournament play and deep runs, as he has $1.1 million in earnings to his name.
Daniel Negreanu's countryman Griffin Benger has accumulated $2.4 million in earnings during his career and will be coming back for the Main Event final table as seventh in chips. With the stack about a million shorter than Ruzicka, Benger is certainly a force to be reckoned with even if his stack needs some help.
Rounding up the 2016 November Nine are Jerry Wong with 10.1 million and the Spaniard Fernando Pons with 6.1 million. While Wong has been around the block a few times, Pons is a true amateur with only $10k in live earnings and no WSOP cashes. He came to Vegas exclusively to play in the Main Event and that turned out to be one of the best decisions of his life.
We did it

— Jerry Wong (@HumLun) July 19, 2016
Come November, we will have a new poker world champion. The winner will take home a nice, round sum of $8,000,000. All payouts are listed below.
1st: $8,000,000
2nd: $4,658,452
3rd: $3,451,175
4th: $2,574,808
5th: $1,934,579
6th: $1,463,906
7th: $1,250,000
8th: $1,100,000
9th: $1,000,000