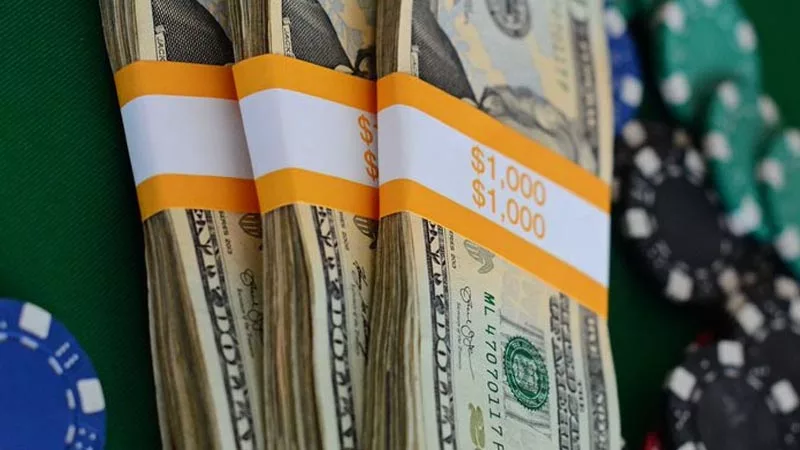 The WSOP is well underway at the Horseshoe and Paris in Vegas, but it's Hustler Casino that's making headlines this week. In the biggest-ever hand to ever be broadcast, Tom Dwan earned himself a $3.1 million pot during Hustler Live's Million Dollar Game.
Dwan's $3.1M Poker Hand
Tom Dwan won the record-breaking hand against Wesley Fei. Dwan straddled into the hand with $2,000, bringing the pot up to $6,500 before the flop. Fei raised to $30,000 after LSG Hank's raise to $7,000.
After Doug Polk folded, Dwan raised to $100,000, causing LSG Hank to fold. Fei, who held Ace-King, then raised to $275,000 to which Dwan called.
On the flop, there was already over half a million dollars in the pot.
The flop showed 3d 8s 8d, which failed to improve Fei's hand. At the time, Dwan's hand remained unknown to viewers as he didn't put his cards on the RFID correctly. He checked, and Fei bet $125,000 bringing the pot up to $812,000.
Tanking on the River
On the turn, 5h showed up. Dwan checked again and Fei bet $350,000. Dwan called and the river brought out a 6c. Dwan checked and Fei went all-in with his last $786,000, despite having not improved his hand from the Ace-high he was originally dealt.
It was a whole four minutes before Dwan called. Fei put his head on the table so as to not give away any tells while Dwan talked through his decision out loud.
During this time, he put his cards on the RFID scanner correctly, so the viewers could finally see his hand: Queen of Spades and Queen of Clubs. Although it's the winning hand in this case, there are several hands that could beat it – so, it makes sense that he would tank the decision for so long.
Eventually, he decided to call, winning the $3.1 million in the pot.
Why Did Fei Bluff?
Even without seeing Dwan's hand, viewers were flummoxed as to why Fei would continue betting with only Ace-King – especially with such huge amounts. He explained his reasoning:
"He didn't snap call, so I think I did the right thing. I can't just bet, bet and give up on the river. That's not what I do. I have to do three bets, give him the max pressure."
And, it does make sense. However, Dwan's expertise really shone, as he could have folded at any time since Fei was presenting such a strong hand but decided that making a nearly $800,000 call was the best option.
The hand has really solidified Dwan as one of the greats of the poker world. He had taken quite a long break, but his return to the scene has been triumphant.