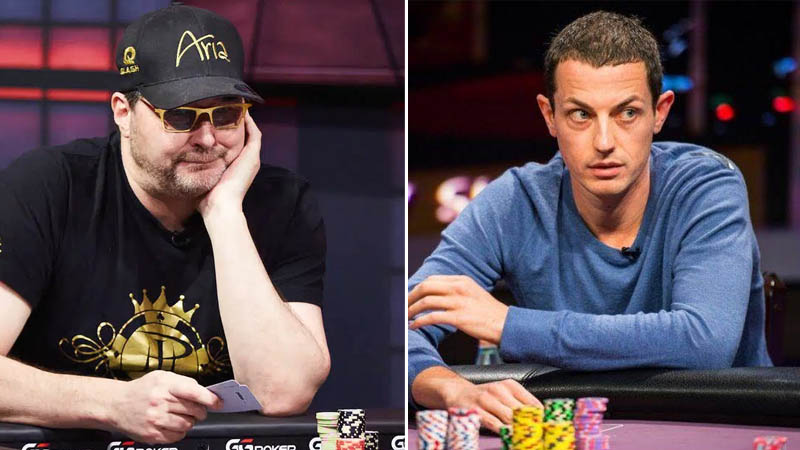 It's been over 10 years since Tom Dwan challenged Phil Hellmuth to a heads-up rematch after the two first faced off on television – and, they're finally going for it. After Nick Wright bowed out the second round of PokerGO's High Stakes Duel, Dwan will be picking up where he left off in the second round.
Hellmuth's Run On High Stakes Duel
Phil Hellmuth has had a tremendous run on PokerGo's High Stakes Duel series. He now has seven victories under this belt with his victims now including poker superstars Daniel Negreanu and Antonio Esfandiari.
His latest victory came against Nick Wright, a sports personality for Fox News. Wright has recently made his debut on the poker scene when he appeared on the No Gamble, No Future podcast earlier this year and took on Hellmuth towards the end of July. He'll also be appearing on Poker After Dark next season.
The poker world hasn't seen very much of Wright, but he went into his heads-up match with Hellmuth with plenty of confidence. At one point, he even stated that he would be harder to beat the Daniel Negreanu.
Unfortunately, things did not go as planned, as the six-hour matchup ended in Hellmuth's latest victory in his Heads Up Duel winning streak. There was plenty of back-and-forth and Wright certainly held his own against one of the most renowned poker players in the world.
After his loss, Wright had 72 hours to state whether he would challenge Hellmuth to a rematch. He took to Twitter to announce that he would not:
My announcement on if I'm re-challenging @phil_hellmuth for the 200K Round 2 of #HighStakesDuel3 on @PokerGO pic.twitter.com/tCPYmgkclo

— nick wright (@getnickwright) July 31, 2021
Dwan's Rivalry with Hellmuth
The last time Tom Dwan and Phil Hellmuth faced off was in 2008 on NBC's Heads Up Poker Championship. At the time, Dwan was will a newcomer to the same while Hellmuth had already made a name for himself in the professional poker world.
It was a nasty bad beat for Hellmuth, losing AA against Dwan's pair of 10s on a 2s Kh 7s 10s 9d. The commentators summed it up perfectly:
"If you look up 'bad beat' in the dictionary, this is what you'll find".
The real shocker came after the match. It wasn't that Hellmuth kicked off after losing (after all, he's known as the Poker Brat); it was that Dwan actually fought back.

Hellmuth snarkily gave the up-and-comer some advice "I would never put more than 3000 in with two 10s before the flop". Dwan didn't like his tone and replied with "That's why you lose money online". He then told him to pick his stakes for a heads-up rematch.
You can watch it all go down here:
What To Expect
The High Stakes Duel matchup between Tom Dwan and Phil Hellmuth will take place on August 25th at 8PM on the PokerGO platform.
Normally, each player would have to post $50,000 in their first round – but, since Dwan is heading in during Round 2, he'll post $100,000. This will result in a total prize pool of $200,000.
Whoever loses the match will have the opportunity to challenge for a rematch. If the loser declines, then another challenge can step in – which is what happened in Nick Wright's case. Should no one come forward within 30 days, then the winner will be able to collect their winnings.
This is surely going to be a tense match, and poker fans will want to keep up with the action.