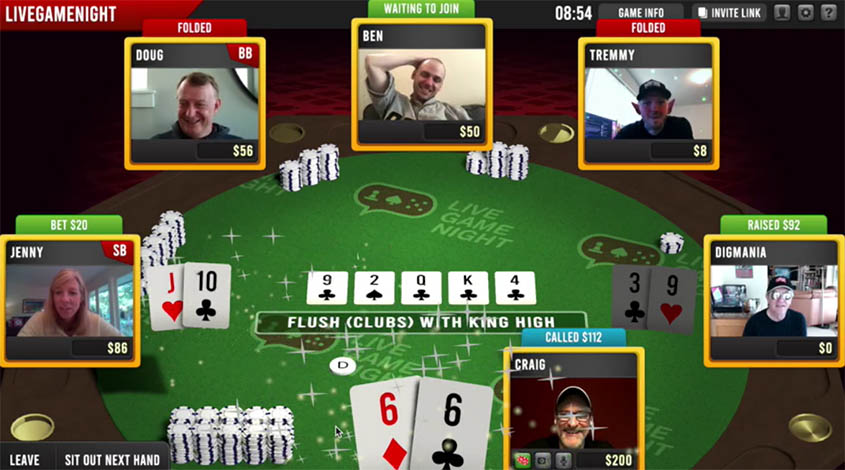 Want to host a poker night but having trouble getting the friends 'round? Now, you can enjoy face-to-face poker action in a virtual environment with Zoom's new Live Game Night Poker (LGNPoker),
How Live Game Night Poker Works
Live Game Poker Night uses video chatting technology to give you a face-to-face home game experience – while you and your friends are all relaxing in your respective homes. It's a play-money app but there is the opportunity for you to purchase avatars and other in-game items.
Download the App
To download the app, you have to visit the Zoom Marketplace. Make sure you have the downloadable version of Zoom of your device, as LGNPoker won't work with the browse-based platform.
It's a very quick process, and only takes a few seconds. You'll be taken to a few screens and then it'll be readily available under My Apps on Zoom.
Getting Friends Involved
This works just like any other Zoom meeting. Simply invite your friends to a meeting by sending them the room code or the URL. Once everyone is in the room, click on Apps and choose LGNPoker.
Then, you'll be taken to the game setup process. Once the game is ready, everyone is automatically entered into the room.
Playing Cash Games
In Cash games, you can play either six-handed or ten-handed. You can set the buy-in  and blinds, and play either No Limit Hold'em or Limit Hold'em. The game stays open for 8 hours, and you can even play in multiple cash games at once.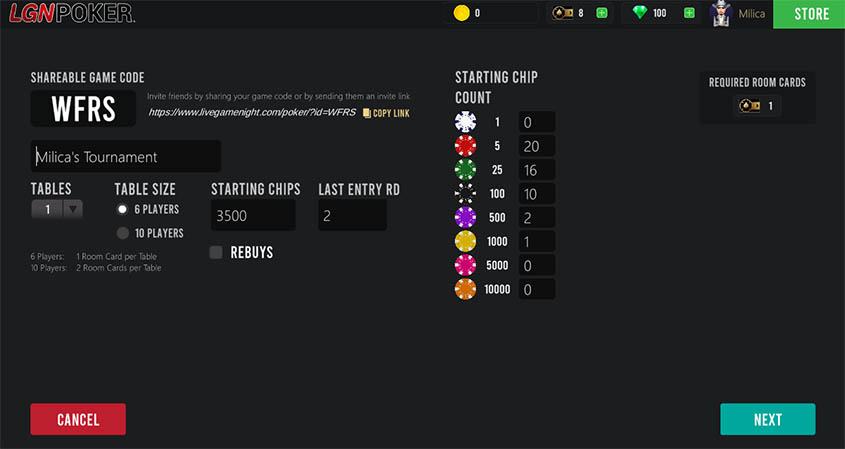 Playing Tournaments
Tournaments can also be played at tables of 6 or 10 players, and you can have up the three tables participating. You pick the number of chips that players begin with as well as the duration for each level. The ante, small blind and big blind are up to you, as well.
Live Game Poker Night Store
There are a couple of different currencies in LGN Poker – gems and room cards. You can purchase gems with cash and you can purchase room cards using your gems.
Gems are used to purchase new avatars, the vast majority of which are just 25 gems, but you can special ones for 75 and 375 gems.  Since you're going to be seeing your friends in the video chat, it doesn't seem all that necessary to buy new avatars.
Room Cards Are Important
What you will want to save your gems for are the room cards. If you're going to be hosting games, room cards are necessary. The costs are below:
6-handed cash game: 1 room card
10-handed cash game: 2 room cards
Tournament with 6 players per table: 1 room card
Tournament with 10 players per table 2 room cards
$6.00 will get you 150 gems but, if you're familiar with social games, the more coins you buy, the more value for your money you receive. For example, 7000 gems costs $100, saving you 65%.
Room cards then go for 125 gems each. The top value package is 36 room cards 2700 coins.
A Quick Review
Live Game Night Poker really is a great little app that brings something new to the market. I'm surprised we haven't seen a big-name video chat platform launch a poker app before this, but now there's finally an option on the market.
FlowPlay has created number of social casino platforms, include Vegas World and 7 Seas Casino. You can tell that the developer has lots of experience in this realm, as the game runs smoothly and is just as intuitive as if you were playing on a real-money gaming platform.
Paying For Free Games Might Not Appeal to Everyone
The main gripe that players will have is the cost. If you're going to be hosting online poker home games regularly, then the cost will add up over time, and most people are used to using video chatting and multi-player game platforms for free.
Creating The App
FlowPlay has been around since 2006, creating various social gaming apps during this time. The company created the LGNPoker App last summer as a response to the COVID-19 pandemic. It took 90 days to a get working product up and running.
"For getting together with people that you don't otherwise get to reach out to, it's a great way to bring people together. Especially if it's a group of friends or relatives. This is another way to connect people" – Derrick Morton, CEO of FlowPlay
Whilee LGNPoker is a great product, FlowPlay struggled to find an audience for it. Eventually, FlowPlay presented it to Zoom who were eager to add it to their platform. So, if you're wondering why you haven't seen it sooner, the whole process has taken a while.
Other Home Game Options
If you'd rather play poker online with real money, prefer games other than NLHE or would like to use a big-name poker brand, there are numerous options here, too. We have a whole article about it!
These are just a few of the different real-money online poker home games available:
BetOnline offers an online home game service, where you can play PLO and PLO8 as well. Several takes are available, from $.50/$1 up to $5/$10.
PokerStars Home Games have Omaha, Stud, Draw Poker, Horse and Badugi along with NLHE and PLO.
America's Cardroom offers NLHE, PLO and PLO8 tournaments.
We see this as a trend that is definitely going to stick around, even once the coronavirus pandemic is over. It's not always possible to gather six or more of your buddies together for a poker night, and these services give you the opportunity to enjoy some friendly competition from virtually anywhere.