Top Poker Sites for Soft Competition
The online poker landscape of the early-to-mid 200s was vastly different than the matured industry of today. New online players could simply sign up at their poker site of choice and be guaranteed a collection of inexperienced soft novices at the tables.
With games becoming increasingly tight due to the lower influx of new players and difficult deposit methods, it behooves savvy online poker players to single out the softest poker sites in order to maximize their advantage over the rest of the table.
A major indicator of the softest poker sites is the average flop percentage, which is almost always displayed in the poker site lobby next to each table's name. This number lets players know how many players typically pay to see the flop per hand.
While the mega-poker sites have dominating player counts and great tournament schedules, most tables have at an extremely low 10-20% flop percentage. At a full 9-handed table this means that most hands either end pre-flop or are heads-up on the flop. This simply means that it is more difficult to extract value from premium hands.
The softest poker sites that we've qualified in this list tend to feature flop percentages of 30-40%, which is at least twice that of the tighter rooms and frequently means that 3 or more players will be seeing the flop per hand.
Average pot size numbers aren't entirely indicative of soft poker sites but there is a noticeable difference between the larger rooms (8-15x the big blind) and the softer poker rooms (20-35x the big blind). This equates to players who are willing, on average, to contribute greater bets to the pot. The lack of starting hand discipline and the willingness to gamble are telltale signs of soft novice players.
Below you'll find our top picks for the softest poker sites online. While they certainly don't have the player numbers, brand recognition, or massive tournaments that the conglomerates have they often more than make up for it with better bonuses, unique software, and, most importantly, softer poker play overall.
TOP CHOICE
Giving our softest poker site award to Sportsbook Poker is an easy decision. Following their move to the Merge network, they increased their already-soft games to new levels. Typical flop percentages here often exceed 40% with pot sizes exceeding 30x the big blind.

From personal experience, Sportsbook Poker easily offers the softest poker site players of any US room. Tighter players can simply play a straightforward game and stay away from slowplaying as big bets are called early and often at Sportsbook Poker. Such soft play can largely be attributed to the near-100% credit card acceptance rates.
Visit Sportsbook Poker.


 Available to U.S. Players.

Despite Sportsbook Poker not having huge player volume, they do feature 10 or more no-limit tables up to about $1/2. Our new Sportsbook Poker also receive an instant 10% cash bonus and an extra 100% earned over time.
View our Sportsbook Poker review for more details about this softest poker site online.
#2 CHOICE
Despite the somewhat tighter numbers in recent years, Bodog broke into the industry with one of the softest poker sites and they remain that way while continuing to accept US players. Flop percentages at Bodog average around 30-35% at full tables.

As one of online gaming's pioneers Bodog offered casino and spots betting for years prior to opening their poker room. Largely due to their younger gambling-centric sports demographic and crossover players from the casino Bodog instantly became one of the softest poker sites online.
Visit Bodog Poker.


 Available to U.S. Players.
Bodog has strong traffic with active no-limit games with strong traffic up to the $5/10. As one of the softest poker sites even the upper limits feature below-average competition. Bodog gives our new players a private 100% bonus, good up to $1,100 as well as 10% instant cash.
You can also read our Bodog Poker review for more details.
#3 CHOICE
Doyle's Room has settled on the Cake network, continuing its status as one of the softest poker sites online. Since its inception, Doyle's Room and its network has drawn largely inexperienced soft players and international players prone to gambling on speculative hands.


Despite the Doyle's Room software reporting flop percentages of full tables at about 20%, our personal experience shows that this is one of the softest poker networks still available to US players. Traffic is at least average with 10-15 active tables per limit and several up to the $5/10 no-limit level.

 Available to U.S. Players.
Other positives include an increased 110% bonus and a free bounty tournament entry for our new players.
#4 CHOICE
Perhaps due to their recent security scandals, Absolute Poker has also become one of the softest poker sites for US players. Flop percentages average between about 25-35% at Absolute Poker for full 9-handed tables, which is much higher than the largest rooms.

Most experienced players that became aware of the security leaks largely moved on to other poker rooms. For those that can trust the claims of increased security, this is one of the softer poker sites consisting of mostly casual loose players.

 Available to U.S. Players.
Absolute Poker also boasts one of the best US cashiers with direct checking account deposits and most major e-wallets. This soft poker site also gives our players an increased 150% bonus.
TOP NON-US CHOICE
TOP CHOICE
Despite not allowing US players Pacific Poker has always been a haven for poor players and certainly ranks as one of the softest poker sites online. In terms of non-US poker rooms, Pacific Poker offers the wildest experience remaining in online poker with massive pots frequently featuring 40-50% players per flop.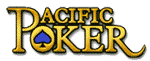 The Pacific Poker platform, which is operated by the massive 888 group, has always seemed like a token attempt to offer poker play as a secondary option to the parent casino. Due to the large number of casino crossover players the quality of play is simply horrendous and would be near the top of our softest poker site list if they still allowed US players.
Visit Pacific Poker.
Not available to US players.
Pacific Poker traffic is certainly above average with several thousand players typically signed in and 10-20 active tables per limit. Pacific Poker also offers our players a 100% bonus with 25% of it available immediately as instant cash.
View more about this soft poker room in our Pacific Poker review.
• View all of our top poker pages.
• Read our full poker reviews.