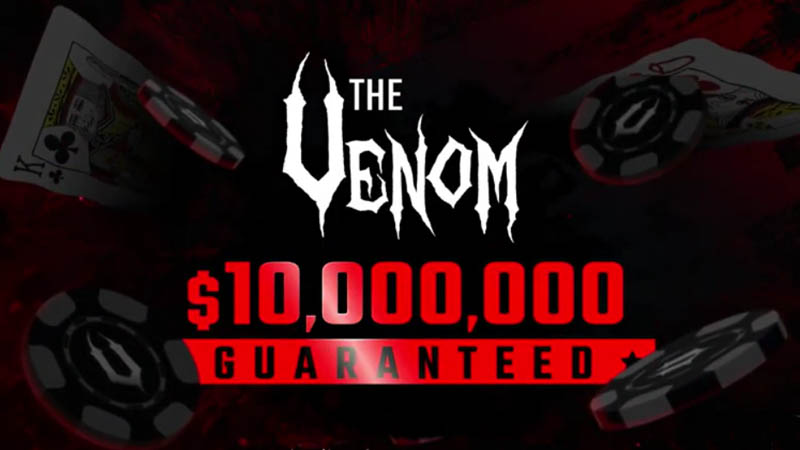 The America's Cardroom Venom tournament always provides players with amazing guarantees. The first-ever Venom had a $5m guarantee, and set a Guinness World Record, and now the site is doubling it.
The $10 million guarantee in the 2021 Venom Online Poker Tournament is the largest guarantee ever offered from the site. Both first place and second place will win over $1 million, and there are plenty of ways to enter.
Venom Tournament Schedule
You have the option of four different starting days, followed by the three days set out for the rest of the tournament. This is the schedule for the biggest tournament in the history of America's Cardroom:
Day 1A – Fri, July 23rd, 1 pm EST
Day 1B – Sun, July 25th, 1 pm EST
Day 1C – Fri, July 30th, 1 pm EST
Day 1D – Sun, August. 1st, 1 pm EST
Day 2 – Mon, August. 2nd, 1 pm EST
Day 3 – Tues, August. 3rd, 1 pm EST
Day 4 – Weds, August. 4th, 5 pm EST
How to Qualify For The $10,000 Guaranteed Venom
The buy-in for the event is $2,650, which might be a bit too rich for most players' blood. The good news, however, is that there are plenty of satellites available in the Venom Fever – daily tournament series.
Venom Fever Mega Tournaments
America's Cardroom is giving away 886 tournaments for players in Venom Fever events that cost $0 to enter. These competitions will run from June 26th through to August 1st, and between 5 and 20 tickets will be given away in each one.
Cyclone Blitz Events
Cyclones are special events from America's Cardroom with buy-ins starting at 11c. If you complete all 9 steps in a cyclone, then you'll have a $2,650 Venom Ticket – but, not everyone has the time for that.
So, you can buy-in at any level. Once you've bought in, you have to win 5,000 chips, unlike other satellites where you have to beat out the rest of the field.
On Demand Step and Skip Tournaments
This series is quite similar to the Cyclone, but you take part in more traditional satellites where you simply have to come out on top. There are nine steps in the series and, from step 3 onwards, only 3-max events are available.
You also have the option to skip levels in special events starting at 25c. So, America's Cardroom gives players plenty of options to qualify that don't take up very much time.
An Event You Won't Want to Miss
The upcoming Venom poker tournament at America's cardroom will certainly go down in history in the online poker world. It's really not that often that poker sites offer $10 million guarantees.
The Main Event of the 2020 GGPoker World Series of Poker Winter Online Circuit had a $10 million guarantee and managed to end up with a $10.3 million prize pool with more than 6,395 entries. We anticipate that The Venom will draw in many more entries, since there are so many ways to enter – so participants can likely look forward to a very impressive prize pool.