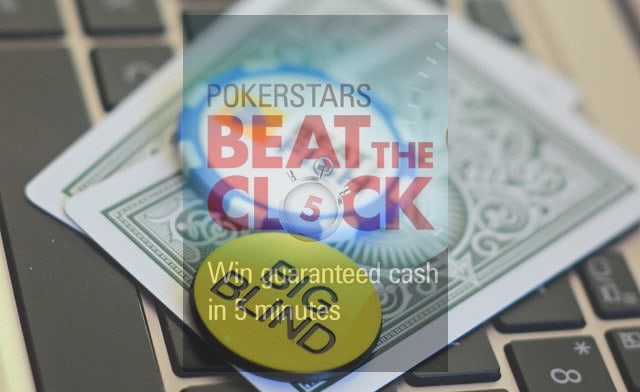 Regardless of the fact many players not liking the direction it's been taking lately, PokerStars firmly remains the number one online poker site. They don't just lead the way in terms of player numbers, but are the forerunner in the area of innovation as well.
Some of their ideas are, admittedly, not very well thought-out, like their Duel app which was announced as the "next big thing," but in reality failed so hard the company ended up removing it all together. However, the company is sticking to its guns, constantly releasing new formats and testing waters with the players.
Their latest invention is Beat the Clock, a tournament format fusing Zoom, hyper turbos, and timed tournaments. An interesting concept, but how does it actually work?
What are Beat the Clock tournaments all about?
The first thing you need to know about these tournaments is they last 5 minutes exactly. No matter what happens, once five minutes have passed, the tournament will be over and prizes will be distributed as described below.
So, if you are short on time, Beat the Clock sounds like a good way to get some quick poker hands in.
Beat the Clock tournaments are sit and goes. The event starts as soon as enough players have registered and lasts for the next five minutes. Those who make it through with some chips still in front of them get paid.
Beat the Clock tournaments structure
Beat the Clock tournaments are played much like Zoom poker. As soon as you've folded your hand, you'll be moved to the next table and get straight back into action. That way, you save time which is very precious in these 5-minute events.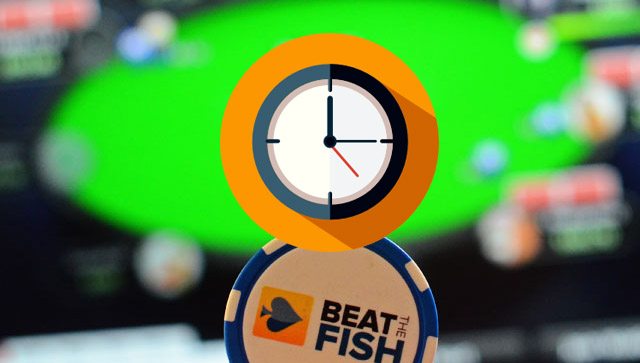 The tournament is divided into five one-minute levels, as follows:
200 / 400 with 80 ante
250 / 500 with 100 ante
300 / 600 / 120 ante
400 / 800 / 160
500 / 1,000 / 200
Once the final hand of the fifth level is dealt, the tournament is over. All remaining players will receive a prize proportionate to their chip stack after the last hand.
Prize distribution in Beat the Clock events
Since the tournament is over after five minutes of play and regardless of the number of players still in, the usual prize distribution does not apply for these events. Instead, Beat the Clock tournaments feature a special formula based on which the prize money is distributed.
Final payout for a player = (chips in the player's stack / total chips in play) x (total prize pool)
Since all Beat the Clock tournaments start with 5,000 chips per player, it is fairly easy to calculate your final share. Keep in mind that a number of players remaining doesn't play a role in these events. Even if there were only just two players left after five minutes, you'd still get the same as if there were 20 remaining, provided your chip count remains unchanged.
Pros & Cons: Beat the Clock strategy
With every new variation that comes out, online poker players gather on poker forums to discuss its viability, profitability, and sustainability. However, the 2+2 thread discussing Beat the Clock hasn't picked up much attention as of yet.
What we can say with a fair amount of certainty is that the average level of play in these events will be low, as is usually the case with new, experimental variations mostly frequented by casual player. This means that knowing fundamental shove / fold strategy should be enough to make you a winner in these games.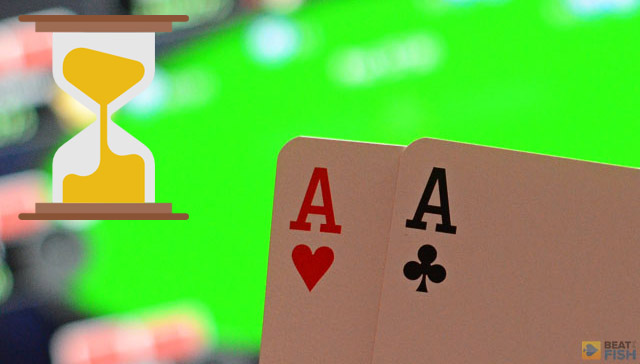 On the other hand, due to the fast structure and payouts distributed based on your stack size at a certain point in time, these events also feature some cash game-like qualities. If you are nearing the end of the tournament with a big stack, you'll need to tighten up your ranges. Stacking off light can be a costly mistake in Beat the Clock events.
Is this a good format to play?
The question everybody asks when a new format makes an appearance is: should I be playing this? Is this where I can make the money? The answer is, as with so many things poker, it depends. If you enjoy skill element of the game, Beat the Clock doesn't have too much to offer.
On the other hand, if you are looking to grind for hours and play as many tournaments as possible during the day, without ever facing a truly tough decisions, you might consider this new format. As mentioned, for the most part you'll just need to know the fundamental shove / fold strategies and adjust your ranges a bit for when you happen to be playing slightly deeper.
When factoring in the rake and the all the changes PokerStars made to their rakeback structure, though, there is an argument these games are borderline unprofitable in the long run. This is at least where some pros stand with regards to the new game.
Overall, this new format represents an interesting fusion, but it isn't likely to become huge. It doesn't bring anything we haven't seen before; it just combines old elements in a new way. This should be enough to generate some interest, but we don't expect it to be a groundbreaking success.