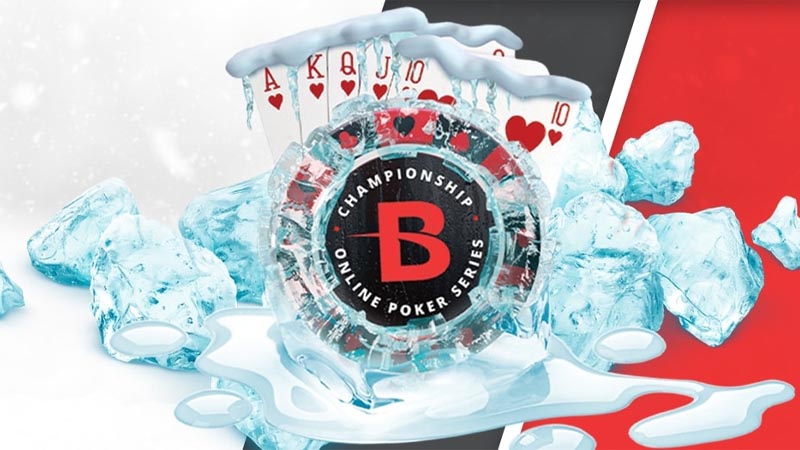 Today, BetOnline has kicked of it's first major online poker tournament series of 2022. Over the course of the next two weeks, the popular poker site will be running 130 events with more than $2 million in guarantees.
Bigger and Better than the Last COPS at BetOnline
When BetOnline hosted its Labour Day Championship of Poker Series in September 2021, the schedule consisted of 87 events over the course of three weeks. This time around, there are over 40 more events crammed into a much shorter time period.
Many Ways to Quality for BetOnline's COP Series
There's a great range of events, with buy-ins starting at just $11 – so, even microstakes players can enjoy quite a few tournaments in the series. However, the events with the larger guarantees cost between $109 and $215.
Luckily, there are many different means of winning your way into the bigger Championship of Poker events at BetOnline.
Firstly, there are Flips. Every day, there are Flip tournaments starting at just 50c, which is more of a luck-based game. Seats in the 50c Flips get you into a $5 Flip which gets 10 players entry into the Championship of Poker Series Main Event.
You'll also find all sorts of freerolls every day on the hour. These will land you directly into COPS events, as winners will automatically be bought in for the corresponding event.
View the Full Schedule
Want to know what events are on this week in the BetOnline Poker Championship? Just have a look at the full schedule below!
It's a jam-packed series so, if you're thinking of taking part, make sure you keep track of the events you're going to join so you don't miss out.
Time (ET)
Event
Buy-In
Sunday, January 23
1:00 PM
Event Number 1 – $109  Main Event – 8-Max
$175,000
1:00 PM
Event Number 2 – $22  Main Event – 8-Max
$25,000
4:00 PM
Event Number 3 – $11  Deep Stack – 7-Max
$7,500
4:00 PM
Event Number 4 – $55  Deep Stack – 7-Max
$20,000
5:00 PM
Event Number 5 – $320  High Roller – 7-Max
$30,000
7:00 PM
Event Number 6 – $33  PKO – 8-Max
$15,000
7:00 PM
Event Number 7 – $11  PKO – 8-Max
$5,000
9:00 PM
Event Number 8 – $109  Turbo PKO – 8-Max
$10,000
9:00 PM
Event Number 9 – $22  Turbo PKO – 8-Max
$2,000
Monday, January 24
1:00 PM
Event Number 10 – $55  Marathon – 6-Max
$20,000
3:00 PM
Event Number 11 – $11  Boost – 6-Max
$1,500
5:00 PM
Event Number 12 – $33  Deep Stack – 7-Max
$15,000
5:00 PM
Event Number 13 – $11  Deep Stack – 8-Max
$2,500
7:00 PM
Event Number 14 – $33  PKO – 8-Max
$12,500
7:00 PM
Event Number 15 – $215  PKO – 8-Max
$25,000
9:00 PM
Event Number 16 – $11  Turbo Deep Stack – 7-Max (Mobile Only)
$1,000
9:00 PM
Event Number 17 – $109  Turbo Deep Stack – 7-Max
$10,000
Tuesday, January 25
1:00 PM
Event Number 18 – $22  Marathon – 8-Max
$10,000
3:00 PM
Event Number 19 – $55  Boost – 6-Max
$2,500
3:00 PM
Event Number 16 – $11  Turbo Deep Stack – 7-Max (Mobile Only)
$1,000
5:00 PM
Event Number 21 – $215  PKO – 7-Max
$15,000
5:00 PM
Event Number 22 – $55  PKO – 8-Max
$10,000
5:00 PM
Event Number 23 – $11  PKO – 6-Max
$2,500
7:00 PM
Event Number 24 – $109  Deep Stack – 8-Max
$15,000
7:00 PM
Event Number 25 – $22  Deep Stack – 8-Max
$10,000
9:00 PM
Event Number 26 – $55  Turbo PKO – 7-Max
$5,000
9:00 PM
Event Number 27 – $11  Turbo PKO – 7-Max
$1,500
Wednesday, January 26
1:00 PM
Event Number 28 – $11  Marathon – 6-Max
$5,000
3:00 PM
Event Number 29 – $22  PKO – 8-Max
$5,000
5:00 PM
Event Number 30 – $215  Deep Stack – 7-Max
$20,000
5:00 PM
Event Number 16 – $11  Turbo Deep Stack – 7-Max (Mobile Only)
$1,000
7:00 PM
Event Number 32 – $55  Rebuy – 7-Max
$20,000
7:00 PM
Event Number 33 – $11  Rebuy – 8-Max
$10,000
9:00 PM
Event Number 34 – $55  Turbo Deep Stack – 6-Max
$10,000
Thursday, January 27
1:00 PM
Event Number 35 – $22  Marathon – 8-Max
$10,000
3:00 PM
Event Number 36 – $55  PKO – 7-Max
$10,000
3:00 PM
Event Number 37 – $75  Deep Stack – 8-Max
$15,000
5:00 PM
Event Number 38 – $22  Deep Stack – 8-Max
$8,000
7:00 PM
Event Number 39 – $109  PKO – 7-Max
$10,000
7:00 PM
Event Number 40 – $11  PKO – 7-Max
$2,500
9:00 PM
Event Number 41 – $55  Turbo PKO – 8-Max
$5,000
9:00 PM
Event Number 16 – $11  Turbo Deep Stack – 7-Max (Mobile Only)
$1,000
Friday, January 28
1:00 PM
Event Number 43 – $109  Marathon – 8-Max
$20,000
3:00 PM
Event Number 44 – $22  Rebuy – 7-Max
$5,000
5:00 PM
Event Number 45 – $22  Deep Stack – 8-Max
$10,000
5:00 PM
Event Number 46 – $320  Deep Stack – 8-Max
$15,000
7:00 PM
Event Number 47 – $215  PKO – 7-Max
$15,000
7:00 PM
Event Number 48 – $33  PKO – 7-Max
$10,000
9:00 PM
Event Number 16 – $11  Turbo Deep Stack – 7-Max (Mobile Only)
$1,000
9:00 PM
Event Number 50 – $55  Turbo Deep Stack – 7-Max
$5,000
Saturday, January 29
1:00 PM
Event Number 51 – $55  Marathon – 7-Max
$10,000
1:00 PM
Event Number 52 – $11  Marathon – 7-Max
$5,000
3:00 PM
Event Number 53 – $11  Rebuy – 6-Max
$5,000
5:00 PM
Event Number 54 – $75  Deep Stack – 8-Max
$10,000
5:00 PM
Event Number 55 – $22  Deep Stack – 8-Max
$7,500
7:00 PM
Event Number 56 – $215  PKO – 7-Max
$10,000
7:00 PM
Event Number 57 – $33  PKO – 7-Max
$10,000
9:00 PM
Event Number 58 – $55  Turbo PKO – 6-Max
$5,000
9:00 PM
Event Number 59 – $11  Turbo PKO – 6-Max
$1,500
Sunday, January 30
1:00 PM
Event Number 60 – $109  Main Event – 8-Max
$200,000
1:00 PM
Event Number 61 – $22  Main Event – 8-Max
$30,000
3:00 PM
Event Number 62 – $11  Rebuy – 6-Max
$10,000
4:00 PM
Event Number 63 – $55  PKO – 7-Max
$25,000
4:00 PM
Event Number 64 – $11  PKO – 7-Max
$5,000
5:00 PM
Event Number 65 – $320  High Roller – 7-Max
$35,000
7:00 PM
Event Number 66 – $22  Rebuy – 8-Max
$10,000
9:00 PM
Event Number 67 – $109  Turbo Deep Stack – 6-Max
$15,000
9:00 PM
Event Number 68 – $33  Turbo Deep Stack – 8-Max
$5,000
Monday, January 31
1:00 PM
Event Number 69 – $11  Marathon – 8-Max
$7,500
3:00 PM
Event Number 70 – $55  Rebuy – 7-Max
$20,000
4:00 PM
Event Number 16 – $11  Turbo Deep Stack – 7-Max (Mobile Only)
$1,000
5:00 PM
Event Number 72 – $33  PKO – 8-Max
$10,000
5:00 PM
Event Number 73 – $11  PKO – 8-Max
$5,000
7:00 PM
Event Number 74 – $55  Deep Stack – 7-Max
$15,000
7:00 PM
Event Number 75 – $215  Deep Stack – 7-Max
$20,000
9:00 PM
Event Number 76 – $55  Turbo PKO – 7-Max
$5,000
9:00 PM
Event Number 77 – $11  Turbo PKO – 6-Max
$1,500
Tuesday, February 1
3:00 PM
Event Number 78 – $22  Rebuy – 8-Max
$5,000
3:00 PM
Event Number 16 – $11  Turbo Deep Stack – 7-Max (Mobile Only)
$1,000
5:00 PM
Event Number 80 – $75  Deep Stack – 6-Max
$15,000
5:00 PM
Event Number 81 – $22  Deep Stack – 6-Max
$5,000
7:00 PM
Event Number 82 – $33  PKO – 8-Max
$15,000
7:00 PM
Event Number 83 – $215  PKO – 8-Max
$20,000
9:00 PM
Event Number 84 – $55  Turbo Deep Stack – 6-Max
$5,000
9:00 PM
Event Number 85 – $11  Turbo Deep Stack – 8-Max
$2,500
Wednesday, February 2
1:00 PM
Event Number 86 – $109  Marathon – 7-Max
$25,000
3:00 PM
Event Number 16 – $11  Turbo Deep Stack – 7-Max (Mobile Only)
$1,000
5:00 PM
Event Number 88 – $75  Deep Stack – 8-Max
$15,000
5:00 PM
Event Number 89 – $22  Deep Stack – 8-Max
$8,000
7:00 PM
Event Number 90 – $11  Boost – 8-Max
$1,000
7:00 PM
Event Number 91 – $33  PKO – 7-Max
$15,000
9:00 PM
Event Number 92 – $55  Turbo PKO – 8-Max
$5,000
9:00 PM
Event Number 93 – $11  Turbo PKO – 6-Max
$1,500
Thursday, February 3rd
1:00 PM
Event Number 94 – $33  Marathon – 6-Max
$15,000
3:00 PM
Event Number 16 – $11  Turbo Deep Stack – 7-Max (Mobile Only)
$1,500
5:00 PM
Event Number 96 – $11  PKO – 6-Max
$2,500
5:00 PM
Event Number 97 – $55  PKO – 6-Max
$20,000
7:00 PM
Event Number 98 – $22  Deep Stack – 8-Max
$10,000
7:00 PM
Event Number 99 – $215  Deep Stack – 8-Max
$20,000
9:00 PM
Event Number 100 – $55  Turbo Deep Stack – 7-Max
$5,000
9:00 PM
Event Number 101 – $11  Turbo Deep Stack – 7-Max
$1,000
Friday, February 4
1:00 PM
Event Number 102 – $55  Marathon – 8-Max
$15,000
1:00 PM
Event Number 103 – $11  Marathon – 7-Max
$5,000
3:00 PM
Event Number 104 – $33  Rebuy – 7-Max
$15,000
5:00 PM
Event Number 105 – $55  PKO – 7-Max
$15,000
5:00 PM
Event Number 106 – $11  PKO – 8-Max
$2,500
7:00 PM
Event Number 107 – $33  Deep Stack – 8-Max
$10,000
7:00 PM
Event Number 108 – $11  Deep Stack – 8-Max
$5,000
9:00 PM
Event Number 16 – $11  Turbo Deep Stack – 7-Max (Mobile Only)
$1,000
9:00 PM
Event Number 110 – $55  Turbo PKO – 6-Max
$5,000
Saturday, February 5
1:00 PM
Event Number 111 – $33  Marathon – 7-Max
$10,000
3:00 PM
Event Number 112 – $55  Rebuy – 8-Max
$10,000
5:00 PM
Event Number 16 – $11  Turbo Deep Stack – 7-Max (Mobile Only)
$2,500
5:00 PM
Event Number 114 – $55  Boost – 7-Max
$3,000
7:00 PM
Event Number 115 – $88  Deep Stack – 7-Max
$10,000
7:00 PM
Event Number 116 – $33  Deep Stack – 7-Max
$10,000
7:00 PM
Event Number 117 – $11  Deep Stack – 7-Max
$5,000
9:00 PM
Event Number 118 – $33  Turbo Deep Stack – 7-Max
$5,000
9:00 PM
Event Number 119 – $11  Turbo Deep Stack – 6-Max
$1,000
Sunday, February 6
1:00 PM
Event Number 120 – $109  Main Event – 8-Max
$300,000
1:00 PM
Event Number 121 – $22  Main Event – 7-Max
$40,000
4:00 PM
Event Number 122 – $11  Deep Stack – 7-Max
$10,000
4:00 PM
Event Number 123 – $55  Deep Stack – 7-Max
$30,000
4:00 PM
Event Number 124 – $75  Deep Stack – 8-Max
$40,000
5:00 PM
Event Number 125 – $320  High Roller – 7-Max
$50,000
7:00 PM
Event Number 126 – $215  PKO – 7-Max
$50,000
7:00 PM
Event Number 127 – $55  PKO – 7-Max
$20,000
7:00 PM
Event Number 128 – $11  Boost – 6-Max
$2,000
9:00 PM
Event Number 129 – $109  Turbo PKO – 8-Max
$20,000
9:00 PM
Event Number 130 – $22  Turbo PKO – 8-Max
$5,000