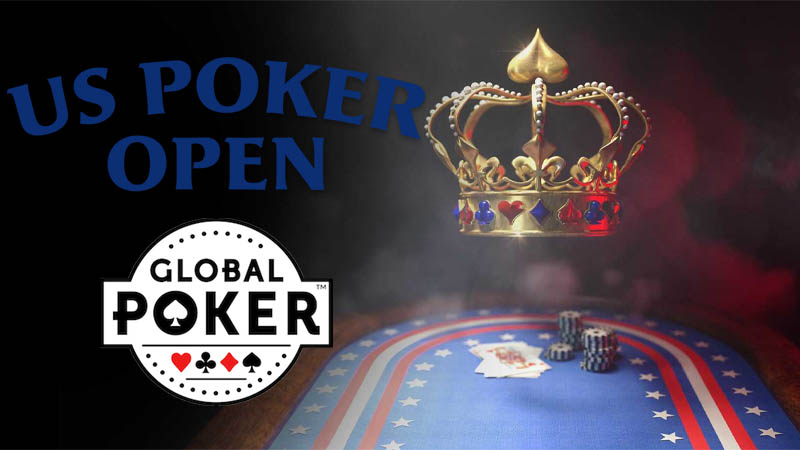 The US Poker Open is a prestigious tournament that takes place exclusively in land-based venues only – but, not anymore! For the first time ever, it will be hosted online, on Global Poker's platform.
"In a few short years, the USPO has become one of the premier events on the poker calendar, and at the same time Global Poker has established itself as the online destination for players looking for an authentic online poker experience. So, this partnership feels right." – David Lyons, Global Poker's General Manager.
About Global Poker's Online US Poker Open
The US Poker Open at Global Poker will take place from August 23rd to September 5th. 32 trophy events will be held, with GC 500,000,0000 in guarantees across all of them.
There are two types of events that will take place: Gold Coin events and Sweeps Coins events.
The Sweeps Coins Main Event will be held on Sunday, September 5th at 5:30pm. It will have a buy-in of 99 SC and a guarantee of 250,000 SC.  The Gold Coins Main Event will be held at the same time but with a buy-in of 99,000 GC and a guarantee of 125,000,000 SC.
Leaderboard Champions
On top the of the actual competitions, there are also leaderboard prizes that players can cash in on by earning top spots in SC and GC events.
The 1st place Gold Coin leaderboard winner will receive a golden crown and branded merchandise, along with having a tournament named after their online alias. Places 2 through 10 will receive swag like hoodies and t-shirts.
The player who places at the top of the Sweeps Coins leaderboard will receive $5000 to go towards a holiday in Vegas. The rest of the Top 10 on the SC leaderboard will earn SC and tickets into Global Poker tournaments.
What Are Sweeps Coins and Gold Coins?
If you're not familiar with the Coins Model at Global Poker, we'll give you a bit of a rundown. It sounds complicated but once you've played on the site, it's all very straightforward.
When you take part in poker games at Global Poker, you buy Gold Coins to use in poker games. This is play money currency, and it comes along with Sweeps Coins – which can then be redeemed for cash.
Then, everything else plays out like a regular poker site. There's a wide variety of games, at many different stake levels – so, all sorts of players can enjoy themselves here.
So, if you want to take part in SC events during Global Poker's Online US Poker Open, you'll have to purchase Gold Coins that will come with the SC that you'll need for those buy-ins. Keep in mind that 500,000 Gold Coins comes with 103 Sweeps Coins. Since no event in the US Poker Open costs more than 100 SC, this will be the option you want to go for.
However, if you're thinking of taking part in multiple events, remember that you get more value for purchasing more Gold Coins. The more GC you buy, the more SC you receive.
You can read all about it in our Global Poker review.