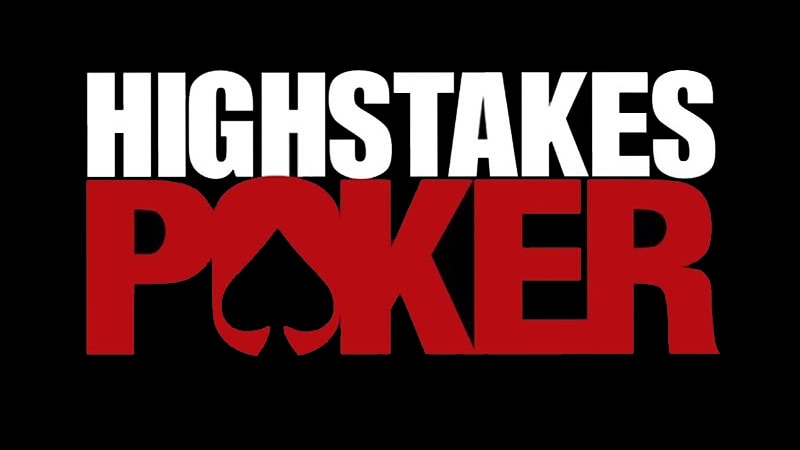 High Stakes Poker was a hugely popular television show, where some of the world's best players gathered to take part in thrilling poker games. It has been nearly 10 years since the last episode aired, and there has been a lack of quality poker programming for those wanting an insider's look at VIP poker games.
High Stakes Poker Comes Back via PokerGO
Now, High Stakes Poker will be starting up again, this time with Poker Central at the helm. This is due to a recent deal that saw Poker Central purchase the High Stakes Poker brand and its assets.
What this means is that PokerGO will soon begin streaming episodes of High Stakes Poker sometime this year. The professional poker community is thrilled with the news, so it's likely that the show will be coming back to our screens sooner rather than later.
"Bringing the existing episodes of High Stakes Poker to our platform and producing more in the future will enable us to recapture the nostalgia and magic of the show for our PokerGO subscribers in the present-day poker climate"

– Sampson Simmons, president of Poker Central.
If You Missed High Stakes Poker
If you never happened to catch an episode of High Stakes Poker, it's definitely worth checking out. You can watch some of the best hands on YouTube – like the one below:
The cast consisted of a rotating roster of who's who in the poker world. Players like Doyle Brunson, Antonio Esfandiari and Daniel Negreanu were among those who played at the High Stakes Poker table.
The minimum buy-in was set at $100,000 when the series first started. By the time the fourth series rolled around, it was increased to $500,000 – so, only the biggest poker names around took part.
While most viewers tuned in to watch the crème de la crème of the poker world compete, others enjoyed Gabe Kaplan's legendary commentary and casual aspects of the show. Simply watching these pros banter each other, even without cards in front of them, was an enjoyable experience for viewers.
A New Generation of Poker Pros on Our TV Screens
2011 was a long time ago, and there are plenty of new poker players who have made a name for themselves in the industry. So, it would be great to see this new generation of players on the felt. We'd also like to see celebrities joining in, as personalities like Kevin Hart and Ellen Degeneres are known for being poker aficianados.
Bryn Kenney has just taken over the top spot on Hendon's All-Time Money List, and Kahle Burns won two WSOP bracelets back-to-back last year. These are players that would have either been too young or too inexperienced to join the High Stakes Poker cast back when the show first aired – so, we'd love to see them make an appearance this time around.
Veterans of High Stakes Poker are also likely to return, as well. Players like Phil Hellmuth have not been able to hide their excitement: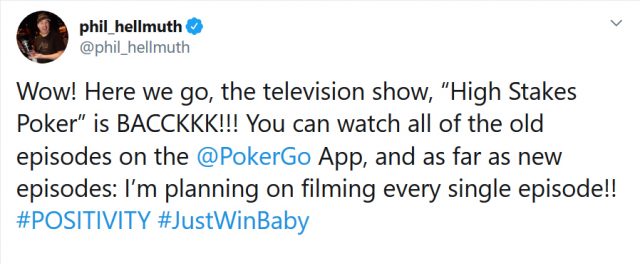 Of course, poker fans can always tune in on Twitch – but, it's just not the same. Twitch channels usually broadcast the online play of just one pro, but a show like High Stakes Poker gathers the best players around so viewers can get an insiders look at what it's like to play in a real VIP poker game.
There's no word on exactly when High Stakes Poker will be returning, but we're hoping that it will be sometime very soon.