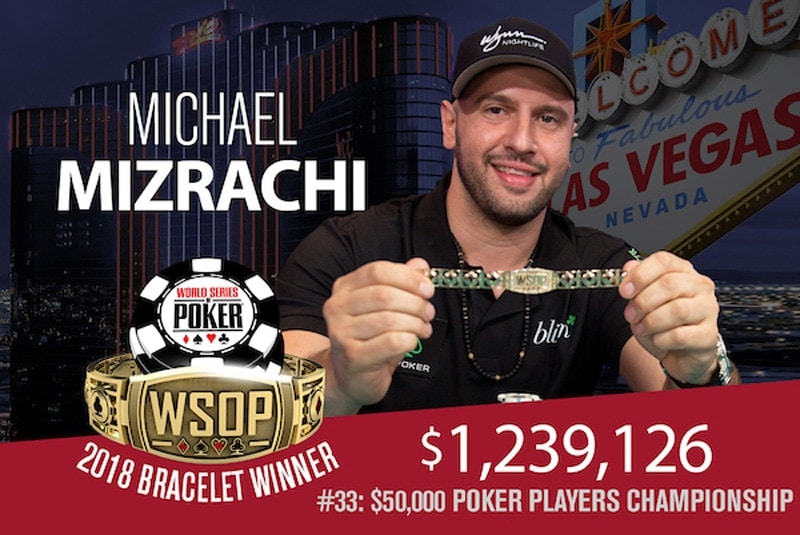 Although the WSOP Main Event is widely regarded as the World Championship of poker, many believe that the $50,000 Players Championship is the most prestigious event of the Series. This is usually a small field event but it regularly gathers the best of the best and it features a format where knowing how to play just one game won't get you far.
Thus, winning the Players Championship is regarded as a really impressive achievement. Doing it twice is epic. But doing it three times borderlines insanity and Michael Mizrachi has become the first player in WSOP history to accomplish this feat!
All eyes on Michael Mizrachi
Coming into WSOP 2018, Mizrachi was one of two players with two Players Championship titles to his name, the other one being Brian Rast. Both of them had a chance to make poker history this year by grabbing the third title but only one could possibly go all the way.
Rast made his exit in 8th place and he fell to none other than Michael Mizrachi who took the remainder of Rast's already crippled stack during a 2-7 Triple Draw round.
That left Mizrachi alone with a shot at making history, facing six other players who certainly wouldn't make things easy on him. Just like any other pro out there, Mizrachi knew that no one was going to cut him any slacks to make his road to the victory easier.
A lucky (coffee) break
According to the interview Mizrachi gave for WSOP.com after winning the whole thing, cards weren't particularly falling his way during the first part of the tournament. Then, during Day 2, he spilled some coffee on the table, which caused a delay as they had to switch tables.
Things started going his way from that moment on.
Of course, it is hard to believe an experienced pro such as 'The Grinder' actually believes the story he is selling, but a bit of good run never hurt anyone at a poker table, caused by coffee-spillage or any other reason.
Win for the history
This year, Poker Players Championship saw a total of 87 players put up the hefty $50,000 buy-in for the privilege. A small field for sure, but filled with the players of the highest caliber – the likes of Phil Ivey, Shaun Deeb, Dan Smith, and many others.
Omg he won it all!! Can't believe it! #TeamMizrachi #WSOP pic.twitter.com/kJUBiU8pB7

— Eric Mizrachi (@EricMizrachi) June 20, 2018
Mizrachi outlasted them all and after eliminating Rast, he was up against just six players. He had some things going in his favor, especially the fact he was able to seize the chip lead during the Day 2 and he never actually gave it up.
It was a tough battle for the title and the one that saw the likes of Greg Mueller, Aron Katz, and Benny Glaser follow Rast to the rail. After that, 'The Grinder' dispatched Mike Leah in 4th while John Hennigan took the last of Dan Smith's chips, bringing the 2018 PPC to its final skirmish.
A quick resolution
The three-handed play may have lasted for about two hours but the heads-up stage didn't take nearly as long. About twenty minutes in, Michael Mizrachi called off the last of Hennigan's chips in a great spot, with a middle pair and flush draw against an open-ended straight draw of Hennigan. The turn card completed Mizrachi's draw and it was all she wrote.
Here's the bracelet! @TheGrinder44 #TeamMizrachi pic.twitter.com/ec5DYL9jr1

— Team Mizrachi (@TeamMizrachi) June 20, 2018
Michael Mizrachi claimed his third PPC title alongside the hefty first prize of $1,239,000, bringing his total WSOP bracelets count to four. Hennigan got $765,000 for his second place finish but he has also surged to the top of the Player of the Year standings thanks to his earlier victory in the $10,000 H.O.R.S.E Championship.
What do you think about this feat by Micheal 'The Grinder' Mizrachi? Do you believe he is truly one of the best all-around poker players and can you see him going back to back in the PPC next year? Let us know your thoughts in the comments' section!