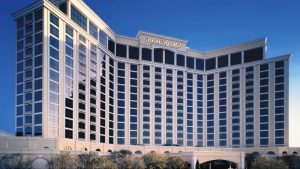 Officials in the casino industry in Mississippi said on Saturday that the damage to gaming employees is cataclysmic. They say the damage caused by Hurricane Katrina in 2005 will be nothing in comparison to COVID-19 of 2020.
Union officials of Coast casinos in Mississippi are demanding that not only employees in the state but all around the country must be paid during the shutdowns caused by the COVID-19 worldwide pandemic. These employees were all faithful hard-working people, some of them working at the casinos for several years.
Now all of a sudden, they have no checks and can't pay their vital bills or feed their families. Donald T. Taylor, the President of the Unite Here International Union, said that during Katrina and 9/11 and other disasters, casino employees were paid while they were not able to go to work.
This health crisis should be no different, he said, "our people must be paid, there is nothing to talk about." Taylor wants some answers, "In past disasters casinos stepped and paid their employees. Now all casinos and racetracks all over the country are forcibly shut down. What is the reason this time no one is protecting the employees?"
Unions Believe Casinos Could Pay Their Employees
Taylor said there are no valid excuses for throwing faithful workers under the bus. He said, "there is more than enough money to pay the staff through the pandemic. There are Coronavirus relief programs. Between the programs and company funds, the employees can be paid."
Taylor said any company that makes 30% percent or more of their profits from gambling is not eligible for the Paycheck Protect Program, under the relief programs of the coronavirus. Taylor said that very well could be, but that still is not an excuse for not paying employees.
"The casinos have more than enough money to pay the employees," Taylor said. "This is about greed."
Bill Miller, the President of the American Gaming Association (AGA), is currently having meetings with lawmakers to try to help smaller casinos qualify for the relief funds so that they can pay their employees. On March 16, the Gaming Commission ordered that all casinos in Mississippi close down to stop the spread of the virus.
That put close to 11,000 employees at the three coast casinos out of a job and over 16,000 employees statewide out of work.
Estimates Show Lost Revenue Of Millions
The AGA said this week that even a two-month total shutdown of casinos will cause lost revenue of over $736 million of activity. Taylor's union, Unite Here, represents over 300,000 employees in the United States and Canada.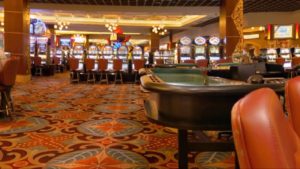 That also encompasses some of the culinary workers employed at the casinos at Beau Rivage Resort & Casino, IP Casino and Harrah's Gulf Coast in Biloxi, Miss. These concerns were raised during a press conference to discuss the casino employees.
One employee in attendance was bartender Jason Ashley, who has worked at the Rivage Resort for 20 years. He told reporters that he considers himself "one of the lucky ones," since his wife is a nurse and still collects a paycheck.
He said he has co-workers that had two people working in casinos, and they are struggling just to be able to obtain the basics. Ashley also said getting to be able to even get through to unemployment phone lines to file a claim has been impossible so far.
He said even if he eventually can collect unemployment benefits, it won't be enough to pay the bills, and for a lot of others, it will not be enough.