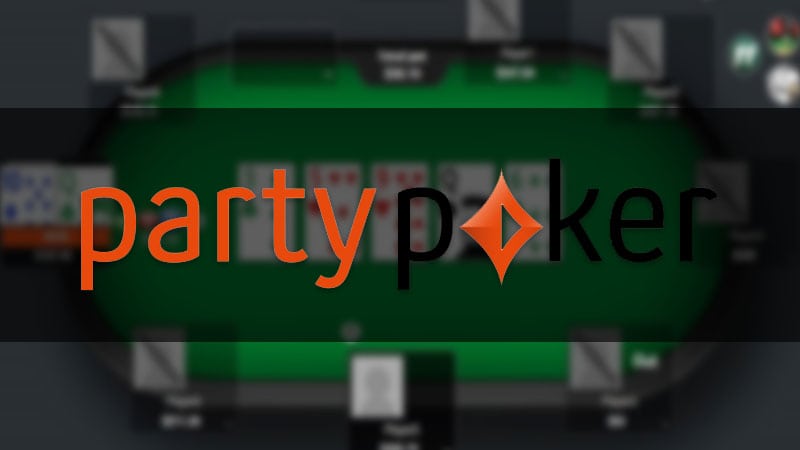 Anonymity is one of the many benefits of playing poker online, but this won't be the case much longer for some players on partypoker. The online poker site will soon be rolling out an update that will require players at high stakes tables to display their real names.
The Big Debate Over Using Real Names in Online Poker
This week, Rob Yong, a partypoker partner, wanted to find out what players thought of the upcoming changes, and the results were very interesting. He took a Twitter poll that showed most players support the use to real names in high-stakes games.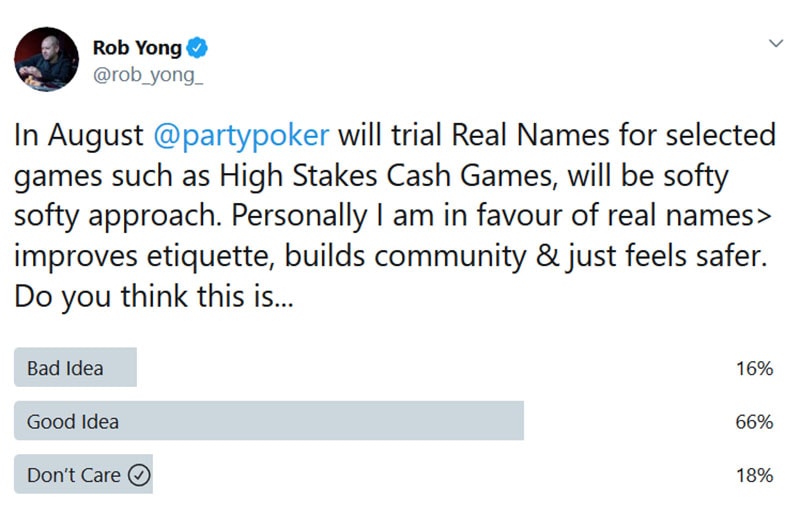 The vast majority of respondents think that it's a good idea for real names to be used in high stakes cash games. For as many players who think it's a bad idea, there are almost as many who don't care.
Yong believes that implementing this change will create a greater feeling of safety among online players at partypoker. However, those who have voiced their concerns are dubious about this feature actually protecting players.
Many respondents have noted that players can easily be looked up online. Some stated that they have very unique names that could easily make them targets, while others voiced concerns about discrimination.
One Twitter user, Vanessa Kade, makes a very good point:
For myself I'm indifferent, but I know a number of women who have explicitly mentioned they like online poker for the anonymity and not being gender stereotyped (often means people play differently against us).
Also, safety / harassment / stalking are all concerns for ladies.

— Vanessa Kade (@VanessaKade) July 20, 2019
So, partypoker will have to weigh the pros and cons of these changes. If they do end up compromising the safety of players, the operator will have to roll back the update.
One of partypoker's Many Recent Changes
The announcement of real names at high stakes poker tables comes shortly after partypoker rolled out its most recent software update, which was aimed at making everything more "rec-friendly".
The first big change to partypoker's software came with the banning of Heads-Up Displays (HUDs). While they are generally used to analyse hands, HUDs can be used to target inexperienced players.
The operator has also stopped players from being able to download hand histories. There are some instances were sharks purchase hand histories to gain an advantage over others, so partypoker wanted to put a stop to this practice.
These changes were also controversial. Many players don't believe that they have a particularly unfair advantage by using HUDs; only that they serve as a useful strategic tool. They were also disappointed by the fact they would no longer be able to download hand histories, as they can be very helpful in improving their game by allowing them to analyse their gameplay.
It's also been argued that hand histories have helped identify cheating. Using the database, players were able to report suspicious activity, so it will be interesting to see how partypoker deals with this issue in the future.
Inspiring the Wider Poker Community
The software updates to partypoker have been designed to make the online gaming community safer, but we have yet to see other poker sites implementing similar changes. Since the changes haven't been universally supported by players, it's likely that other sites are hesitant about
We'll need to monitor the changes, and see how players react to partypoker's software updates in the long term. Then, we'll be able to determine whether or not this will start a new trend in the online poker market.
What do you think of the changes? Will you still play at partypoker's high roller tables when real names are required?