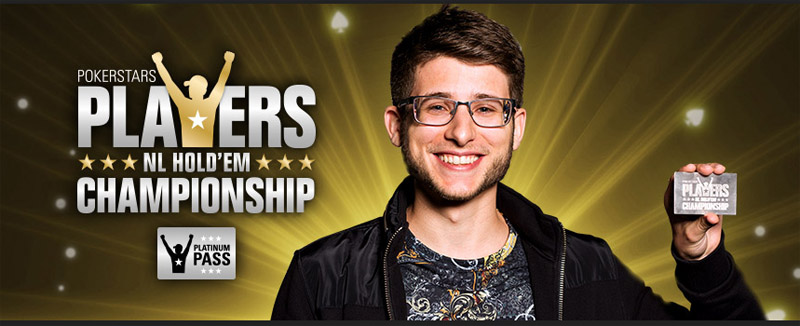 Poker tournaments come in all shapes and sizes but those with a buy-in venturing into the five-figures' territory are usually reserved for the "big fish." Events that cost $25,000 to enter are simply out of reach for most players and usually attract relatively small fields of mostly hardcore professionals and a few rich businessmen.
The beginning of 2019 has changed all this, however, with the first-ever PokerStars Players Championship (PSCP). The tournament that's been long-awaited and massively advertised didn't disappoint, producing the biggest-ever $25k event in poker's history.
1,000+ players turning up for PokerStars Players Championship
The online poker giant may have been through few changes, some of which didn't sit well with certain players, but they remain firmly on top when it comes to the number of players who turn up to play on the site every day.
So, if anyone was going to pull off an event such as this, it was them. PokerStars Players Championship wasn't an ordinary $25,000 tournament. The room actually gave away 300 Platinum Passes for the event and there were online satellites running around the clock.
If you can keep your poker face as well as the winner of this bubble hand does even after tabling quads for the win, you've got a poker face. Not even a smile! #PSPC pic.twitter.com/Nv2225pLeQ

— PokerStarsBlog (@PokerStarsBlog) January 8, 2019
When the big day finally came about on January 6, a grand total of 1,039 players showed up to play in Bahamas, generating a massive prize pool of $26,000,000. So, whoever wins will be taking home the hefty sum of $5.1 million. Everybody who made the money earned at least slightly more than the buy-in, but many of those actually got in for free, making even the min-cash pretty significant.
Stars & amateurs rubbing elbows
We don't often get to see a star-studded field with hundreds of amateurs in the mix as well. Of course, the Main Event of the World Series of Poker is an exception here but now we can add PokerStars Players Championship to the list as well.
Weird day one #PSPC

3 bet from BB 5 times.

Had AK every time.

4th one I folded to a 4 bet and #PlatinumPass winner showed AQ!

Last one lost the race against QQ. Flop KQ2 Busto

— Daniel Negreanu (@RealKidPoker) January 7, 2019
With $9,000,000 added to the prize pool by PokerStars, it is not hard to understand why all the big names were there, as this kind of extra money pumped into a single tournament isn't something we see ever day. The likes of Daniel Negreanu, Joe McKeehen, Erik Seidel, Dominik Nitsche, Jason Koon, Dan O'Brien all took their seat in the crowded tournament area.
Edging closer to the final table
Despite all of its glory, PokerStars Players Championship is no different to other tournaments in one crucial fact: there can only be one champion and everybody else must be eliminated along the way – some earlier than others.
At the time of writing this, PSPC is down to its final 90-odd players who made it through. Nearly all of them are now guaranteed to walk away with at least $45,700 for their efforts but it's the final table that everyone has their eyes set on. Even the player finishing in 9th will be taking home more than $400,000.
Así está el ambiente en la poker room. Llenazooo casi 1k players. Estamos en mesa soñada para ser un 25k pero de momento no lo aprovechamos. 55k en media 64k. Gogo #PSPC pic.twitter.com/QBuW368uM9

— RamonColi (@Mr__Boxes) January 6, 2019
Currently leading the way is one Ramon Colillas, a Platinum Pass winner, who'll likely be going back home with a great experience either way, although making it to the final nine has probably crossed his mind at least once or twice. Apart from him, there are still quite a few Platinum Pass winners still in the mix as well.
Notables aiming for the glory
Of course, a few well-known names have managed a deep run in PokerStars Players Championship as well. Those with bigger stacks include Scott Baumstein, Mustapha Kanit, Jack Salter, Griffin Benger, Talal Shakerchi, and Christoph Vogelsang.
There is still plenty of play left and anything can happen, of course, so even those currently nursing short stacks, like Dan O'Brien or Sam Greenwood, could come back from behind and surge into the lead.
Whatever happens, it will be interesting to see how PokerStars Players Championship plays out and who walks away with that $5.1 million prize and the trophy. It would probably be great for poker if it were one of Platinum Pass winners, showing that the poker dream is still alive!