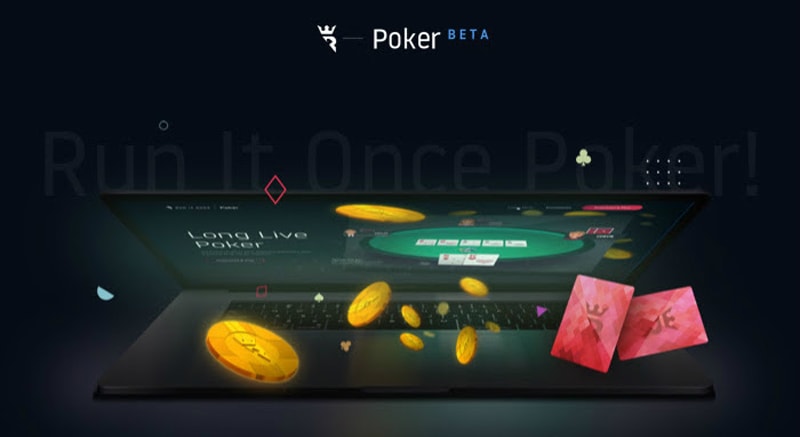 It's been over two years since Phil Galfond, one of the best-known faces in the high stakes online poker community, announced his plans to launch a new, player-focused online poker site. After many struggles and a lot of planning, Run It Once Poker has finally gone live, albeit in its Beta mode!
First thing first: What's rake like?
In the countless talks and discussions about Run It Once Poker, the issue of rake has appeared over and over again as one of the focal points. After PokerStars decided to take a full U-turn on their rakeback system and proceeded to increase rake levels, players were hoping that RIO could be a real game-changer in this particular department.
But, as Galfond neatly puts it, "rake is rake."
Although the team behind RIO Poker tried to come up with various ideas and models in the months leading up to the launch date, it was simply impossible to invent some new, completely revolutionized rake system that would take almost nothing from the players and still kept the site going.
Net rake lower than at competitor sites
Galfond took time to explain things in detail in his blog post, so you should definitely check it out if you want to know particularities not explained in this article. In short, he and his team were focused on the net rake, i.e. the actual amount of rake the site is left with after a certain percentage of gross rake is redistributed to the player community via rewards and promotions.
Run It Once Poker is LIVE!

This community has been so awesome & supportive, and I couldn't be prouder that we've reached this day. Any continued support, whether it be playing, spreading the word, or just watching a RIO streamR, means the world to me ❤️https://t.co/jllVHraRYt

— Phil Galfond (@PhilGalfond) February 6, 2019
In terms of gross rake, numbers aren't quite impressive and certainly didn't meet many players' expectations. Here's a quick breakdown of the numbers for Hold'em tables:
€4NL: 5.75% rake (capped at €0.50 or €1.00 depending on the number of players)
€10NL: 5.75% rake (capped at €0.50, €1.00, or €1.50)
€20NL: 5.75% rake (capped at €0.50, €1.00, or €2.00)
€50NL: 5.75% rake (capped at €0.75, €1.25, or €3.00)
€100NL: 5.5% rake (capped at €1.00, €1.75, or €3.50)
€200NL: 5.5% rake (capped at €1.20, €2.25, or €3.50)
€500NL: 5.5% rake (capped at €1.20, €2.50, or €3.75)
€1000NL: 5% rake (capped at €1.20, €2.50, or €3.75)
€1000NL: 4% rake (capped at €1.20, €2.50, or €3.75)
Different caps are for HU tables, 3-4 player games, and 5-6 player games.
So, clearly, the rake is somewhat high and more favorable towards high stakes players, who pay a significantly lower percentage in terms of blinds. This isn't uncommon, of course, as this is the case with all higher stakes games.
But the question is, what is the rewards program that we'll have a chance to enjoy at Run It Once Poker and how much rake will players be getting back?
Introducing Run It Once Poker Splash the Pot
Just like the rake structure, the RIO team struggled to find the best solution to reward its players. There are so many different ways to do it and different approaches to the issue that it must have been quite a brain teaser.
In the end, Galfond and his team came up with a solution that offers 51% rakeback for all players!
The rewards system is called Splash the Pot and it works in a really innovative way. At different cash tables, there will be random cash amounts added to a random pot (ranging between 1 and 1,000 big blinds). So, a particular pot will become bigger thanks to the money added by RIO.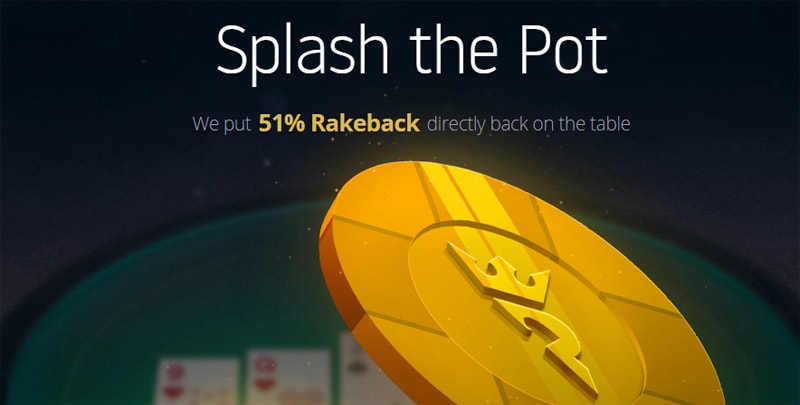 All players involved in the hand will clearly see the money actually drop onto the table and "splash" the pot so you'll know what's up. So, everyone will have a chance to win their share of rakeback, although better players will probably be better at adjusting their ranges and strategy in these bloated pots.
A bot deterrent
Galfond believes that the particular structure of Splash the Pot will also serve as a bot deterrent. Since rakeback is an important part of any serious player's bottom line, a bot would have to be programmed in a way to adjust for varying sizes of these splashed pots.
Since added money can greatly vary, it is very difficult, if not impossible, to write a bot that would be able to do the math on the spot and adjust accordingly. Getting rid of bots that have infested many poker networks was another big issue Run It Once Poker was looking to solve, so this is definitely a big step in that direction.
Games on Offer: No Tournaments & HUD-less Cash Tables
Keeping in mind that Run It Once Poker has just launched not even 24 hours ago, the site currently only offers PLO and No Limit Hold'em cash tables. There are currently no scheduled tournaments or even sit and go's in the mix.
There are several interesting things RIO has implemented that most players are likely to love although, as with everything, some may not agree with:
Automatic seating: no table selection or seating scripts
No HUDs or other in-game tools
Fixed buy-in amounts set at 100 big blinds
Of course, these things might change over time if it becomes clear a change is needed. However, the main idea behind Run It Once Poker was to offer something new and different and so far, they are on the right track.
It will be interesting to see what happens in the upcoming months and how much traction RIO Poker will be able to pick up. In the first hour since the launch, a few hundred players have already signed up and joined the games, while some have also took it to Twitch to stream their first experiences with the newly launched poker room.