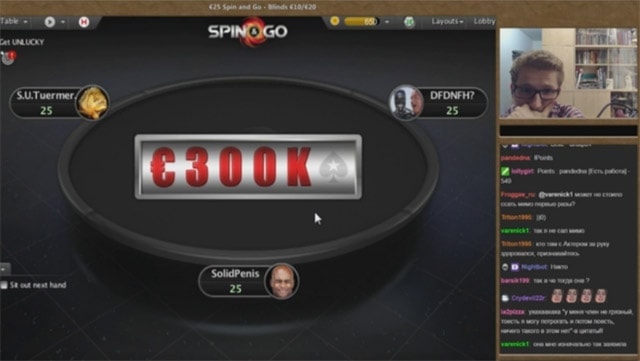 Generally speaking, great stories usually don't have a protagonist whose name contains the word "penis." But, in the wonderful world of online poker, anything goes. When a guy called "SolidPenis" wins €250,000 in a PokerStars Spin & Go even, everybody's like:
– Did you see what that Penis guy did last night?
– What?
– He won €250k while streaming live, it was insane.
– Solid. (no pun intended)
Standard $25 Spin & Go session turns epic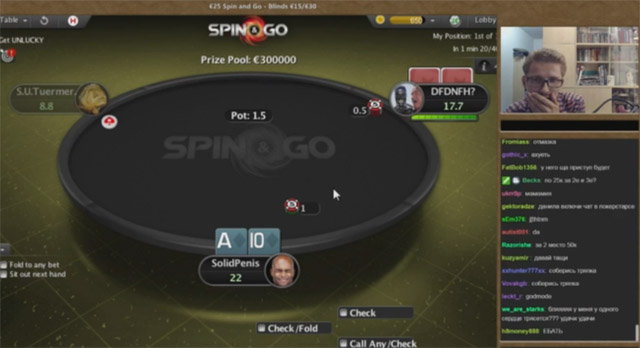 Our hero was playing his standard session of $25 Spin & Go tournaments and he was streaming all the action live on his Twitch channel. It was just your average poker evening. In fact, "SolidPenis," hailing from Russia, was not running that hot in those small double and triple prize pool events and he was evidently getting frustrated. Then his evening turned around completely.
In the midst of all those regular Spin & Go's, all of a sudden, the prize pool of €300,000 popped up. At first, his reaction was just "what," as he couldn't believe what was happening. But about a minute in, he began to realize that it was all real and that he was playing the biggest poker tournament of his life right then and there.
The Twitch chat went nuts, as one would expect, and "SolidPenis" was trying to keep his composure, knowing that every hand at this point could mean a €275,000 difference, as everyone was guaranteed to become at least €25,000 richer just for participating.
Claiming the victory
Since these tournaments have pretty fast structure, a lot of it was going to get down to luck and Solid needed to play his best poker and hope for poker gods to look his way. All the while, he kept repeating that there was no way it was really happening to him.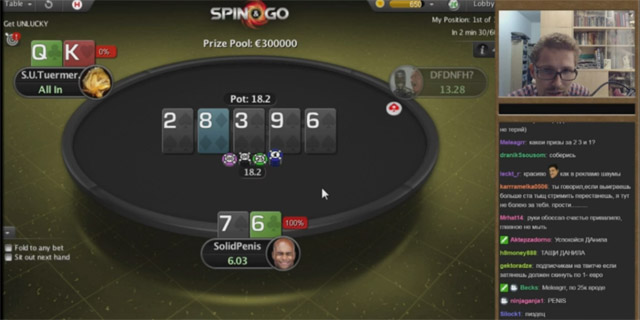 The first crucial hand came around when he eliminated first of his two opponents. He shoved for about eight big blinds blind vs. blind with 6-7 off and got snap called by King Queen. Both players bricked on flop and turn but then the river completed the flush for "SolidPenis," giving him a decent advantage going into the heads up.
When it is your day, it is your day, as the Russian player quickly came to know. He got his chips in the middle behind once again, with A-2 against pocket Fours of his last remaining opponent. Turning a set with a pocket pair is usually a good thing, but in this particular instance it completed the straight for the Russian and it was all over. He won €250,000 in under ten minutes of play.
Poker fairytale happening right before our eyes
It is not often that we get to see the very moment when someone wins a life changing money playing online poker. It was a moment of pure emotions, as "SolidPenis" was trying to come up with something meaningful to say to his followers.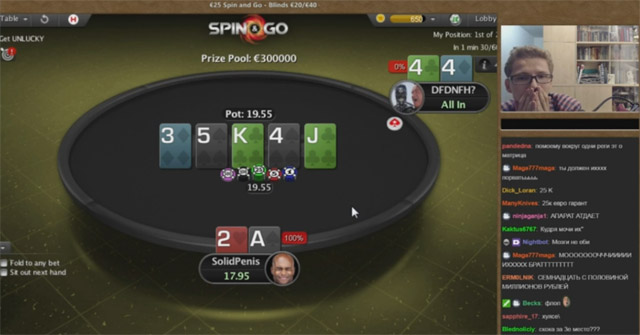 For all of us who don't speak Russian, there is the video of live action with the English commentary by the PokerStars pro Mikhail "innerpsy" Shalamov. You can watch the entire Spin & Go and reactions from the shocked Russian, as well as keep track of everything that's going on thanks to Shalamov's commentary. Not that you wouldn't be able to figure it out anyways, but it's nice to get an exact translation of his train of thought.
Another fun day on the virtual felt.