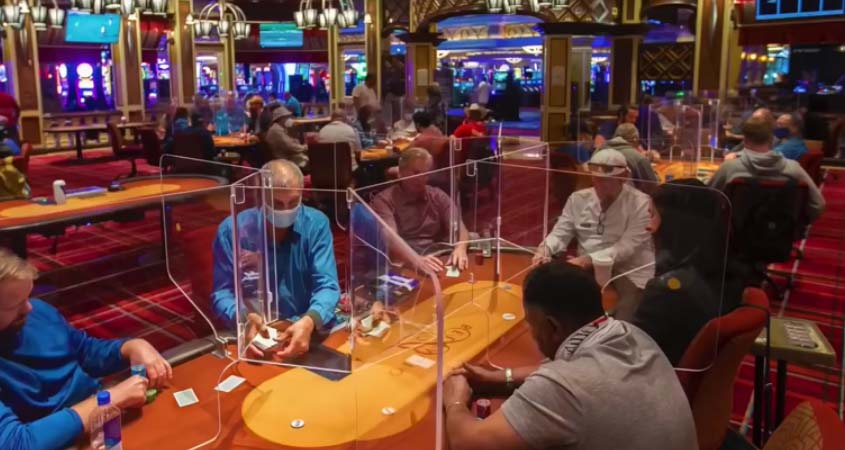 The Sahara in Las Vegas is the second poker room to announce its plans to install plexiglass dividers. This will allow the venue to run six-handed poker games instead of five, and it will be the only other Vegas casino besides the Bellagio to do so.
Following Bellagio's Example
Bellagio was the first poker room in Las Vegas to host six-handed games after reopening on June 18th. Based on viewing videos on Youtube, it seems like the poker room is pretty buzzing.
The difference between playing six-handed as opposed to five-handed is, physically, just one player – but it affects the game in a number of ways. For example, the blinds come around more quickly which does change the dynamic of the game and the decisions you make in the long term.
With fewer players in a standard game, it is also likely that there will be more loose play among competitors. This makes for bigger pots and more aggressive play, which may not be to the liking of many poker players.
Where Do Other Vegas Casinos Stand?
It seemed as though five-handed poker would be the norm in Las Vegas, but plexiglass is changing the game. The operators of other poker rooms on the Strip seem concerned that players will choose to play six-handed poker at a venue like Bellagio or The Sahara over five-handed games that aren't particularly popular among poker players. So, it's not surprising that more venues are considering the use of dividers.
The Orleans now is looking into installing dividers by the end of the week. The South Point also wants to go six-handed but is petitioning to do so without plexiglass.
Caesar's Palace doesn't seem too concerned, though, and will continue with five-handed games. The Venetian has yet to make a decision.
The Effectiveness of Plexiglass
While it might look a little bit silly, plexiglass dividers can be successful in stopping the spread of COVID-19. The installation of partitions has three main functions:
Intercept respiratory droplets, which are believed to transmit coronavirus
Reinforce social distancing requirements
Reduce the reliance on masks
More and more retailers are using plexiglass to keep customers and staff safe, and we'll see many more uses for this material in the future. In fact, Perspex has seen a 300% increase in acrylic sheet production recently.
It seems to be the go-to solution for helping to prevent the spread of the virus in public spaces. More casinos may jump on board with the trend, but they are likely monitoring the success of poker rooms that are currently using plexiglass before making any decisions.