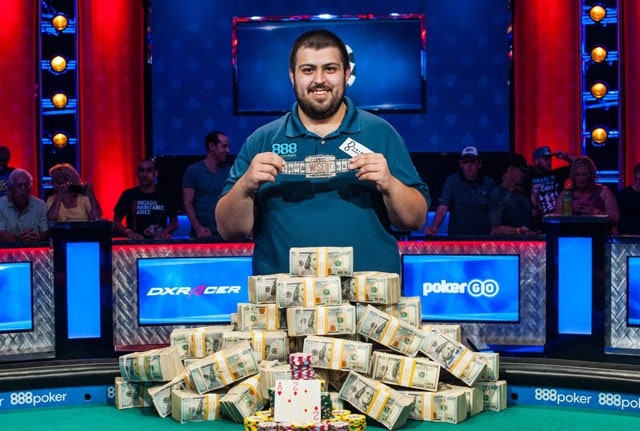 The biggest yearly poker event had its culmination on Saturday and now we officially have a new poker world champion. He is Scott Blumstein, the WSOP 2017 Main Event winner, who outlasted all other 7,220 players who came to Las Vegas with the dream and added $8,150,000 to his lifetime winnings.
Final table excitement
Unlike the previous years, this year November Nine was finally removed, which meant the matter of the WSOP 2017 Main Event winner would be resolved quickly and without delays. The final nine players only got a two-day break before returning for the final battle that started on Thursday.
Among those nine, we had two players who already had a chance to experience the excitement of being on the largest poker stage.
Ben Lamb and Antoine Saout were looking to improve on their respective third place finishes in 2011 and 2009. However, with fairly short stacks, they knew they had an uphill battle ahead of them.
Putting chips to work
Scott Blumstein, who ended up the WSOP 2017 Main Event winner, came back on Thursday with a big chip lead over the field. The only other player who was close in chips was 64-year old John Hesp from the UK. Others had a lot of work to do if they were to catch up.
Things didn't go right for Lamb as he was the first one to hit the rail. He found himself in a crucial all in against Jack Sinclair, another short stack who had him covered. Sinclair's AQ held over Lamb's A9, and he was sent packing in 9th, earning $1,000,000 for his performance.
Thanks for the support everyone! Was a blast! Now, GO JOHN HESP!!!

— Ben Lamb (@BenbaLamb) July 21, 2017

Sinclair's double up didn't do too much for him, unfortunately, as he was the next one to bust, earning $1.2 million. Sinclair picked an unfortunate moment to move in as he ran into Piccoli's pocket Aces, and the board offered no help by the river.
Down to seven
With seven players remaining, the play was stopped for the day and everyone returned on Friday to continue where they left off. Apart from the eliminations, there were quite a few significant chip movements during the first day.
Blumstein pulled further away from the rest of the field, coming back with the stack of 178 million. He managed to double up through none other than John Hesp, which was a huge blow for the fan's favorite, who was left with just 22.6 million.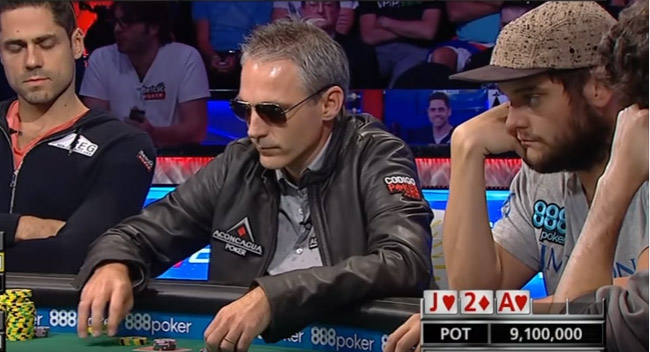 It took nearly two hours of play on Friday for the first elimination to take place. In the meantime, a couple of short stacks managed to pull a double up, further complicating the matter. It was Damian Salas, the first Argentinian to make the Main Event final table who fell at the hands of Daniel Ott. Ott caught a miracle river to sent Salas out in 7th, $1,425,000 richer.
Ott didn't stop here, either, as he was responsible for the next bust-out as well. His pocket Kings held up against Bryan Piccoli's A7, sending Piccoli to the rail with $1,675,000 for his efforts.
Saout falls short again
After Lamb's early exit, Saout was the only remaining player with a previous final table appearance, looking to seize the title of the WSOP 2017 Main Event winner. However, poker gods had a different plan in mind as Antoine Saout fell victim to Blumstein, bowing out in 5th and earning $2,000,000.
Unfortunately I couldn't find a fold against Scott, so here I am, out in 5th place. 1/3

— Antoine Saout (@tonio292) July 22, 2017
It's been an amazing adventure and I want to thank you all for your good vibes! 2/3

— Antoine Saout (@tonio292) July 22, 2017
For 64-year old John Hesp this Main Event was like living the dream, and his cheerful complexion was quite infectious. Many fans and players were rooting for the Brit to win, but he couldn't go any further than 4th. However, Hesp wasn't at all disappointed with this result and $2.6 million he earned.
On the contrary, he crossed off an item from his bucket list, and he really did it in style.
Finding the WSOP 2017 Main Event winner
Following Hesp's elimination, the play was once again paused for the day. The remaining three players, Baumstein, Ott, and Pollak came back yesterday (Saturday) for the final skirmish – the one that would determine the next world champion.
Blumstein was firmly in the lead, having nearly two times the chips his opponents had combined. Scott wasn't about to let this opportunity slip, and with such a chip advantage, he was in the prime position to secure the win.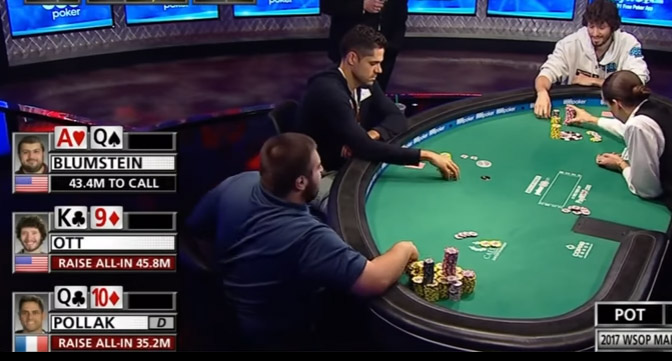 He continued to put pressure on the remaining two players, further extending his lead at their expense. Eventually, Pollak moved all in with Q10 and was called by Ott's K9. Blumstein found AQ and decided to give both the run for their money, giving himself a chance to end it all right there and then.
However, dealer found a King to award the pot to Daniel Ott, while Benjamin Pollak became the third place finisher, earning $3,500,000.
This is f***ing awesome !! ?? pic.twitter.com/2qCymvjTC3

— Pollak Benjamin (@PollakB) July 23, 2017
The final battle
Despite the triple-up, Ott was still trailing Blumstein by quite a margin, and he needed cards to fall his way if he were to make the comeback. This didn't happen, as Blumstein remained in control pretty much the entire heads up confrontation, with Ott finding just one double-up.
In the end, Daniel Ott moved all in with A8 and was ahead of Blumstein's A2. He had the best hand and after a safe flop and a safe turn, it looked like another double-up was on its way. However, the deuce peeled on the river, awarding Blumstein the pot and the WSOP 2017 Main Event winner title.
Still in shock & I'm not sure when it will sink in completely but for right now I'm just enjoying the moment. All the support means so much!

— Scott Blumstein (@SBlum2711) July 23, 2017
Ott earned $4.7 million for his runner up finish, while Blumstein pocketed $8,150,000. He also got the coveted Main Event WSOP bracelet, joining the select company of Main Event winners and fulfilling the dream of every poker player on the planet.