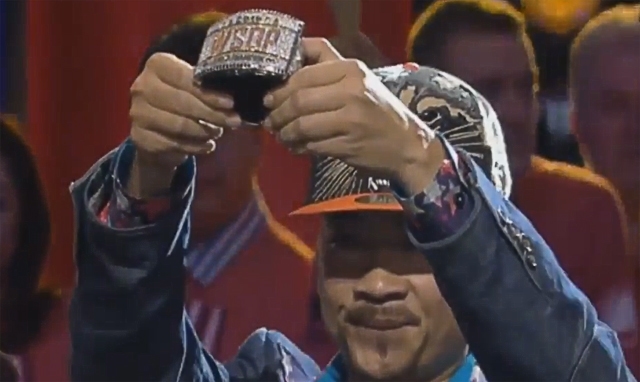 Every poker tournament, big or small, ends in the same manner. Two players getting their chips in the middle, looking to hold. This year's Main Event may have had 6,700+ runners to start with, but it got down to a grueling confrontation between Gordon Vayo and Qui Nguyen.
When it was all said and done, some eight hours later, it was Nguyen stacking all the chips, as he was crowned the WSOP 2016 Main Event winner. The man who caught our attention with his unique raccoon hat is now known as the poker champion of the world.
Finding the WSOP 2016 Main Event Winner
Three players came back yesterday, after Day 2 saw two of the remaining five felted. Qui Nguyen came back a dominant chip leader, having more chips than Cliff Josephy and Vayo combined. That, coupled with his great run, was an indication of what was to come.
However, becoming WSOP 2016 Main Event winner was far from easy.
Cliff Josephy undone
Cliff Josephy was playing his 12th Main Event so in terms of experience, he had to be the favorite. On top of that, Josephy started the November Nine as the chip leader, so it certainly looked like poker gods were smiling on him.
But, as it often happens in poker, they denied him their favor when he needed it the most.
Josephy started the three-handed play as the official short stack, but with 50 million to work with, he certainly had some fight left in him. However, things simply did not go his way right from the start despite of an early double-up against Nguyen indicating otherwise.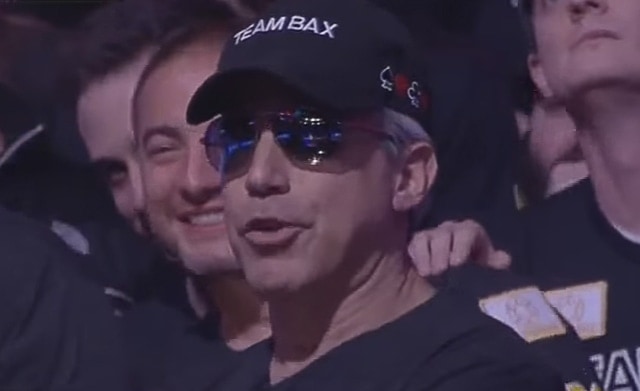 A cooler of the year?
It wasn't long after Nguyen made it to over 100 million in chips that he would lose nearly all of it in a set over set cooler situation against Vayo. Josephy was all too happy to find a set of 2s in a three way pot, but his joy quickly disappeared when he found out he was up against Vayo's set of 3s.
This left Cliff very short stacked and although he managed to master a couple of double-ups to hang on a bit longer, it all came to a crushing end when he moved in his (once again) short stack from the small blind against Vayo.

Josephy's Q-3 was behind Vayo's K-6 and the board run-out did nothing to change the fact. Vayo dragged in the pot, killing Josephy's hopes of becoming the WSOP 2016 Main Event winner. The third place finish was still good for $3,453,053, which is at least some type of consolation.
Heads up for the WSOP 2016 Main Event Winner
With Josephy making his exit, the stage was set. First place money, to the tune of $8,000,000 was brought to the table, and Nguyen and Vayo could now visualize what they were playing for. Millions of dollars were on the line and the coveted Main Event bracelet.
Vayo started with a chip lead, with his 200 million playing Nguyen's 136. However, if Nguyen made one thing clear that was that he had no give up in him. What he lacked in experience, Qui Nguyen more than made up for with his heart and his lucky raccoon hat.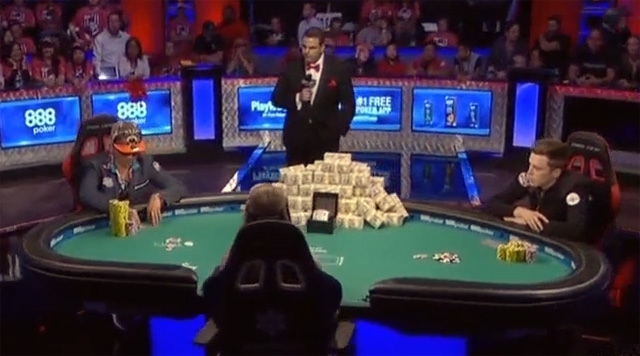 182 hands to crown the WSOP 2016 Main Event Winner
Two players battling it out for the arguably most prestigious title in poker exchanged chips for nearly eight full hours. It took 182 hands in total to find the WSOP 2016 Main Event winner, as neither Vayo nor Nguyen would let this once-in-a-lifetime opportunity slip away.
Qui 'Tommy Gun' Nguyen was not fazed by Vayo's lead and he came out of the gates swinging. His trademark crazy and unpredictable style served him well, as he managed to turn the tables on Vayo and seize the lead.
From that point on, it was pretty much all Nguyen, although Gordon Vayo kept fighting for another six hours, even scoring an unlikely double-up in a dominated position. All this was not enough to change the final outcome.
Qui Nguyen was simply going to become the WSOP 2016 Main Event winner no matter what. He took everything that happened in strides and finally got his moment with K-10 against Vayo's J-10.
Qui Nguyen open raised and quickly called Vayo's shove from the big blind. Once again in a dominating position to become the WSOP 2016 Main Event winner, this time around Qui was able to bring his K-10 suited home unscathed.
$8,000,000 & bracelet for 2016 WSOP Main Event Winner
Although flop brought some hope for Vayo, both turn and river bricked, announcing the end of this year's WSOP festivities. Qui Nguyen become the WSOP 2016 Main Event winner, earning $8,005,310 and a bracelet that every player would be proud of.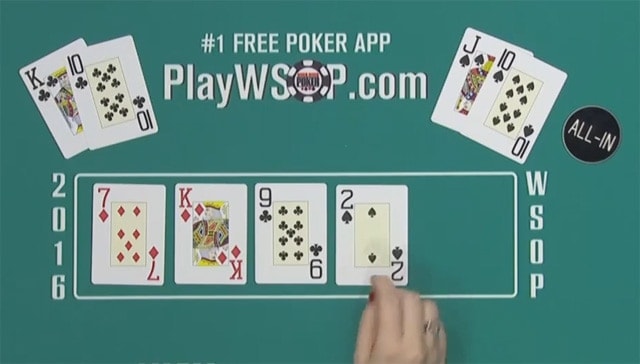 This score is almost 1,000x bigger than Nguyen's biggest live score up to date, as the previous number was just $9,000.
For his runner up finish, Gordon Vayo earned $4,661,228, which should at least somewhat soften the blow of the missed opportunity on the biggest poker stage in the world – the Main Event final table!