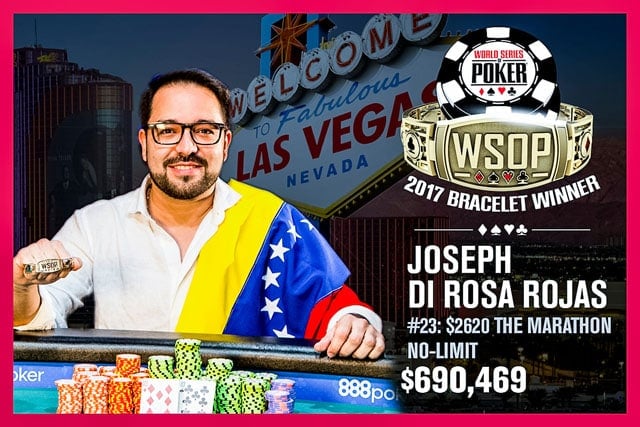 The WSOP 2017 Marathon tournament, which some referred to as the mini Main Event, has finally reached its conclusion. The numbers were more than satisfactory in every aspect, and the man who had the most reason to be happy about it all was Joseph Di Rosa Rojas.
Hailing from Caracas, Venezuela, Rojas was the last man standing in the event, claiming his first WSOP bracelet and $690,469 in prize money.
WSOP 2017 Marathon experiment
The Marathon event, or more formally Event #23, was a new addition to the WSOP 2017 schedule. The tournament wasn't dubbed the mini Main Event for no reason, as this is the only tournament other than the Main featuring such a slow structure, offering a lot of play for a very affordable buy-in.
Namely, those wanting to compete in the WSOP 2017 Marathon had to pay only $2,620, and this fact attracted the field of 1,759 players.
Real bang for the buck
For this low price when compared to most other WSOP events, players really got their money worth. The starting stack was ten times the buy-in, meaning everyone started with 26,200 in chips. More importantly, the blind structure was such that players would have plenty of time to wait around without being afraid of getting short stacked.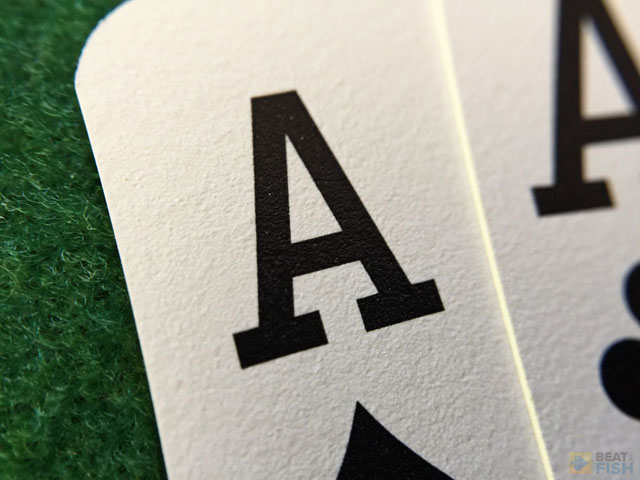 All levels lasted 100 minutes, and with so many players in the field, it was clear it would take the full scheduled five days to find the winner. Finally, when it was all said and done, it was Joseph Di Rosa Rojas taking home the coveted title, but all players who made it deep probably felt they were getting good value for their money in every sense of the word.
First WSOP bracelet for Venezuela
In addition to becoming the winner in the inaugural WSOP 2017 Marathon, Rojas has also brought the very first WSOP bracelet for his home country. Thus, his victory is important for several different reasons, giving even more weight to this beloved poker trinket.
The Venezuelan player came into the final day of play as a chip leader, and he had every intention to put his chips to good use, as he later explained for WSOP.com. Rojas was aware that the big stack was a great weapon at a final table of this size, with sharp pay jumps, and he wasn't about to sit around and wait for chips to fall as they may.
And, he didn't!
Although he only had $55,000 in live cashes before today, Rojas came into the final day of play ready to play his heart out and really go for it. For this, poker gods clearly rewarded him, as he outlasted everyone at the final table, including Faraz Jaka, who was ousted in sixth.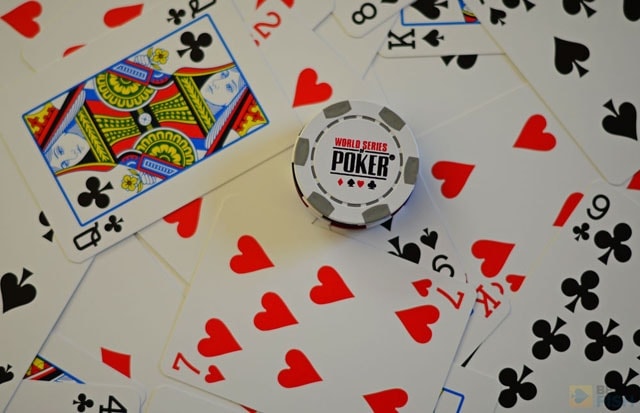 In the end, the Venezuelan found himself up against Alexander Lynskey of Australia, Lynskey certainly had his work cut out for him as Rojas came into the decisive heads-up match with a massive chip lead, and he wasn't about to relinquish it easily.
Rojas continued chipping away at the Australian, widening the gap, and finally proceeded to strike the finishing blow when his pocket 10s held against Lynskey's 6c 9c. Interstingely enough, Australian flopped two pair, but the second queen coming on the turn sealed the deal, securing the first WSOP gold for Venezuela.
As for Lynskey, he still took home $426,663 for his outstanding performance in the WSOP 2017 Marathon.