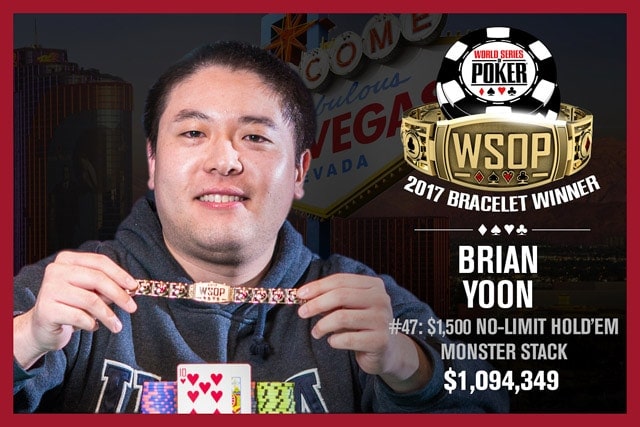 The WSOP 2017 Monster Stack was one of the events that many players were looking forward to. The tournament featured the perfect combination of an affordable buy-in and a great structure similar to the one in the Main Event, making it really worth the money.
A couple of days ago, the Monster Stack finally came to a conclusion, creating another WSOP millionaire embodied in Brian Yoon, 27-year old player from Nevada who claimed the title, coveted WSOP bracelet (his third one), and the first place prize in the exact amount of $1,094,349.
WSOP 2017 Monster Stack: Impressive numbers
As soon as WSOP 2017 Monster Stack was announced it was clear this event would attract a lot of players. In the end, there were 6,716 contenders taking it to the felt, all prepared to battle it out for the next four days if Lady Luck would let them.
With the buy-in of just $1,500, a big starting stack, and really good structure, WSOP organizers really hit the nail on the head with this one. The event ended up generating a total prize pool of slightly over $9 million, with more than $1,000,000 for the eventual winner. For such a small buy-in, this was the stuff that WSOP dreams are made of.
From twenty to one
The WSOP 2017 Monster Stack event was scheduled to run for four days, and twenty hopefuls returned for the last day of play, all of them dreaming of that first place that would turn them into an instant millionaire. Of course, as it is usually the case with poker tournaments, there could only be one.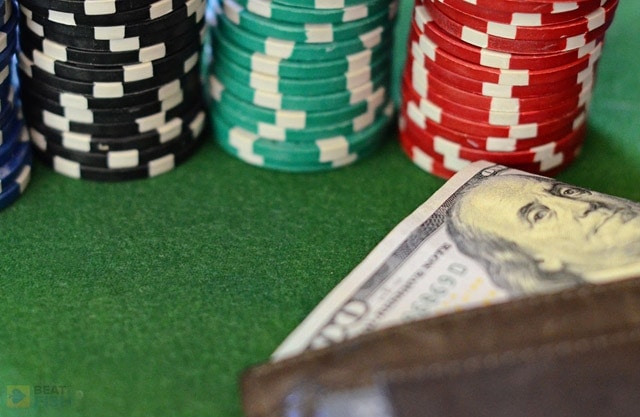 This tournament attracted amateur players and pros alike, and some of the big name players made it quite deep. Former Main Event champ Joe McKeehen was eliminated in 26th, TJ Cloutier made it to the final 70, Ole Schemion lasted for quite a while as well, etc.
Those 20 players who made it all the way to the final day of the WSOP 2017 Monster Stack weren't keen on busting so close to the final table, so it took some five hours of play to reach the last nine. It was Salvatore DiCarlo who busted in 10th, taking home a nice cash and a good story, but probably some regrets as well.
Quick final table
The final table of nine would turn out to be a rather quick matter. Will Failla was the first one to give up his seat at the final table, followed by Richard Ma and Thomas Ryan. That left just six players in the contention for the WSOP 2017 Monster Stack winner. The play picked up even more pace at this point, so two more eliminations followed quickly.
Busting out in sixth was Maurice Hawkins, the player with 10 WSOP Circuit rings to his name. Things went in the completely wrong direction for Hawkins at the final table, so he had to be happy with the cash worth $213,591 – still a great return on $1,500 investment.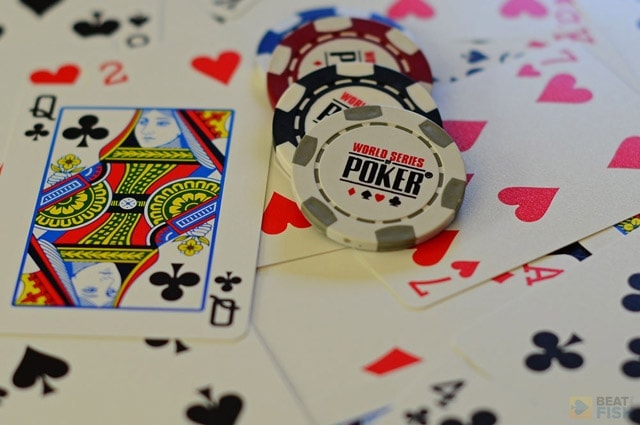 Yuliyan Kolev and Ryan McKinght followed in Hawkins' footsteps, earning $281,800 and $374,515 respectively for their efforts. Although they didn't make it all the way to seven figures, it was probably a finish they'd happily take at the start of the tournament.
Stanley Lee was the third place finisher, earning just a bit more than half a million and leaving Ihar Soika and Brian Yoon to fight it out for the title.
Finishing the job
Yoon, who now has more than $2.7 million in tournament earnings and three WSOP bracelets under his belt, was clearly the more experienced player here. For Soika, a 30-year old player from Minsk, Belarus, this was just the third WSOP cash.
Yoon's experience showed during the final skirmish, as he patiently took pots from Soika, building up a three-to-one advantage. Then, when the final hand came, Yoon decided to call Soika's shove holding Kh 10h. The Belarus player was slightly ahead with As 8s, and he almost held to get right back in the match, but the river paired up Yoon's 10, and it was all she wrote.
Winner in dramatic fashion for a 3rd bracelet and over a million dollars!! Can't believe it. Thanks all for the love!

— Brian Yoon (@byoonz) June 29, 2017
Soika earned $675,995 for his outstanding run in the huge WSOP 2017 Monster Stack field and his lifetime winnings now stand at almost $2.6 million. Clearly, Soika's WSOP results aren't the real indicator of his poker skills, as the Belarus has had quite a few big results in tournaments in Europe.